Is 2013 really over already? I can't believe it… it feels like summer was just a few weeks ago!
This was a great year for me. I had a ton of fun in the kitchen and partnered with some of my favorite brands – I absolutely love working with Gold Medal Flour, Jones Dairy Farm, and Marzetti. I also got to go on some amazing trips (you can read about my adventures in Toronto, Disney World, Minneapolis, and New York City. I also visited the Finger Lakes and spent a day at the Culinary Institute of America but I haven't written about those yet.)
These "look back" posts are always some of my favorite ones to write. I know what my favorite recipes of the year are, but this posts shows me which ones you liked! Sometimes they match up, but a few really surprised me. Some of my very favorites didn't make the cut, while a few that I had completely forgotten about did. This is a great roundup though… I got really hungry while I was putting it together!
Here's to a happy and healthy 2014! Thank you for all of your support this year. I have some really great stuff planned for the next few months, so I hope you'll stick around for the ride!
(I ranked these based on the number of views each recipe received. Naturally, recipes that I posted earlier in the year had a little bit of an unfair advantage since there was more time for them to take off. I also limited this list to recipes that I posted in 2013… some of my most popular recipes were from previous years, but I wanted to keep the focus on the last 12 months.)
1. Spinach and Artichoke Grilled Cheese: My most popular recipe of 2013 was Spinach and Artichoke Grilled Cheese. This surprised me, but I guess it really shouldn't. It's easy, cheesy, and delicious. Plus, you hardly notice that it's full of vegetables! I love recipes that are sneaky like that.
2. Smothered Chicken and Quinoa Skillet: Again, this one surprised me. I created it for the Tabasco 10-ingredient Challenge and it was a run-away hit. But again, it's easy, covered in melted cheese, and healthy so I shouldn't be surprised. (My personal favorite recipe from the challenge was Chicken Thighs with Farro and Burst Tomatoes.)
3. Honey + Sriracha Chicken Thighs: Not much of a surprise here. It took me a few tried to get this recipe right, but once I did it was awesome – the perfect combination of sweet and spicy! Interesting… this is the only recipe in my top 5 that doesn't involve cheese.
4. Pepper Jack Mac and Cheese: Y'all really like cheese, huh? I can't say that I blame you.
5. Baked Summer Vegetable Taquitos: If there was any surprise here, it was that these didn't rank higher. These taquitos are crispy, delicious, and stuffed full of summertime veggies.
6. Brown Butter Banana Blondies: These blondies are chewy and have a great butterscotch flavor so I'm not too surprised to see them here (although I personally prefer my apple butter blondies)
7. Pink Lemonade Cookies: I actually forgot all about these until just now, but these cookies were pretty amazing! They're big and soft, with a great tart lemonade flavor. Even better, they don't use cake mix or food coloring.
8. Lemon Risotto with Seared Scallops: I think this might have been the only risotto recipe I posted this year, but it was delicious. The bright lemon flavor and briny scallops make it perfect for summer – it reminds me of the beach.
9. Mini Apple Cinnamon French Toast Casserole: These mini French toast casseroles were an instant hit, and for good reason. They're fantastic plus you can make them on Sunday and eat them for breakfast all week. I know a ton of people are looking for easy breakfast options and these definitely fit the bill! (Guess what? I have a whole week of healthy grab-and-go breakfast recipes in the works! Stay tuned…)
10. Bakery-Style Raspberry and Chocolate Chip Muffins: These muffins are so awesome! First of all, they're huge. They're also loaded with good stuff like oatmeal, Greek yogurt, and dark chocolate. Ever since creating these, this has been my go-to muffin recipe.
11. Hot Italian Giardiniera: This one one of my favorite recipes of the summer, and it's so easy to make! It also makes a great sandwich piled on top of some roast beef on a soft roll.
12. Goat Cheese Stuffed Peppadews: Shawn asks me to make these at least once a month, so it's no surprise that you like them too! They have a great sweet-spicy thing going on, are easy to make, and are a guaranteed hit at parties. Hey, it's not too late to make them for New Year's Eve (or the Superbowl).
13. Roasted Peach Muffins with Cinnamon Streusel: I made these muffins three times in August. They're just that good! I also brought them with me to the Big Summer Potluck.
14. Crockpot Beef on Weck Sliders: I figured out how to make the perfect roast beef… in the crockpot! This recipe was pretty much life changing. Sliced thinly and served with horseradish on homemade kimmelweck rolls, these are football food at it's finest!
15. Homemade Pumpkin Ravioli: I made these ravioli entirely by hand, and I wasn't sure if you would love them or run away screaming. It turns out that you love them! These are a great project for a Sunday afternoon. (The spicy arribbiata sauce I served them with is one of my new favorite sauces, but I hear people also like these ravioli with cream sauce or brown butter.)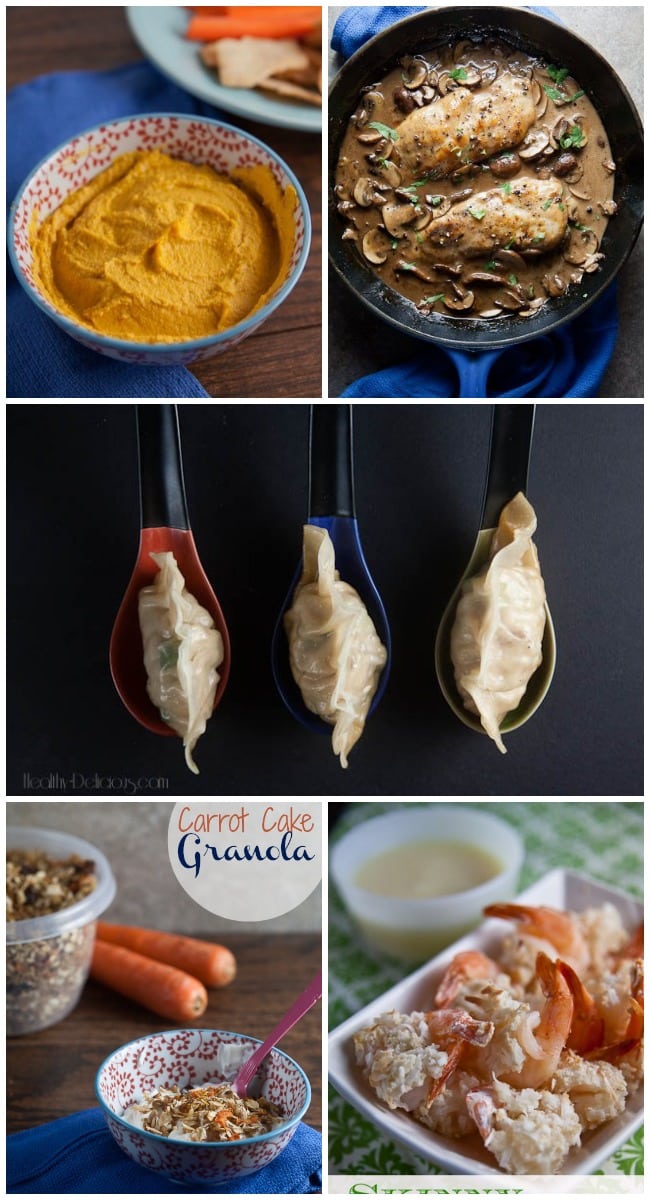 16. Moroccan Spiced Carrot Hummus: This is another recipe that I completely forgot about until now! Blending carrots into hummus is a great way to make an already healthy dip even lighter. It also gives it a nice sweet flavor that goes really nicely with the warm Moroccan spices that I mixed in.

17. Balsamic Chicken and Mushrooms: Based on the number of people who tell me they love this recipe, I'm surprised it didn't land higher on the list. It's perfect for a weeknight but tastes fancy enough to serve to company, too. I love it with mashed potatoes.

18. Chicken, Bacon, and Scallion Potstickers: If you haven't tried making potstickers yet, these are a great recipe to start with. It's surprisingly easy but packs a ton of flavor. I made these for the Saucy Mama recipe contest and they helped me get all the way into the final round.

19. Carrot Cake Granola: Carrot cake in granola form… how can you go wrong?

20. Skinny Coconut Shrimp with Pina Colada Sauce: This was another recipe that I completely forgot about. To be honest, it's not one of my favorites… it's kind of a pain in the butt to make. It is tasty though!

Hungry for More? Check out the Top 12 Recipes of 2012, 10 Most Popular Recipes of 2011, and Six Favorite Healthy Recipes of 2010. You can also visit my recipe index or use the drop down menu on the lower right side of this page to find your own favorites!

By