Baked taquitos are one of my absolute favorite things to make – and eat! Roll just about anything into a tortilla (chicken and spinach? buffalo chicken?), add a little cheese, and bake it until it's crisp and it's pretty much guaranteed to be awesome.
These summer vegetable taquitos are my favorite version yet, and I'm so excited that I can finally share them with you! It's perfect timing, too: summer produce is at its peak right now, and these really take advantage of all those vegetables and highlight it in a new way.
Plus, if you're up to your ears in zucchini, this will take two of them off your hards. That's right – no need for zucchini bread this week!
(You can also adjust the filling based on whatever vegetables are in season. In the winter, try substituting mushroom and kale for the zucchini and spinach.)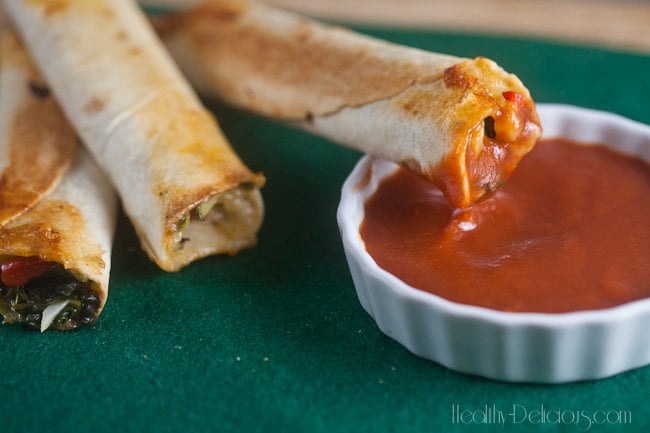 I used Old El Paso's Fajita Dinner Kit for the base of these. I'm not normally a huge fan of kits, but this one is pretty basic and includes items that I routines buy anyway: tortillas, a packet of smoky seasoning, and zesty (and surprisingly addicting!) dipping sauce. Having everything together in one box made things really easy.
The tortillas are a larger size than I normally use for taquitos, but that just means you can really load them up with vegetables!


This post was brought to you in partnership with Old El Paso. I received compensation for recipe development purposes. All opinions are my own.