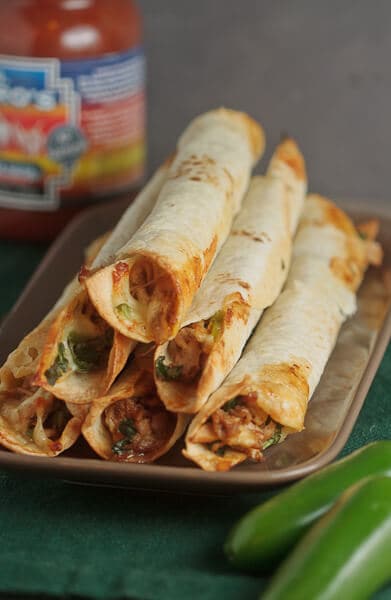 Am I the only one who was craving flautas/taquitos after seeing this post on The Kitchn last week? They looked amazing!
We went through a phase a few years ago where we loved the frozen ones, but now they kind of weird me out so it's been forever since I've had them. I've actually been meaning to experiment with a baked version for a while, but I never got around to it. When I saw their post though, I immediately changed my dinner plans. (Luckily I was already planning to make enchiladas, so it wasn't that big of a switch and I had everything I needed). Of course, I had to put my own healthy spin on them.
You guys, these are so good. SO. GOOD. They're really well seasoned (not spicy at all, but definitely not bland either) and baking them at a high temperature leaves them nice and crispy without any greasiness. I even managed to sneak some vegetables into them. You should make them ASAP.
I was worried that the flautas wouldn't be filling enough on their own, so I served them with some refried beans. They ended up not really needing the beans, but it was a nice touch to round out the meal.
This video shows how easy they are to make, plus demonstrates the rolling technique:
We also mixed up some margaritas with Jose Cuervo Light Margarita Mix . We found it at the Christmas Tree Shop a few weeks ago and are tempted to go back and buy a few more bottles to save for the summer. It's zero calories and totally delicious. Actually, I want to repeat this entire dinner again, right down to the last detail.