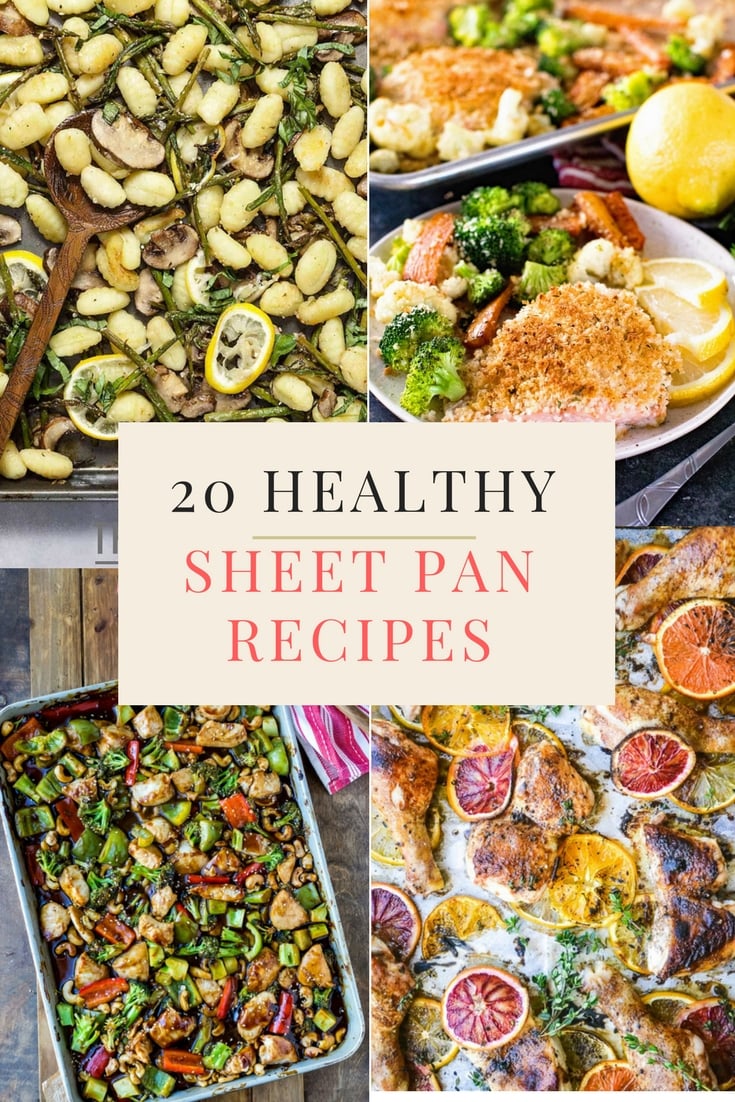 Between work and the gym, I've been getting home pretty late these days. Even though I love to cook, it's usually just about the last thing I want to do when I finally walk through the door.
I've been making a lot of healthy sheet pan dinners, and I really love how easy they are. Most of these healthy dinner ideas take only a few minutes of prep and then the oven does the work.
And since everything for these easy recipes cooks together on one pan, cleanup is a breeze! Line your pan with foil or parchment for even easier cleanup.
I gathered a collection of 20 recipes for healthy sheet pan dinners here – just about enough to get you through a month of busy weeknights. They're all easy weeknight dinners made with real, simple ingredients.
I divided this recipe collection by type (chicken recipes, fish and seafood recipes, meat recipes, and one lone vegetarian recipe at the end) and, where appropriate, I've made a note about any special diet they fall under (paleo, whole 30, dairy free, gluten free.) As always if you follow a special diet, please check your product labels to ensure there are no hidden ingredients.
Healthy Sheet Pan Chicken Dinners
1) Sheet Pan Honey Mustard Chicken Thighs with Parsnips and Kale – This easy dinner comes together in 45 minutes with just 6 healthy ingredients. Paleo/Dairy Free/Gluten Free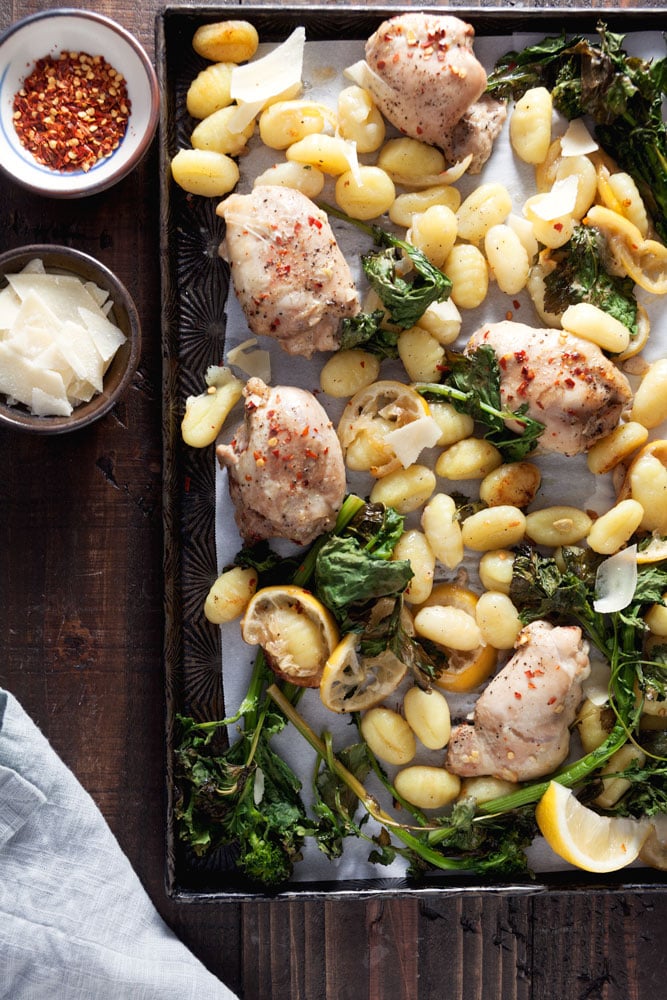 2) Sheet Pan Chicken and Gnocchi with Broccoli Rabe – Gnocchi on a sheet pan? You won't believe how delicious it is. In fact, you might never go back to boiling it. (Even better, it only takes about 30 minutes!)
3) Mediterranian Chicken Thighs – Crispy chicken thighs baked over a bed of Greek-inspired veggies and finished with tangy kalamata olives and salty feta is one of my favorite sheet pan meals. You'll love how easily this delicious low carb dinner comes together! Low carb/Gluten-Free/Whole 30
3) Sheet Pan Cornish Hens with Summer Vegetables – AKA roast chicken in a hurry! This is done in a little over an hour and no one has to fight over who gets the drumstick. Paleo/Whole 30/Dairy Free
4) Balsamic Chicken with Roasted Potatoes, Red Onion, Tomatoes, and Herbs – This recipe packs a ton of flavor onto one easy sheet pan! Make it with chicken breast or thighs. Paleo/Whole 30/Dairy Free/Gluten Free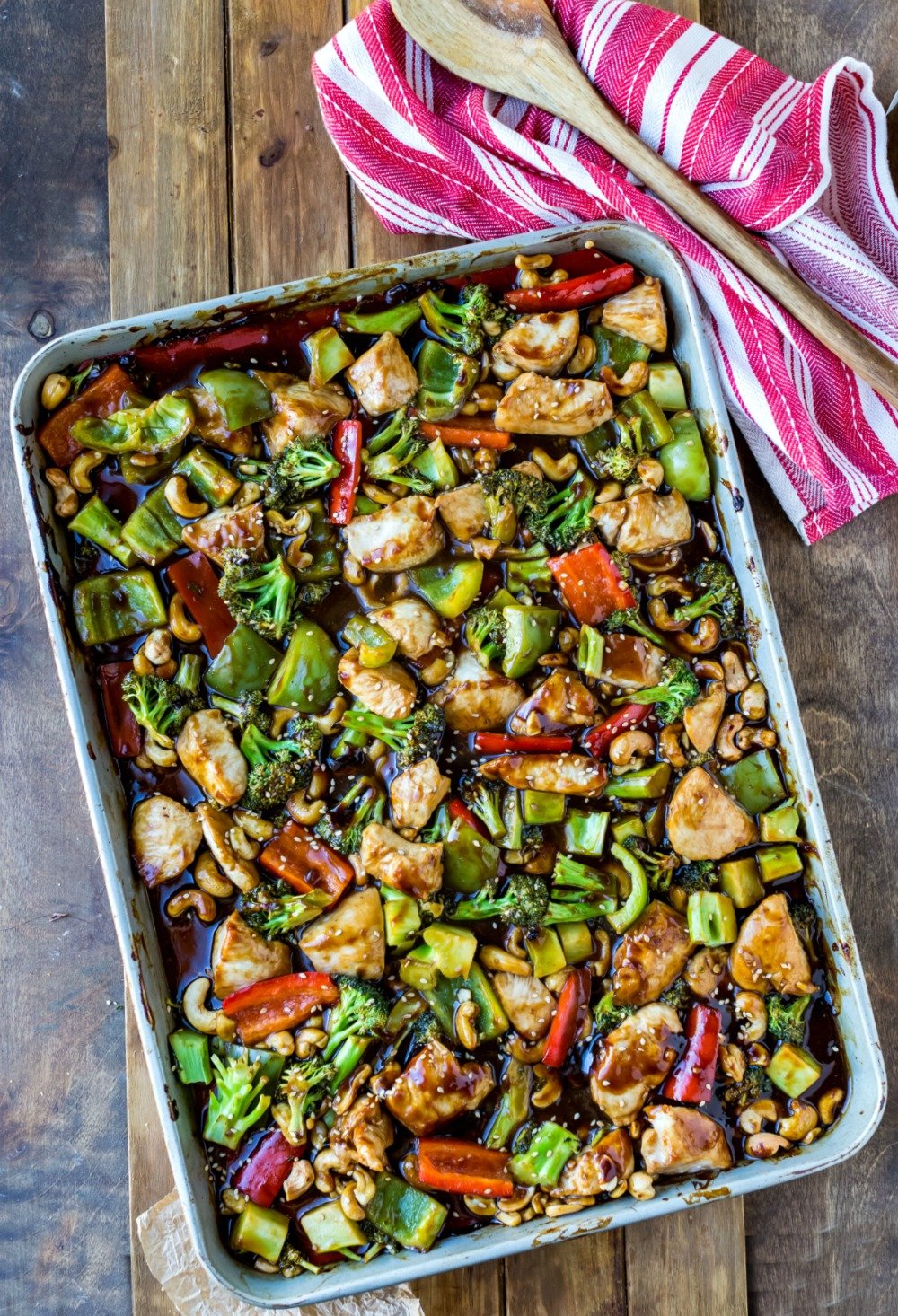 5) Sheet Pan Cashew Chicken – This quick and easy cashew chicken stir fry is ready in just about the same time it would take to order delivery, but it's so much tastier. Dairy Free
6) Roasted Chicken with Allspice and Citrus –All of the citrus in this recipe will remind you of summer, even in the dead of winter. Paleo/Whole 30/Dairy Free
7) Sheet Pan Chicken Fajitas – Seasoned chicken and veggies all bake together on one pan for this super simple sheet pan chicken fajitas recipe. Dairy-free/Gluten-Free/Low Carb/Whole 30/Paleo
8) Roasted Chicken Pita Wraps with Crispy Chickpeas – I LOVE the look and sound of this recipe! Pop open a bottle of chilled white wine to go along with it and have a date night on a Tuesday!
9) Cashew Chicken Sheet Pan Dinner – Cashews gives this chicken a nice, crispy crust and curry gives is an extra flavor boost! Paleo/Whole 30/Dairy Free/Gluten Free
Healthy Sheet Pan Fish and Seafood Dinners
10) One Pan Orange Salmon with Sweet Potatoes + Broccoli – Soy sauce, sriracha, and orange marmalade make an awesome glaze for this salmon. The sweet potatoes and broccoli cook right on the same pan for minimal clean up. Dairy Free/Gluten Free
11) Ginger Soy Roast Salmon and Asparagus. Another great glaze for salmon, this one has ginger, green onions, and honey. Dairy Free. Swap out coconut aminos in for the soy sauce to make this easy sheet pan dinner Gluten-Free/Paleo/Whole30.
12) Sheet Pan Honey Garlic Shrimp and Broccoli – Takeout has nothing on you with this Asian-inspired shrimp stir fry recipe. Swap the soy sauce for coconut aminos to make this paleo-friendly.
13) Baked Fish and Vegetables – Cooking fish is so easy when you do it on a sheet pan! Paleo/Whole 30/Dairy Free
14) Roasted Salmon with Olives and Tomatoes – Salmon and olives are a match made in heaven. Give this recipe a try – you won't be disappointed! This is a romatntic recipe for an easy date night that won't break the bank. Paleo/Whole 30/Dairy Free
15) Sheet Pan Root Vegetable and Sage Pesto Salmon – This is another recipe that packs a ton of flavor into each and every bite! Paleo/Whole 30/Dairy Free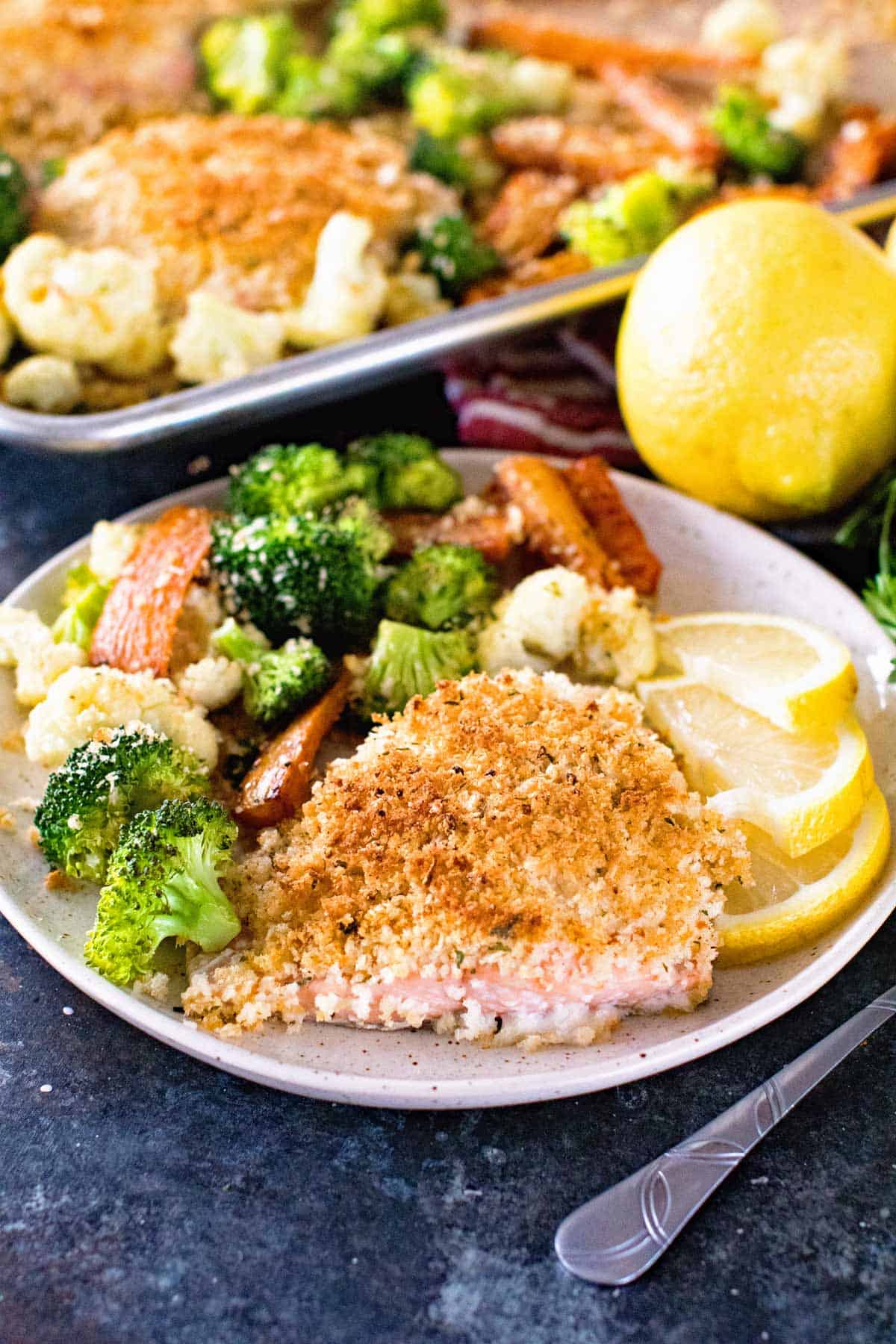 15) Sheet Pan Salmon and Vegetables – The lemon-parmesan crust on this salmon is to die for!
Healthy Sheet Pan Dinners with Red Meat and Sausage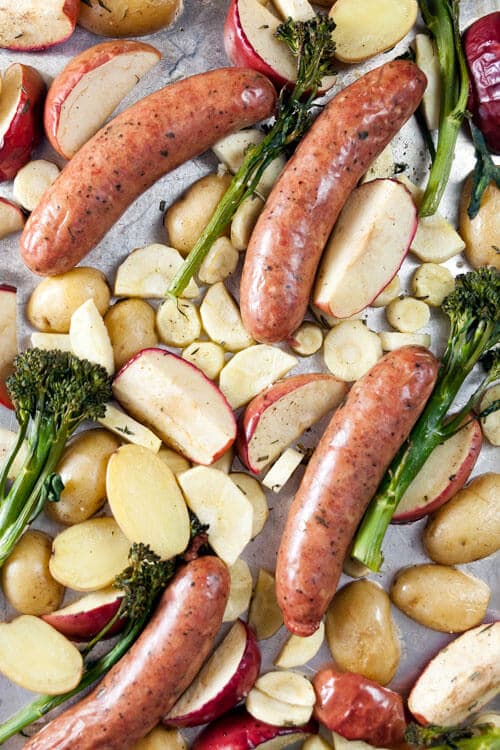 17) Roast Sausages with Apples and Parsnips – Roasting sausages is one of my favorite ways to cook them. Here, they're paired with apples, parsnips, and broccolini for maximum flavor. Paleo/Whole 30/Dairy Free/Gluten Free depending on sausage used
18) Sheet Pan Spanish Style Potatoes with Chorizo – This easy sheet pan dinner features tender potatoes, smokey chorizo, and roast broccoli seasoned with paprika, oregano, and parsley. Paleo/Whole 30/Dairy Free/Gluten Free
19) Roasted Sausage and Mini Bell Peppers – This is an easy, low carb take on a classic. Eat it plain or pop it onto sandwich roll if counting carbs isn't your jam. Paleo/Whole 30/Dairy Free/Gluten Free
20) One Pan Salisbury Steaks for Two – Here's another classic recipe, pared down and sped up. I love this idea! Gluten Free/Dairy Free
Healthy Vegetarian Sheet Pan Dinners
21) Lemon-Parmesan Gnocchi with Mushrooms –This is a great vegetarian option for hectic weeknights! Make it with asparagus or green beans.

By