I'm going to tell you a little secret: sheet pan dinners are the best. I'm a firm believer in the power of recipes that require minimal cleanup, and these simple recipes totally fit the bill. The healthy dinner ideas below are chock full of flavor, but leave you with only one pan to wash. Weeknight cooking doesn't get much easier!
Between work and the gym, I've been getting home pretty late these days. Even though I love to cook, it's usually just about the last thing I want to do when I finally walk through the door.
I've been making a lot of healthy sheet pan dinners, and I really love how easy they are. Most of these healthy dinner ideas take only a few minutes of prep and then the oven does the work.
Since everything for these easy recipes cooks together on one pan, cleanup is a breeze! Line your pan with foil or parchment for even easier cleanup.
I gathered a collection of recipes for healthy sheet pan dinners here – just about enough to get you through a month of busy weeknights. They're all easy weeknight dinners made with real, simple ingredients.
I divided this recipe collection by type (chicken recipes, fish and shrimp recipes, meat recipes, and vegetarian dinner ideas) and, where appropriate, I've made a note about any special diet they fall under (paleo, whole 30, dairy free, gluten free.)
As always if you follow a special diet, please check your product labels of any packaged foods or spice blends to ensure there are no hidden ingredients.
Healthy Sheet Pan Chicken Dinners
1) Sheet Pan Honey Mustard Chicken Thighs with Parsnips and Kale – This easy dinner comes together in 45 minutes with just 6 healthy ingredients. The honey mustard sauce is so good on the potatoes! Paleo/Dairy Free/Gluten Free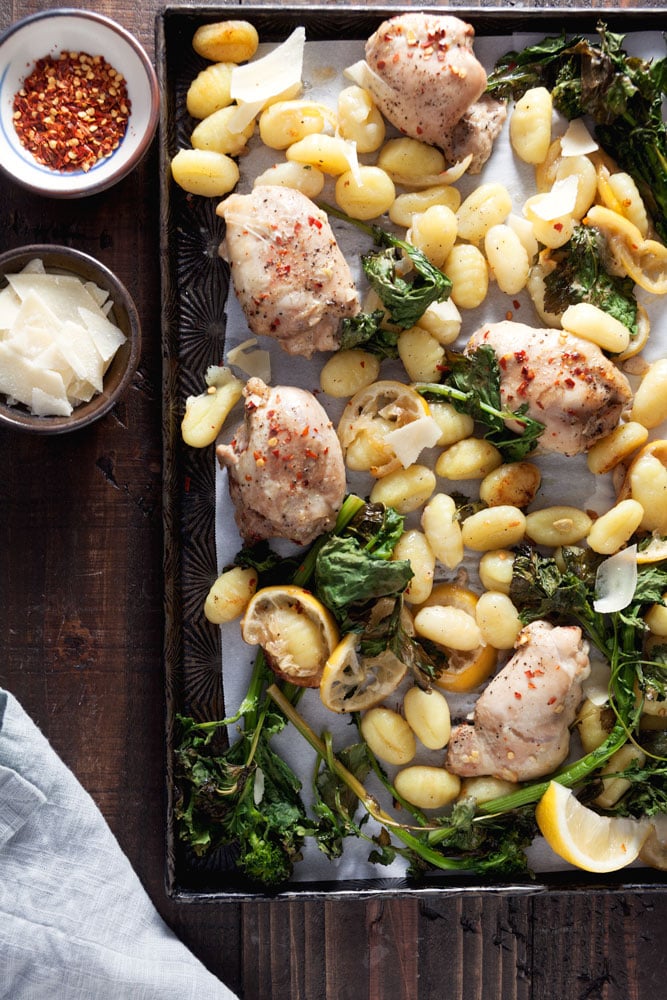 2) Sheet Pan Chicken and Gnocchi with Broccoli Rabe – Gnocchi on a sheet pan? You won't believe how delicious it is. In fact, you might never go back to boiling it. (Even better, it only takes about 30 minutes!)
3) Mediterranean Chicken Thighs – Crispy chicken thighs bake over a bed of Greek-inspired veggies and finished with tangy kalamata olives and salty feta is one of my favorite sheet pan meals. You'll love how easily this delicious low carb dinner comes together! Low carb/Gluten-Free/Whole 30
4) Sheet Pan Cornish Hens with Summer Vegetables – AKA roast chicken in a hurry! This is done in a little over an hour and no one has to fight over who gets the drumstick. Add potatoes and your favorite vegetables. Paleo/Whole 30/Dairy Free
5) Balsamic Chicken with Roasted Potatoes, Red Onion, Tomatoes, and Herbs – This delicious sheet pan meal packs a ton of flavor onto one easy sheet pan! Make it with chicken breast or thighs, whichever you prefer. Paleo/Whole 30/Dairy Free/Gluten Free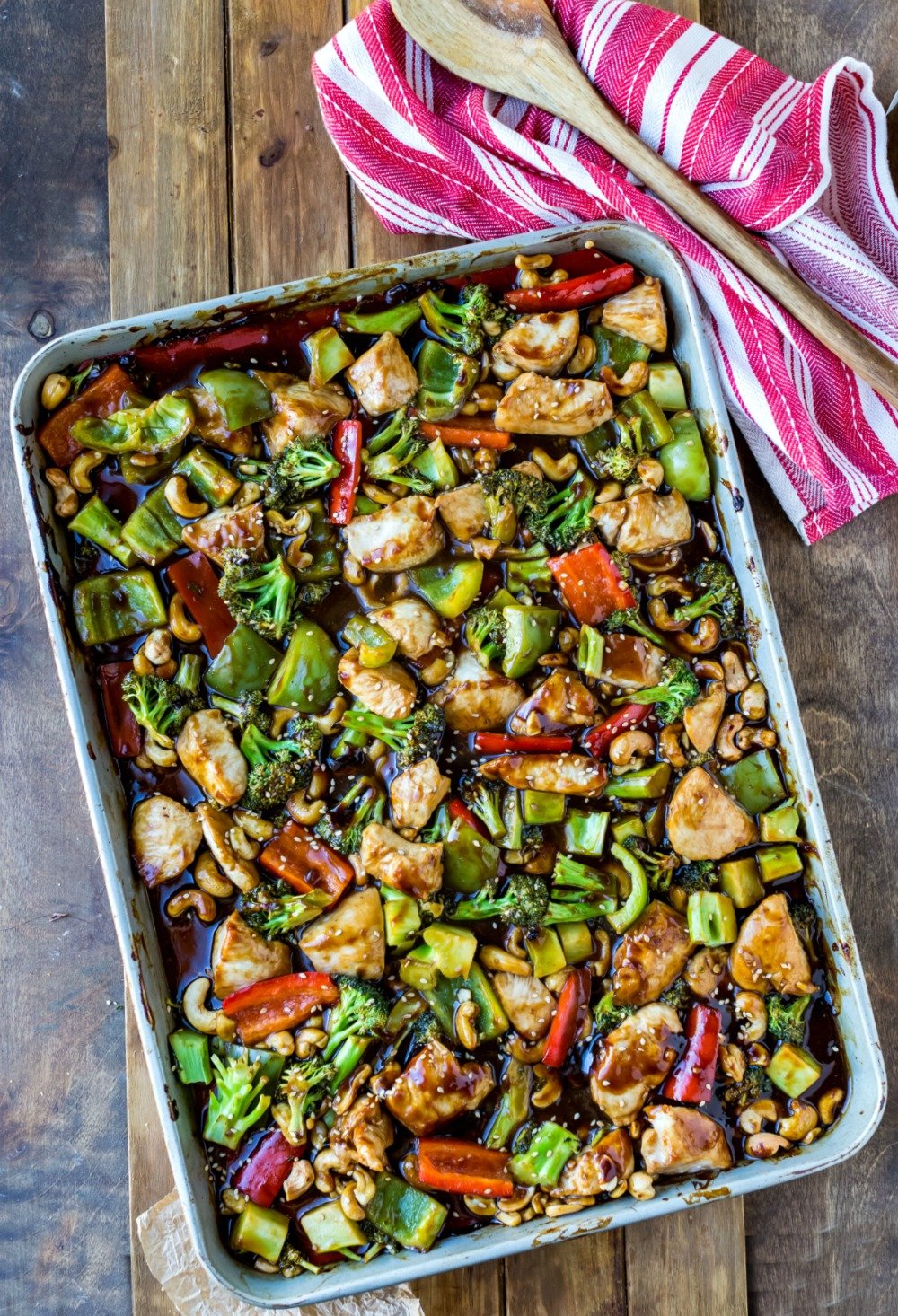 6) Sheet Pan Cashew Chicken – This quick and easy cashew chicken stir fry is ready in just about the same time it would take to order delivery, but it's so much tastier. Bell peppers and broccoli give it so much flavor. Not in the mood for chicken? This recipe is also great with shrimp! Dairy Free
7) Roasted Chicken with Allspice and Citrus – All of the sweet citrus in this flavorful recipe will remind you of summer, even in the middle of winter. Paleo/Whole 30/Dairy Free
8) Sheet Pan Chicken Fajitas – Homemade fajita spice kicks up this mix of chicken and veggies that all bake together for this super simple sheet pan chicken fajita recipe. Dairy-free/Gluten-Free/Low Carb/Whole 30/Paleo
9) BBQ Chicken Nachos Sheet pan nachos are always a crowd favorite! This recipe makes enough to feed the whole family with minimal effort. Gluten Free.
10) Sheet Pan Chicken Shawarma Craving something different with your chicken? Check out this homemade chicken shawarma recipe. It looks incredible. Gluten Free/Dairy Free/Whole 30
11) Roasted Chicken Pita Wraps with Crispy Chickpeas – I LOVE the look and sound of this high protein recipe made with simple ingredients! Pop open a bottle of chilled white wine to go along with it and have a date night on a Tuesday! Dairy Free.
12) Cashew Chicken Sheet Pan Dinner – Cashews gives this chicken a nice, crispy crust and curry gives is an extra flavor boost! Paleo/Whole 30/Dairy Free/Gluten Free
13) Sheet Pan BBQ Chicken With Mango Salad – Barbecue chicken is a summertime classic, but now you can enjoy it year-round thanks to this easy sheet pan recipe. Instead of a vegetable, like corn or green beans, I like serving this chicken with spicy mango salad to keep the summertime theme going. Gluten Free/ Dairy Free/ Whole 30.
Healthy Sheet Pan Fish and Seafood Dinners
14) One Pan Orange Salmon with Sweet Potatoes + Broccoli – Soy sauce, sriracha, and orange marmalade make an awesome glaze for this salmon. The sweet potatoes and broccoli cook right on the same pan for minimal clean up. Dairy Free/Gluten Free
15) Ginger Soy Roast Salmon and Asparagus. Another great glaze, this one has garlic, ginger, green onions, and sweetened with honey. Dairy Free. Swap out coconut aminos in for the soy sauce to make this easy sheet pan dinner Gluten-Free/Paleo/Whole30.
16) Sheet Pan Honey Garlic Shrimp and Broccoli – Takeout has nothing on you with this Asian-inspired shrimp stir fry recipe. Swap the soy sauce for coconut aminos to make this paleo-friendly.
17) Baked Fish and Vegetables – Cooking fish is so easy when you do it on a sheet pan! Be sure to include a spice rub for tons of great flavor. Paleo/Whole 30/Dairy Free
18) Roasted Salmon with Olives and Tomatoes – Salmon and olives are a match made in heaven. Give this recipe a try – you won't be disappointed! This is a romantic recipe for an easy date night that won't break the bank. Plus it's ready in minutes! Paleo/Whole 30/Dairy Free
19) Sheet Pan Root Vegetable and Sage Pesto Salmon – This is another delicious recipe that packs a ton of flavor into each and every bite! Paleo/Whole 30/Dairy Free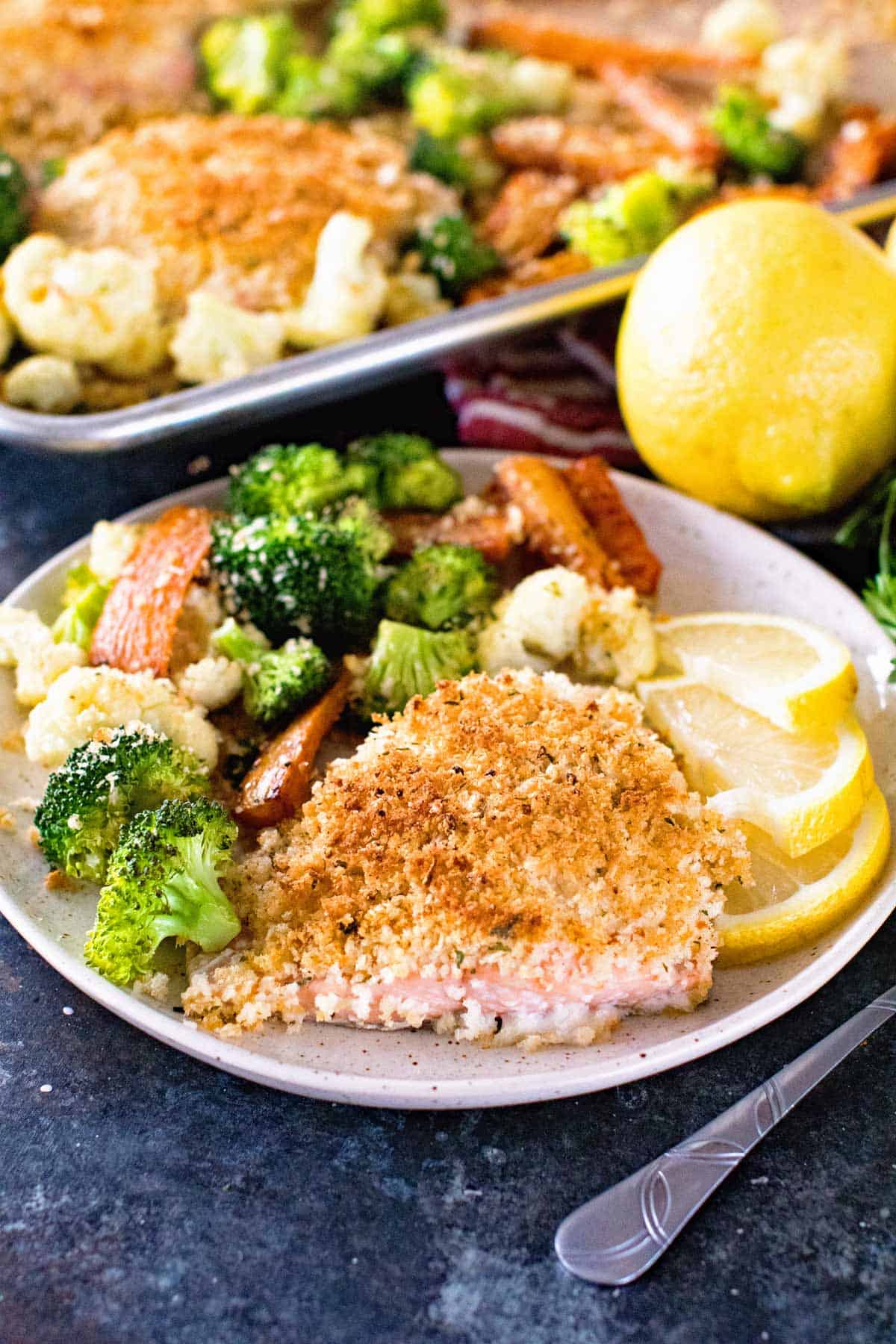 20) Sheet Pan Salmon and Vegetables – The lemon-parmesan crust on this salmon is so good! Your whoel family will enjoy this protein packed dinner.
21) Butter Garlic Sheet Pan Shrimp If you have a bag of frozen shrimp in the freezer, then you should totally drown them in buttery, garlicky goodness for this sheet pan supper. Low Carb.
Healthy Sheet Pan Dinners with Red Meat and Sausage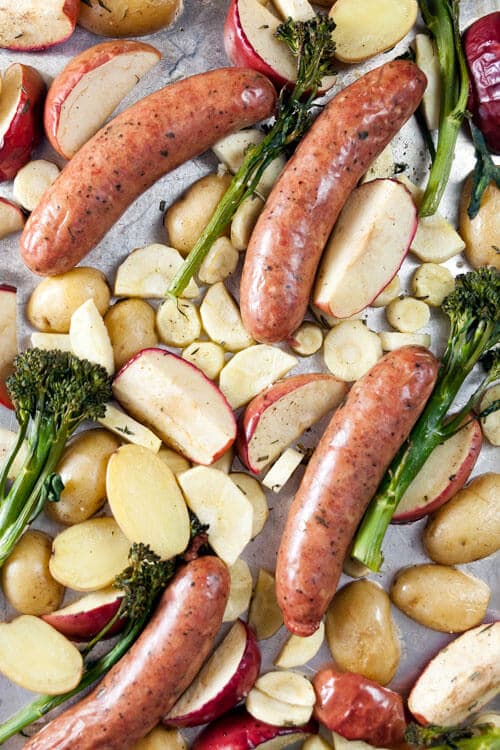 22) Roast Sausages with Apples and Parsnips – Roasting sausages is one of my favorite ways to cook them. Here, they're paired with apples, parsnips, and broccolini for maximum flavor. Paleo/Whole 30/Dairy Free/Gluten Free depending on sausage used
23) Sheet Pan Spanish Style Potatoes with Chorizo – This easy sheet pan dinner recipe features tender potatoes, smokey chorizo, and broccoli seasoned with a tasty blend of paprika, oregano, and parsley. Paleo/Whole 30/Dairy Free/Gluten Free
24) Roasted Sausage and Mini Bell Peppers – This is an easy, low carb take on classic sausage and peppers. Eat it plain or pop it onto sandwich roll if counting carbs isn't your jam. You can also make low carb bowls but serving it over cauliflower rice. Paleo/Whole 30/Dairy Free/Gluten Free
25) One Pan Salisbury Steaks for Two – Here's another classic recipe, pared down and sped up. I love this quick dinner idea! Gluten Free/Dairy Free
26) Sheet Pan Tacos – Tacos are always a good idea, but this recipe makes them fuss free to make and eat! Use ground beef or your favorite protein, or use refried beans for a vegetarian dinner. Easily adapted to be gluten free, too!
Healthy Vegetarian Sheet Pan Dinners
27) Lemon-Parmesan Gnocchi with Mushrooms – This is a great vegetarian option for hectic weeknights! Make it with asparagus or green beans. Vegetarian. Swap the parmesan for nutritional yeast to make it vegan.
28) Sheet Pan Fried Rice – If you need enough veggie fried rice to feed a crowd, then this is the recipe for you. Everyone will love how crispy this rice turns out! Vegetarian. Swap coconut aminos for Gluten Free and omit egg for Vegan.
29) Sweet Potato Hash with Eggs – Have breakfast for dinner with this loaded sheet pan hash with eggs that cook right on top. Vegetarian. Leave of the eggs for a tasty vegan dish. Vegan.
30) Tandoori Tofu – This high protein dinner full of tofu and fresh vegetables is made with just 7 ingredients! Vegan/ Vegetarian/ Gluten Free.
30+ Healthy Sheet Pan Dinners for Busy Weeknights
Sheet pan dinners are an easy way to get a healthy dinner on the table. Mix and match your favorite proteins, starches, and vegetables and pair with your favorite sauce. It couldn't be easier, and there's just one pan to wash!
Print
Pin
Save
Saved!
Ingredients
lean protein, like chicken, salmon, or tofu

vegetables

starch, such as potatoes, gnocchi, cooked rice, or tortillas

seasonings or sauces
Instructions
Arrange ingredients on a baking sheet in a single layer.

Bake until cooked through.
Notes
Click through each recipe link in the post above to view detailed ingredient and process directions.