Sticky-sweet honey mustard gives tons of flavor to chicken thighs, potatoes and parsnips. Roast it all together on one pan and top it with some crispy kale for an easy, 6-ingredient weeknight dinner you can feel good about.
Be sure to check out my Healthy Eating One-Pot Cookbook for more easy, healthy recipes like this one.
(I created this recipe for my client, ALDI. As always, thank you for supporting the brands that keep me inspired in the kitchen and help make running Healthy Delicious possible.)
I'm not really big on making New Year's resolutions, but this January I'm making an effort to order less takeout. I know I've said it a million times, but we really order in way too often – especially on weeknights. Cooking at home is healthier, tastier, and way more affordable.
Honey mustard chicken thighs are perfect for those nights when spending time in the kitchen is the last thing you want to do. They're super easy to prepare and, since the whole meal is cooked together on one sheet pan, it doesn't leave you with a sink full of dishes that need to be washed. I always feel great after I've made it – like I did something good for myself.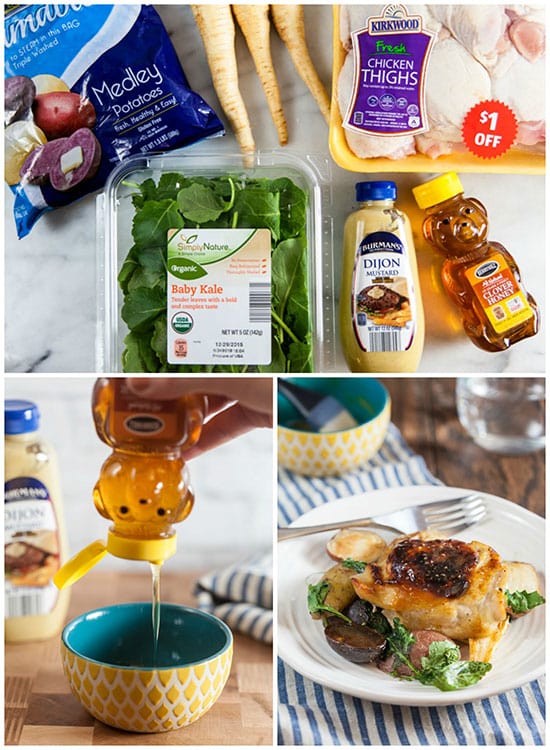 We took a trip to ALDI to stock our fridge and cabinets with healthy food to help prepare for cooking more meals at home. I love shopping at ALDI – they have a great selection of healthy ingredients and I always end up finding fun products (like cashew butter!) along with staples like almond milk, coconut oil and fresh produce at affordable prices.
Lately, they've been making an effort to stock even more healthy products including lots of organic and gluten-free options. I was really excited to learn that they phased out certified synthetic colors, partially hydrogenated oils and added MSG from all ALDI-exclusive foods at the end of last year. Plus, their Never Any! meats are raised without any added hormones, antibiotics, or preservatives. You can use their store locator to find an ALDI near you, and follow them on facebook, twitter and instagram for the latest news and tons of recipe inspiration.
For these honey mustard chicken thighs, I grabbed a package of chicken, some potatoes and parsnips, mustard, honey, and a container of baby kale. I love these medley potatoes because they're small so they cook quickly, but the different colors also look gorgeous. I grabbed the baby kale because I wanted to use the rest for salad but you can also use regular chopped kale, which actually crisps up even better (think: kale chips) and adds tons of texture to this dinner.
For more delicious ways to use bone-in chicken thighs, try: Clementine Soy Chicken Thighs // Chicken Thighs with Farro and Burst Tomatoes // Lemon Chicken with Olives and Potatoes

Available while quantities last. Items may not be available in all stores. Prices and labels may vary by location.