Happy (Chinese) New Year!
For some reason, we always celebrated Chinese New Year when I was a kid. I don't know why, but I always looked forward to it. It was so fun, and we didn't eat Chinese nearly as often back then as we do now. Mom would take out the electric wok and cook dinner right on the table – usually a chicken stir-fry. The next night, we'd wrap the leftovers in tortillas and eat them as fajitas. Yum.
I made this clementine-soy glazed chicken a few weeks ago and thought it would be the perfect Chinese New Year post. But then I started researching and apparently I had it all wrong. The holiday has all sorts of food traditions, like eating noodles to bring long life and dumplings to bring wealth. And apparently serving a chicken or duck whole represents health, but serving it cut – like these thighs – is the opposite. Oops.
Oh well. This dish is delicious any time of the year, and you should definitely make it (if you're superstitious or prefer to celebrate the New Year more traditionally, just wait until tomorrow.)
I almost always have a crate of clementines sitting on my counter this time of year, but they go bad quicker than I can eat them so I've been trying to come up with ideas for cooking with them. I've found that roasting them concentrates their flavor and makes them super juicy! For this dish, I roasted them along with some chicken thighs, then used the juice in an Asian-inspired sauce. The chicken was great, with a perfectly crispy skin stretched over juicy meat, but the sauce was really the highlight of the dish. It was delicate and tangy, with a slight hint of perfume from the citrus. It was delicious spooned over the chicken, but even better mixed into the red quinoa that I served on the side. Thanks to the sauce, I'd say it was some of the best quinoa I've ever eaten.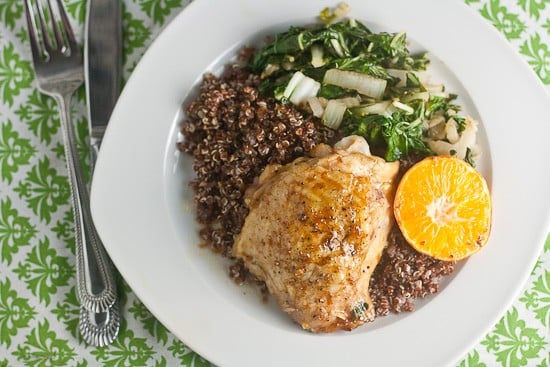 Clementine-Soy Glazed Chicken Thighs
Tucking aromatics under the skin and roasting them at a high temperature gives these citrusy chicken thighs a delicately crispy skin while keeping the meat moist and succulent. This recipe is a great way to use up clementines that are on their last legs but, if you prefer, you can substitute tangerines or naval oranges – simply adjust the amount so that you have enough to give you about 1/4 cup of juice. I like to serve this dish with sautéed bok choy and plenty of wild rice or quinoa to soak up the etra sauce.
Print
Pin
Save
Saved!
Ingredients
4

about 1 pound Bone-In Chicken Thighs

1

Tablespoon

minced Shallot

1

clove

Garlic

minced

1

teaspoon

grated Ginger

1

teaspoon

Olive Oil

4

Clementines

halved

1

Tbs

+ 1 teaspoon Low Sodium Soy Sauce

1

teaspoon

Dark Brown Sugar

1

teaspoon

Sake or White Wine
Instructions
Preheat the oven to 450ºF. Place the chicken thighs in a small baking dish with sides (I used a 9-inch cake pan). Gently slide your fingers between the meat and the skin to separate it. Combine the shallot, garlic, and ginger and run it into the meat, beneath the loosened skin. Rub the skin with olive oil and season with black pepper. Tuck the clementines around the chicken, cut sides up. Roast for 20 minutes.

Pour off any fat that has accumulated in the bottom of the pan. Remove 4 clementine halves from the pan and juice them into a small bowl. Whisk in the soy sauce, brown sugar, and sake. Pour the sauce over the chicken thighs and return to the oven. Roast for another 15 minutes, spooning the sauce over the chicken 2 or 3 times.

Remove the chicken thighs from the pan and place them on a plate. Tent with foil to keep them warm. Transfer the sauce to a small saucepan set over high heat. Bring to a boil, then let reduce by half – about 5 minutes.

Serve the chicken thighs with the reduced sauce and a roasted clementine half.