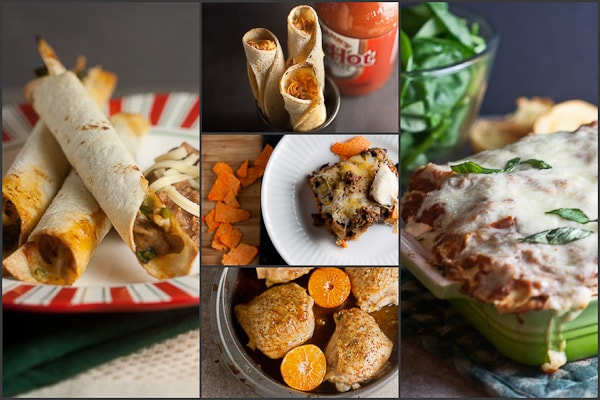 2012 was an amazing year for Healthy. Delicious. and I have a feeling that 2013 is going to be even better. Earlier this month I attended a new blogging conference, Mixed, and I came home with pages and pages of notes filled with ideas and inspiration that I'm excited to put into action. I also spent the last few weeks cooking up a storm, and I have some really great recipes (and photos!) that I can't wait to share. My posting schedule slowed down a little in 2012, but I'm really going to try to get back into a 3 posts a week schedule starting on the 1st so that this site is alway a place you can come for fresh recipes and new ideas.
Before that though, let's take one last look at the recipes that 2012 brought. This is always one of my favorite posts to do, since it reminds me great recipes that I've forgotten about! First, lets start with your favorite recipes. These are the five recipes from 2012 with the most views (there are a few older ones that have more, but I limited this list to recipes that were originally posted this year.)
1. Baked Chicken and Spinach Flautas – By far my most popular recipe, these flautas have been viewed over a half million times since I posted them back in March. Um, what?!?
2. Buffalo Chicken Taquitos – Not quite as popular as the original flautas, these were also a huge hit. Personally, I liked them even better than the originals.
3. Turkey, Mushroom, & Spinach Lasagna – A healthy twist on a classic, with turkey that's seasoned to taste just like sausage. It doesn't surprise me at all that this recipe was a huge hit!
4. Doritos Locos Taco Bake – Taco Bake has been one of my most popular posts since 2010. This updated version (yes, inspired by Taco Bell) is really fun. It also takes great and is a total man pleaser.
5. Clementine-Soy Chicken Thighs – I'm honestly surprised to see this recipe in my top 5, but it's place there isn't unwarranted. The bright burst of citrus is welcome in the dreary winter months, and it's a great way to use up the last of that crate of clementines that I bet you have on the counter.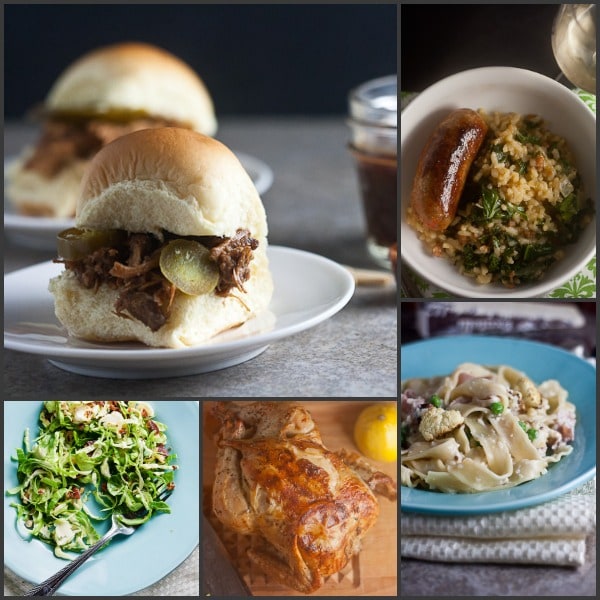 For the next five recipes, I wanted to share a few of my personal favorites. Some of these were pretty popular (although not in the top 5 above) but for some reason or another others might not have been. That make me a little sad, because I think they should all be right on top. If you're looking for something new to try, I'd definitely recommend any of these, which show up on my table frequently.
6. Asian Pulled Chicken Sliders – These sliders, made in a crock pot, have a sweet-spicy thing going on that I can't get enough of. I also really love the photos that I took for this post – I was in the middle of a food photography course when I made them and I feel like they represent a turning point in my photography.
7. Shaved Brussels Sprout Salad with Maple Vinaigrette – Bacon, Maple, and Hazelnuts – what's not to love? I've made this salad a few times in the past few months, including for Thanksgiving, and it's always a huge hit.
8.Perfect Roast Chicken and Lemon and Za'atar – Simple and delicious, plus it makes the whole house smell amazing! Don't forget to use the bones to make stock for the freezer!
9.Baked Risotto with Sausage & Kale – The hearty flavors in this risotto are so comforting. Bonus – the new cooking technique means you don't have to stand over the pot all night!
10.Fettuccini with Cauliflower, Prosciutto & Peas – This recipe was inspired by a meal I had at Mario Batali's Otto Enoteca, and it took me a few tried to get right. I refused to give up until I did, and it was worth it. Pureed cauliflower makes a thick sauce that clings to the fettuccini. This is one sexy pasta!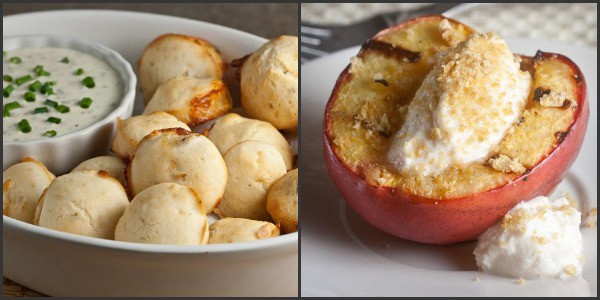 One of the biggest reasons that I didn't post as many recipes here in 2012 as I did in 2011 is because I spent a ton of time developing recipes for other companies and web sites. One of my biggest projects this year was working with General Mills, primarily for Live Better America (which focuses on healthy recipes) and Betty Crocker.
Back in May, I even had the opportunity to fly out to their headquarters in Minneapolis and spend a few days touring their kitchens and learning from some of the very best recipe developers and food photographers around. It was an incredible experience, and a huge part of my year. Any recipe roundup simply wouldn't b complete without at least a small mention of some of the recipes I developed for them. I'm proud of everything I sent over to them, but these are two of my very favorites – easy, delicious and healthy recipes that I've made again and again.
11. Chicken Bacon Ranch Pizza Poppers – These are a heathy take on pizza rolls, with shredded chicken, turkey bacon, and cheese all tucked inside a fluffy, ranch-flavored pastry.
12. Grilled Peaches with Honeyed Ricotta – Summertime perfection. These grilled peaches are an easy and elegant dessert. The honeyed ricotta was inspired by cannoli filling!