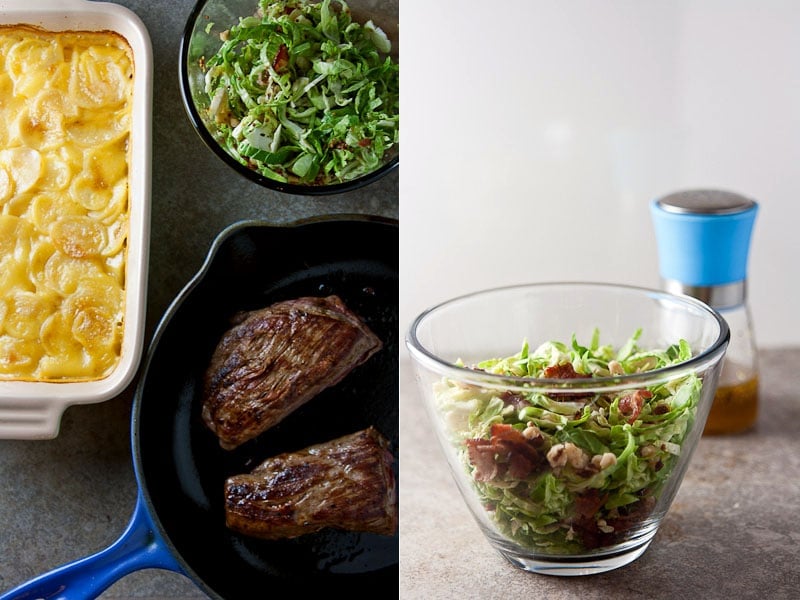 I'm back with more Brussels sprouts! I just can't get enough – I can already tell that they're going to be my favorite vegetable of the season this year (last fall, it was cauliflower). For this recipe, I prepared the sprouts as a raw salad tossed with bacon, hazelnuts, and a maple-dijon vinaigrette. Yum!
The first time I ever tried (or even heard of) eating brussels sprouts as a salad was last year when I reviewed the power foods cook book. (It's still one of my favorites, you can see my review here.) Eating them raw might seem odd at first, but it totally works. They'll be a little crunchy at first, but the vinegar in the dressing will help soften them up after a few minutes. In the end, the effect isn't unlike coleslaw – which makes sense considering brussels sprouts are basically tiny cabbages. See? Not that weird.
What is weird? The amount of time and effort that we put into trying to make this dinner happen. Somehow, we decided that the salad would go best paired with potatoes au gratin and slow roasted venison loin. Do you have any idea how difficult it is to find game meat right now? We went to two specialty butchers, the co-op, the farmers market, and the supermarket and came up empty handed. We couldn't even find elk steaks, which would have been my second choice and which are generally pretty easy to find. So disappointing. We ended up "settling" for beef tenderloin, which I dusted with espresso powder and chipotle pepper and pan seared. It was delicious, but not quite what I had been craving.
Anyway, it doesn't really matter because the salad stole the show.
Brussels Sprout Salad with Maple Vinaigrette
Ingredients
8 ounces Brussels Sprouts
2 slices Bacon, cooked crisp and crumbled
1 Tablespoon Chopped Hazelnuts
2 Tablespoons Maple Syrup
2 Tablespoon Apple Cider Vinegar
1 Tablespoon Grainy Dijon Mustard
1 Tablespoon Extra Virgin Olive Oil
Cracked Black Pepper
Instructions
Prepare the brussels sprouts by cutting off and discarding the stem. Beginning at the stem end, slice into very thin rounds. Discard any tough white centers. Add to a bowl and gently toss with a fork to separate. Add the bacon an hazelnuts.
Combine the maple syrup, vinegar, mustard, and oil in a small jar. Close the lid and shake well to combine. Pour the dressing over the salad. Let sit 5 minutes. Season with cracked black pepper.
Approx. 110 calories, 6 grams fat, 12 grams carbohydrates, 2 grams fiber, 3 grams protein. 3 Points+.
By