When it comes to vegetables, fresh is generally best but there's no denying that roast frozen vegetables are great in a pinch. Brussels sprouts are one of my personal favorites! Far removed from the mushy frozen vegetables we grew up with, roasted frozen Brussels sprouts go from freezer to plate in less than 30 minutes and take center stage with a tender center and a beautifully browned exterior.
---
Easy Peasy: Toss 'em, roast 'em, enjoy 'em. It's that straightforward.
Bye-bye Cabbage taste: Roasting surprisingly sheds that cabbage flavor, making the sprouts more appetizing.
Affordable: A 1-pound bag of Brussels sprouts costs just $2 at my local grocery store.
How to Master Oven Roasted Frozen Brussels Sprouts
You know how we've all had that moment when we're staring into our fridges, desperately searching for something to whip up for dinner and wondering if you should just call it and order delivery? I had one of those nights recently when a bag of Brussels sprouts in my freezer came to the rescue.
I never used to keep frozen Brussels sprouts around. I love fresh sprouts, but frozen always reminded me of the soggy, waterlogged vegetables that we are back when we were growing up.
Everything changed once I discovered how easy it is to roast frozen Brussel sprouts though!
They come out perfectly golden brown outside and tender beyond belief inside. They have a super mellow flavor, with a less pronounced cabbage flavor than if your were to boil or microwave them.
Doused in your favorite sauce and served over a bed of rice, they're a deliciously satisfying winter dinner either on their own or as an easy side dish.
How to roast frozen brussels sprouts
Step 1: Toss in oil and season
Coating vegetables with oil helps shield them from the blazing heat of the oven so they can get crispy drying out. You don't need much – a tablespoon or two of olive oil, coconut oil, or avocado oil is plenty. To keep things simple, I season them with a generous pinch of kosher salt or sea salt, but you can add garlic powder, oregano, curry or any other favorite seasonings that will complement the rest of your meal.
Step 2: Cook them in a single layer
Stick your baking sheet in the oven while it preheats to help speed up the cooking process and get those veggies nice and hot!
Be sure the spread the vegetables in a single layer so they have plenty of space around them. If you crowd them together, they'll steam and won't get those terrific browned bits that make roasted vegetables so good.
Recipe Tip: For easy clean up, line your baking sheet with parchment paper or foil!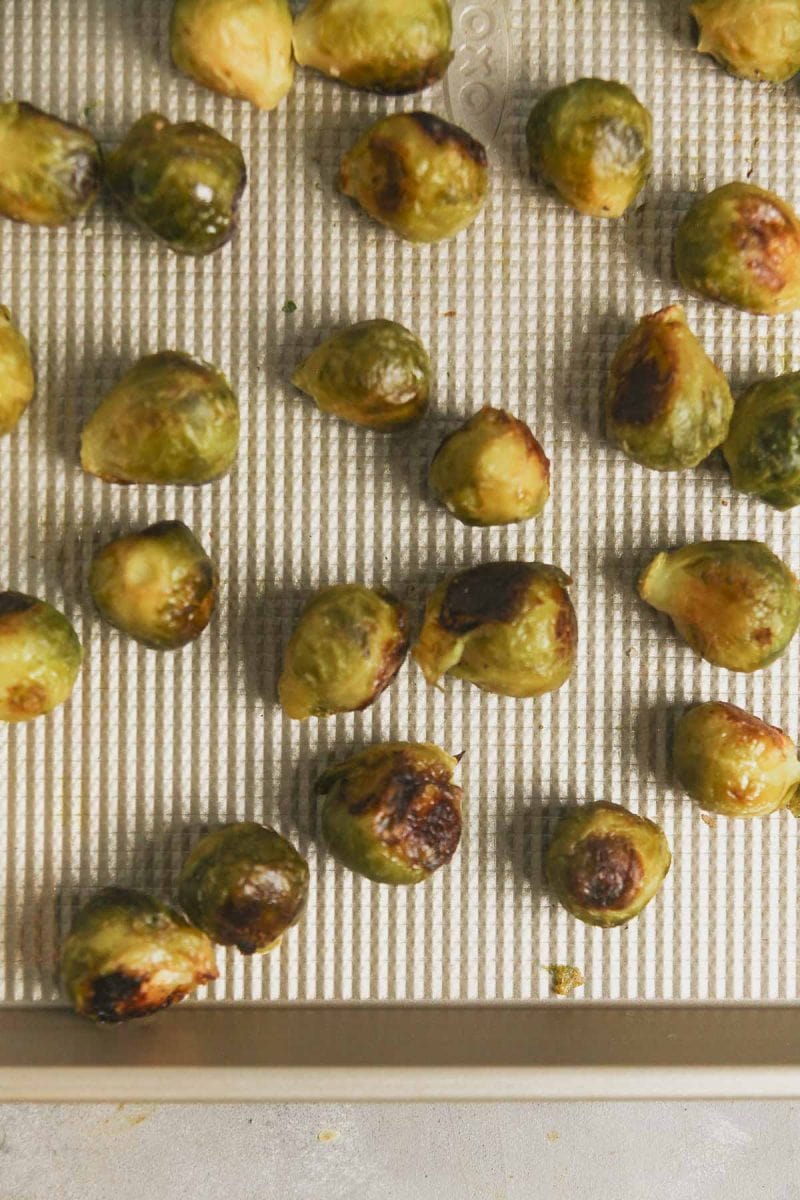 Step 3: Roast in a super hot oven
After about 15 minutes, the sprouts will start to brown on the bottoms. Give them a good stir so both sides can get nice and caramelized.
Step 4 (optional): Broil to perfection
For extra crispy and browned Brussels sprouts, pop them under the broiler set to high heatfor 3-4 minutes. Keep a close eye on them so they don't burn!
​Serving Suggestions
Roast Brussels spouts are the perfect canvass for all of your favorite sauces and dressings! Try tossing your cooked sprouts in Thai red curry, peanut sauce, or Greek Yogurt Caesar dressing. Or drizzle them with balsamic vinegar, tahini, lemon juice, or maple syrup.
Commonly asked questions
Do I need to defrost the frozen sprouts before I roast them?
No! In fact, defrosting them just results in excess water and a soggy mess. We're going straight from the freezer to the oven.
What's the deal with preheating the baking sheet? Can't I just toss them on a room temperature sheet?
Yes, but preheating the sheet pan helps the sprouts crisp and brown. If you forget, it's no big deal, but it does help them come out just a tiny bit better.
​How can I store leftovers?
Leftovers will keep well for about 3 days when refrigerated in an airtight container. Note that they will lose some of their crispness in the fridge.
Do they taste they same as fresh brussels sprouts?
Honestly, no. But that's not to say they're any better or any worse — they're just different! Fresh sprouts are chewier, with a dryer center, whole frozen sprouts are super tender. Both are great, it just depends on what you're in the mood for and what you happen to have in your kitchen!
More delicious vegetable recipes
Easy Roasted Frozen Brussels Sprouts
Unearth the hidden potential of your freezer with Roasted Frozen Brussels Sprouts! .We're talking crispy exteriors, perfectly tender interiors, and a simple, unpretentious cooking method.
Print
Pin
Save
Saved!
Ingredients
16

ounces

frozen Brussels sprouts

2

Tbsp

olive oil

or other neutral oil

½

teaspoon

kosher salt
Instructions
Heat your oven to 450°F. For the best results, place a rimmed baking sheet in the oven while it preheats.

In a large bowl, combine the frozen brissels sprouts, oil, and salt. Mix well to evenly coat the sprouts.

Spread the Brussels sprouts onto the hot baking sheet in a single layer, being sure to leave plenty of room between them.

Roast for 15 minutes. Flip the sprouts over so the other sides has a chance to brown.

Roast an additional 10 minutes, or until the sprouts are tender and browned.

If desired, broil under high heat for 2-3 minutes to crisp.
Nutrition Facts
Easy Roasted Frozen Brussels Sprouts
Amount Per Serving (1 serving)
Calories 74
Calories from Fat 45
% Daily Value*
Fat 5g8%
Sodium 213mg9%
Potassium 294mg8%
Carbohydrates 7g2%
Protein 3g6%
Vitamin A 570IU11%
Vitamin C 64mg78%
Calcium 32mg3%
Iron 1mg6%
* Percent Daily Values are based on a 2000 calorie diet.