Baked Spaghetti Squash is one of my favorite ways to add a healthy vegetable to my plate in the fall and winter. This post will show you how to bake spaghetti squash in the oven for the perfect side dish or use as a base for your favorite pasta sauces.
Baked Spaghetti Squash
Lately, a lot of people have asked me how to cook spaghetti squash and what to do with it. I'm happy to help! I absolutely love spaghetti squash – it's been one of my favorites for years!
Baked spaghetti squash is nutrient-dense and lends itself to many flavors. I know when I grab a spaghetti squash in the produce market, I can add it to almost any meal on my menu.
While it looks like a regular gourd, it is actually a very unique vegetable. The fibrous texture allows you to "pull" the strings of the flesh into spaghetti-like strands. This makes it a great option for those who are trying to limit pasta or carbs. It doesn't taste exactly like spaghetti, but it does have a very neutral flavor. If you aren't a big fan of vegetables, you can mix the squash with traditional pasta to hide it. Personally, I love to eat it on it's own!
If you haven't tried spaghetti squash yet, this simple cooking method will give you a newfound favorite menu item.
What are the Benefits of Spaghetti Squash?
The most commonly touted benefit of using spaghetti squash is it's the ability to substitute it for grain or carb-laden pasta. It's low in calories and is great for people following a gluten-free, low-carb, or diabetic diet. For many people, this is all that is needed to make it a worthwhile kitchen substitute.
Spaghetti squash is also a source of potassium, Vitamin A, folic acid, and beta carotene. And it tastes great!
How Can I Use Spaghetti Squash?
Frequently, spaghetti squash is used as a substitute for traditional pasta or zucchini noodles in recipes. You can bake it and then pull the strings of squash out and use it as a base for a pasta sauce or even your favorite slow-cooked Bolognese sauce.
You can eat it by itself as a simple side dish, or cut it in half lengthwise to turn it into a "boat" you can fill with sauces and protein.
As a kid, I ate spaghetti squash with lots of olive oil and parmesan. In college, I impressed my roommates by smothering it with creamy alfredo sauce. Lately, I've been enjoying this squash with browned butter, parmesan, and sage – a riff on a delicious pasta recipe I had in Italy last month.
You could use spaghetti squash in place of the pasta in my crab and corn pasta with avocado dill sauce recipe. Another great option would be to use this as a base for my meatballs with enchilada sauce.
Best Herbs to Season This Squash?
For this cooking method, I simply season the baked squash with salt and pepper alongside olive oil or avocado oil. But you might want to add more flavor to your final recipe creation!
Italian seasonings such as basil, thyme, and oregano work really well with the squash. Fresh minced or powdered garlic is another must-have in the pantry and works beautifully to add a depth of flavor to this vegetable.
Don't be afraid to experiment with fresh and dried herbs and spices to create any combination that works for your taste buds. Spaghetti squash is a perfect carrier for any flavor profile. Lately, I've been loving it with browned butter, parmesan, and sage – a riff on a delicious pasta recipe I had in Italy last month.
Can I Cook Spaghetti Squash and Freeze for Later?
I know that many people like to find shortcuts to save time. I get it!
Unfortunately, spaghetti squash is one vegetable that I just cannot recommend preparing in advance and freezing for later. The moisture content will naturally cause issues in the freezing process. Not only would you be more likely to experience freezer burn, but thawing and reheating would ultimately alter the texture enough to make it mushy and unappealing.
I do not recommend using this as a freezer meal option.
How to Cook Spaghetti Squash in the Oven
To cook spaghetti squash, you need to start by cleaning the outside of the squash well. While you will not be eating the skin, I always recommend washing and wiping down any vegetables you will be slicing into. This prevents cross-contamination of anything it came in contact with before it got to your home. You never know where that squash has been!
As for cutting the squash, you have a few options. The most popular way is to slice the squash in half lengthwise. Another way is to slice the squash cross-wise into four rounds. The squash is a little easier to cut this way and you'll get longer strands of "spaghetti" but you won't be able to make stuffed squash boats this way. Choose your method based on what you plan to do with the squash.
Next, scoop out the seeds with a spoon. If you want, you can save the removed seeds and roast them for a tasty snack! Then drizzle the squash with olive oil or avocado oil. Sprinkle with salt and pepper then place cut side down on a baking sheet. Poke the skin of the squash all over with a fork to help the steam escape.
Bake at 400 degrees until tender and able to pull the "strings" easily with a fork.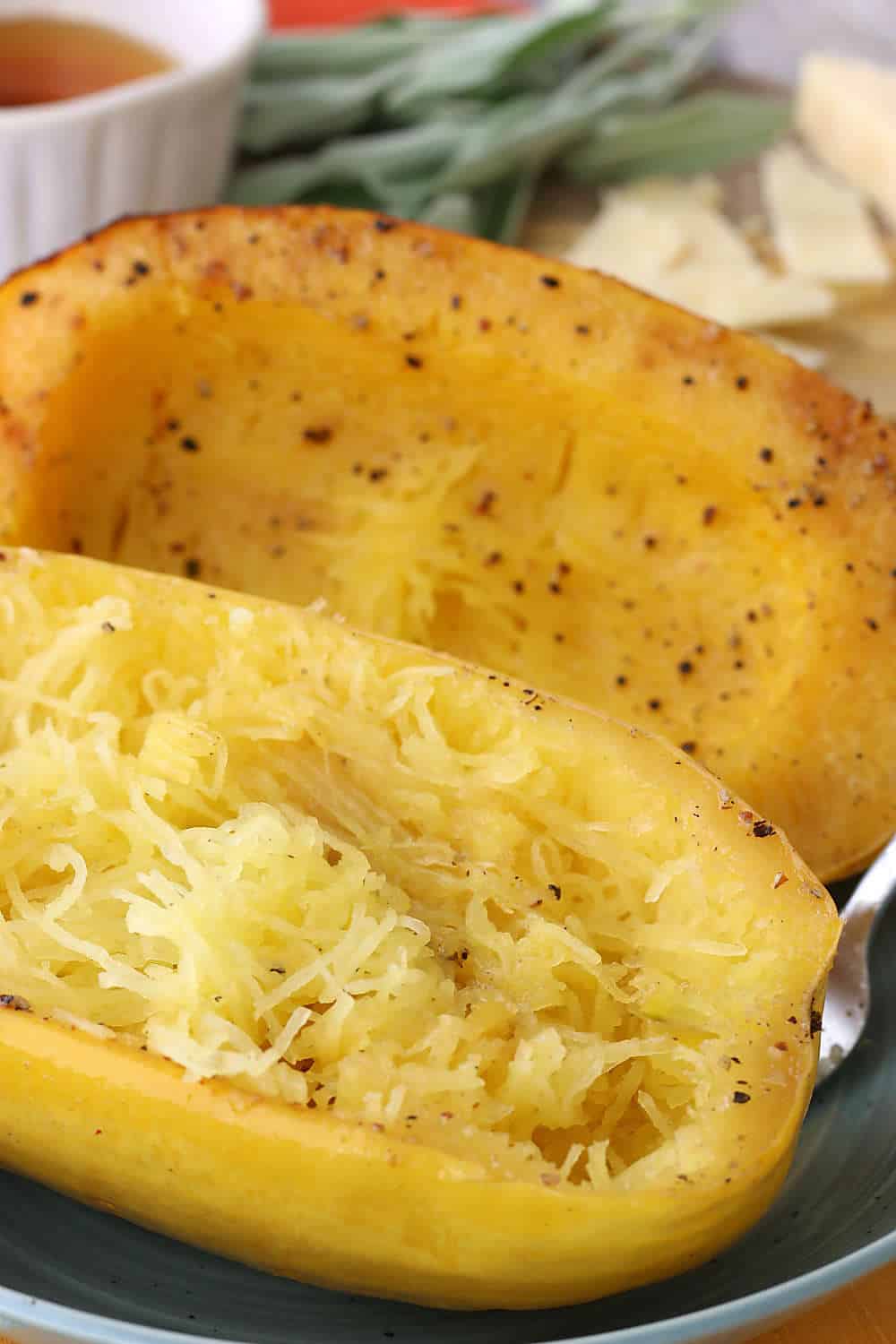 How Long to Cook Spaghetti Squash
Depending upon the size of your spaghetti squash, you can expect it to take anywhere from 30 minutes to one hour in the oven. An average-sized squash will typically need 30 to 40 minutes to cook through and be ready for use in recipes or to serve by itself.
Spaghetti Squash Recipes
Now that you know how to bake spaghetti squash, here are a few more recipes to try!
How to Bake Spaghetti Squash
Baked Spaghetti Squash is one of my favorite ways to add a healthy vegetable to some of my favorite fall recipes. This post will teach you how to bake spaghetti squash in the oven for the perfect side dish or to use as a base for your favorite pasta sauces.
Print
Pin
Rate
Ingredients
1

spaghetti squash

1

tablespoon

olive oil or avocado oil

salt and pepper to taste
Instructions
Preheat the oven to 400°F.

Slice the spaghetti squash in half lengthwise and scoop out the seeds. 

Drizzle the inside of the squash with olive oil and sprinkle with salt and pepper.

Place the spaghetti squash cut side down on the baking sheet and use a fork to poke holes in the skin. 

Roast for 30 to 40 minutes or until lightly browned on the outside, fork-tender, but still a little bit firm. The time will vary depending on the size of your squash.

Remove from the oven and flip the squash so that it's cut side up. When cool to the touch, use a fork to fluff the spaghetti strands from the insides of the squash.
Nutrition Facts
How to Bake Spaghetti Squash
Amount Per Serving (1 /4 squash)
Calories 126
Calories from Fat 72
% Daily Value*
Fat 8g12%
Sodium 117mg5%
Carbohydrates 16g5%
Protein 2g4%
* Percent Daily Values are based on a 2000 calorie diet.