Healthier broccoli casserole made with wholesome ingredients is a go-to side dish for family dinners that's perfectly cheesy. Whether you need a signature dish for the holidays or just want something simple to go along with your air fryer rotisserie chicken, you're going to love this easy recipe.
I don't know anyone who doesn't love the gooey, cheesy goodness of broccoli casserole.
We used to have broccoli as part of our Thanksgiving dinner every year, but it mostly went untouched. That is, until one year when someone had the brilliant idea of also serving cheese sauce! It was a total game-changer. No one could get enough, and every last bite of broccoli got gobbled down.
This healthy broccoli casserole takes things to the next level. Delicious roasted broccoli is blanketed with a rich cheese sauce, then topped with a buttery Ritz cracker topping and baked to perfection. To keep things on the lighter side, I swapped out the traditional white rice for cauliflower rice. It adds the perfect texture while keeping the recipe relatively low carb.
If you have any picky eaters in your family, this will be a vegetable side dish that they devour – if you're quick, you might even get a second helping for yourself, too.
---
Family Friendly – Who doesn't love veggies when they're covered in gooey cheese?
A Healthier Indulgence – Made with nourishing ingredients like frozen broccoli and cauliflower rice, with the perfect amount of rich cheese sauce.
Make It Ahead – Prepare this casserole the night before and bake it just before serving!
Healthy Broccoli Casserole Ingredients
You'll love how easy it is to make this cheesy broccoli casserole with just a few ingredients. This healthy version of the classic dish is made with wholesome ingredients like real butter and sharp Cheddar cheese — no cream of soup to be found!
Broccoli Florets. Frozen broccoli keeps things simple, but I'll also cover how to make this casserole with fresh broccoli.
Cauliflower Rice. For us, this casserole is a vegetable side, not a starchy one. To keep carbs down, I use cauliflower rice instead of white rice. This also speeds up the cooking process, which is always a win in my book! You can use fresh or frozen cauliflower rice.
Shredded Cheddar Cheese. Bagged shredded cheese is packaged with an anti-caking agent, like cornstarch, that can impact its ability to melt into the creamy sauce of your dreams. For the best results, shred your own cheese straight off the block. That said, Sargento Creamery Cheddar and Tillamook both make pre-shredded cheese that melts well if you'd rather go that route.
Cream Cheese. A smidge of cream cheese melted into the sauce adds extra rich, creamy flavor and a subtle tang.
Low Sodium Chicken Broth. The cheese needs a liquid to melt into and chicken broth adds great flavor. For a vegetarian variation on this recipe, you can use vegetable broth or stock instead.
Worcestershire Sauce. A splash a Worcestershire sauce adds depth and umami flavor to the casserole. You can leave it out in a pinch, but it adds a great savory element that's so good!
Crushed Crackers (or Breadcrumbs). One of the highlights of this casserole is the buttery cracker topping. Ritz crackers are classic and provide excellent flavor and crunch, but you can use gluten-free or low carb crackers if you desire. I've also made this a keto version of this casserole with a topping of pork panko.
Frequently Asked Questions About Broccoli Casserole
Can I use fresh broccoli in this recipe?
I like the convenience of using frozen broccoli for this casserole but, if you have a few extra minutes, fresh broccoli is also delicious.
If you opt to use fresh broccoli, you'll need to par-cook it to ensure it isn't too crunchy. You can either blanch the broccoli or steam it in your microwave.
To blanch fresh broccoli, boil in for 2-3 minutes, until it's bright green. Immediately transfer the broccoli to a bowl of ice water to stop the cooking process.
Pat the cooled broccoli dry to avoid adding excess moisture to your casserole!
Can this broccoli casserole recipe be made ahead?
For the best results, make this casserole up to one day in advance.
If you're planning to make this broccoli cheese bake ahead of time, assemble it but don't add the cracker topping or final sprinkle of cheese. Wrap tightly and refrigerate until ready to bake. Add the cracker crumbs and cheese just before baking, and increase the bake time by 10 minutes, or until the casserole is bubbling and golden brown.
Leftovers reheat well and can be stored in the refrigerator for 3-4 days. Store your leftovers in an airtight container or in the casserole dish wrapped tightly with plastic wrap.
You can also freeze your casserole for up to 1 month. To reheat, thaw overnight in the refrigerator and reheat in the oven at 350℉ for 15-20 minutes, covered with aluminum foil, or until heated through.
Note that the cracker topping will lose some of its crunch if the backed casserole is refrigerated or frozen.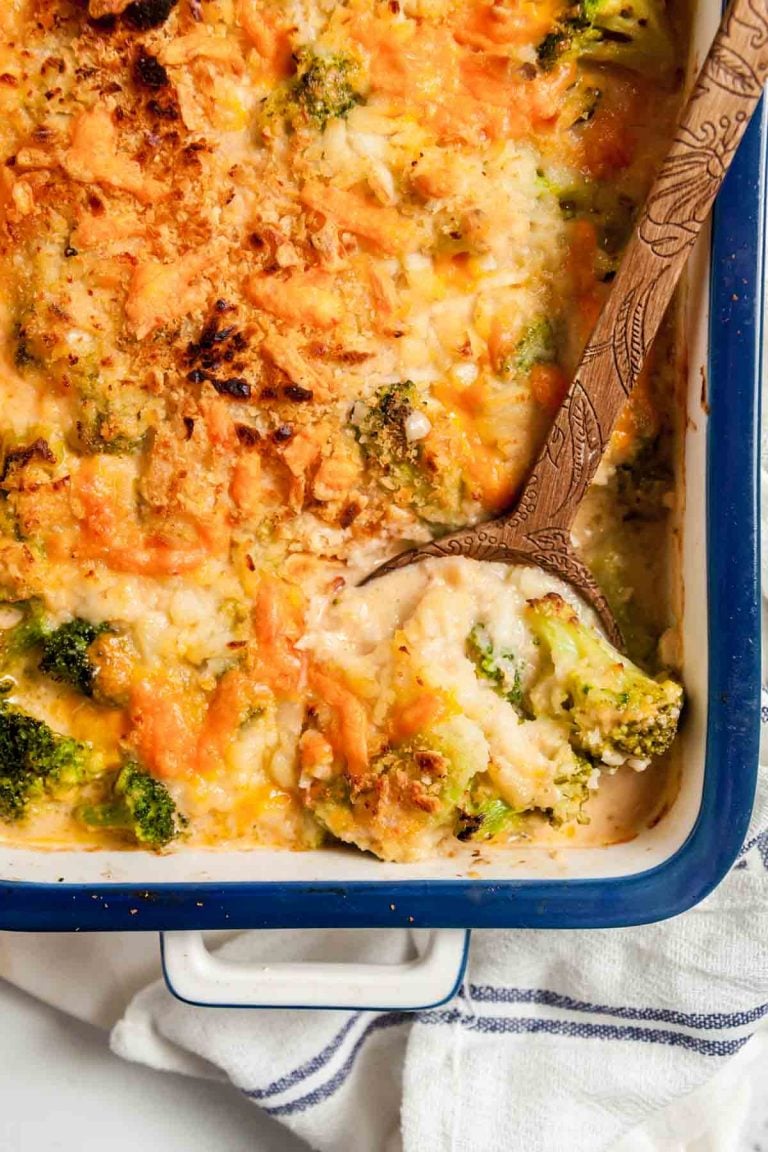 Substitutions and Variations
As written this broccoli casserole is a great side dish. You can turn it into a heartier main meal in a number of ways:
● Add 3 cups of cooked rice or quinoa instead of the cauliflower rice;
● Add 3 cups of cooked ground chicken or ground beef;
● Add cooked and cubed potatoes; or
● Use ½ cup of crispy crumbled bacon as a topping!
You can also play around with different cheeses for a unique flavor. Cheddar cheese is classic, but other great options include Monterey Jack or Provolone.
More delicious healthy casserole recipes
Here are some more fantastic vegetable side dishes to try:
● Fresh Green Bean Casserole
● Sweet Potato Casserole With Curried Cashews
● Cajun Turkey Casserole
If you love the broccoli and cheese combo, be sure to also try my broccoli cheese soup recipe!
Broccoli Cheese Casserole
Cheesy broccoli casserole made with wholesome ingredients is a go-to side dish for family dinners! Whether you need a signature dish for the holidays or just want something simple to go along with your air fryer rotisserie chicken, you're going to love this easy recipe.
Print
Pin
Save
Saved!
Ingredients
1

pound

fresh or frozen broccoli florets

1

tablespoon

butter

1

tablespoon

oil

1

onion

diced

4

garlic cloves

minced

2

tablespoons

flour

1

cup

low sodium chicken broth

2

ounces

cream cheese

1

teaspoon

Worcestershire sauce

2

cups

shredded cheddar cheese

2

cups

cauliflower rice

8

crushed Ritz crackers or 1/3 cup breadcrumbs
Instructions
Spray a 9×13 casserole dish with cooking spray.

If using fresh broccoli, steam or blanch it until fork-tender (see post). If using frozen broccoli, thaw, and drain.

Add the butter and oil to a saucepan over medium heat. When the butter is melted, add the onions and garlic; cook for 3-4 minutes or until softened.

Stir in the flour and cook for 1 minute. Whisk in the chicken broth and reduce the heat to low.

Add the cream cheese and cook, stirring frequently, until melted. Stir in the Worcestershire sauce.

Add the cheddar cheese and stir until fully melted. Stir in the cauliflower rice.

Add the broccoli to the prepared baking dish. Pour the cheese sauce over the broccoli; top with the cracker crumbs.

Bake at 350°F for 45 minutes. If desired, broil the casserole for 5 minutes for a crispier topping.
Nutrition Facts
Broccoli Cheese Casserole
Amount Per Serving (1 /8 recipe)
Calories 229
Calories from Fat 144
% Daily Value*
Fat 16g25%
Cholesterol 39mg13%
Sodium 295mg13%
Carbohydrates 12g4%
Protein 10g20%
* Percent Daily Values are based on a 2000 calorie diet.