Lightened-up sweet potato casserole is a warm and comforting side dish that makes a frequent appearance on my dining room table in the colder months. Unlike traditional sweet potato casseroles that are loaded with syrup and topped with marshmallows, this casserole gets its flavor from buttery cashews and smokey, spicy madras curry powder.
This post is part of a sponsored collaboration between Trop50 and SheKnows.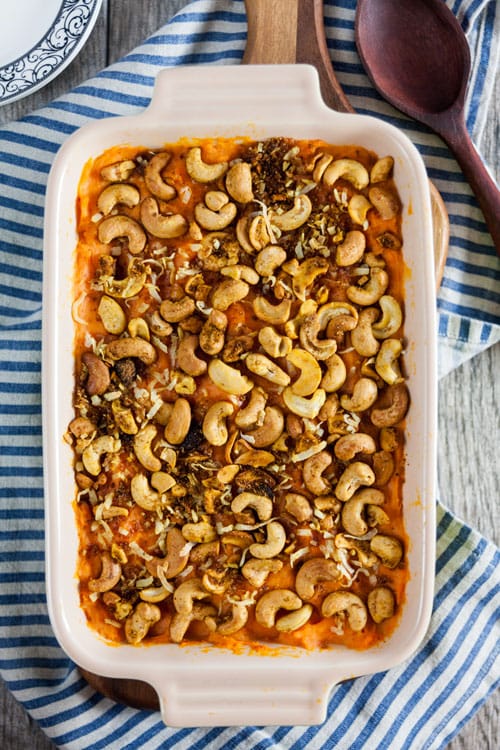 The curried cashews that top this sweet potato casserole were one of my favorite recipes from culinary school. We made them to add to quinoa and apple salad, but I've been looking for ways to incorporate them into other recipes ever since.
As soon as the cooler weather began to roll in, it hit me: sweet potato casserole! The buttery, spicy nuts are an amazing contrast to silky smooth sweet potatoes.
Instead of using milk or butter, I mashed the sweet potatoes with Trop50 orange juice. It gives them a nice bright flavor and keeps the recipe dairy free.
An egg mixed in to the potatoes helps them rise a little so they're light and fluffy, but you can omit it for a vegan option.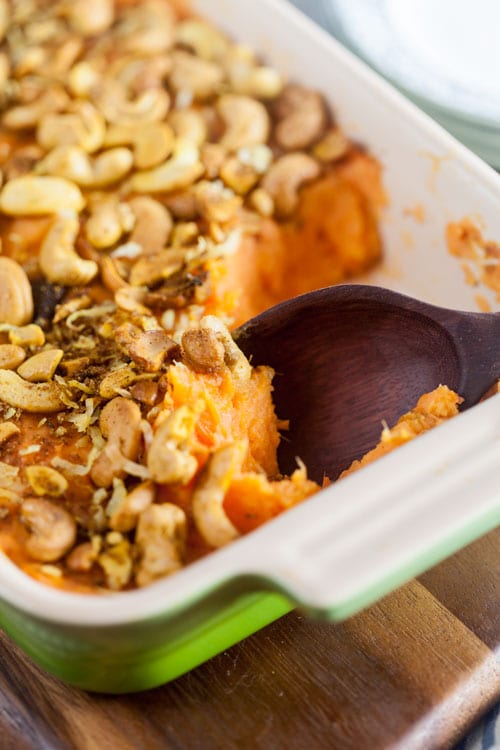 For more sweet potato recipes, try one of these: Sweet Potato and Sausage Quesadillas//Sweet Potato and Quinoa Patties with Curry Sauce//Sweet Potato Flatbread with Goat Cheese//Sweet Potato Enchiladas