This cheesy scalloped potatoes recipe is so easy to make at home with nutritious ingredients. It's become one of my go-to wide dishes recently. Make this from-scratch recipe once, and you'll never reach for a box of potatoes au gratin again.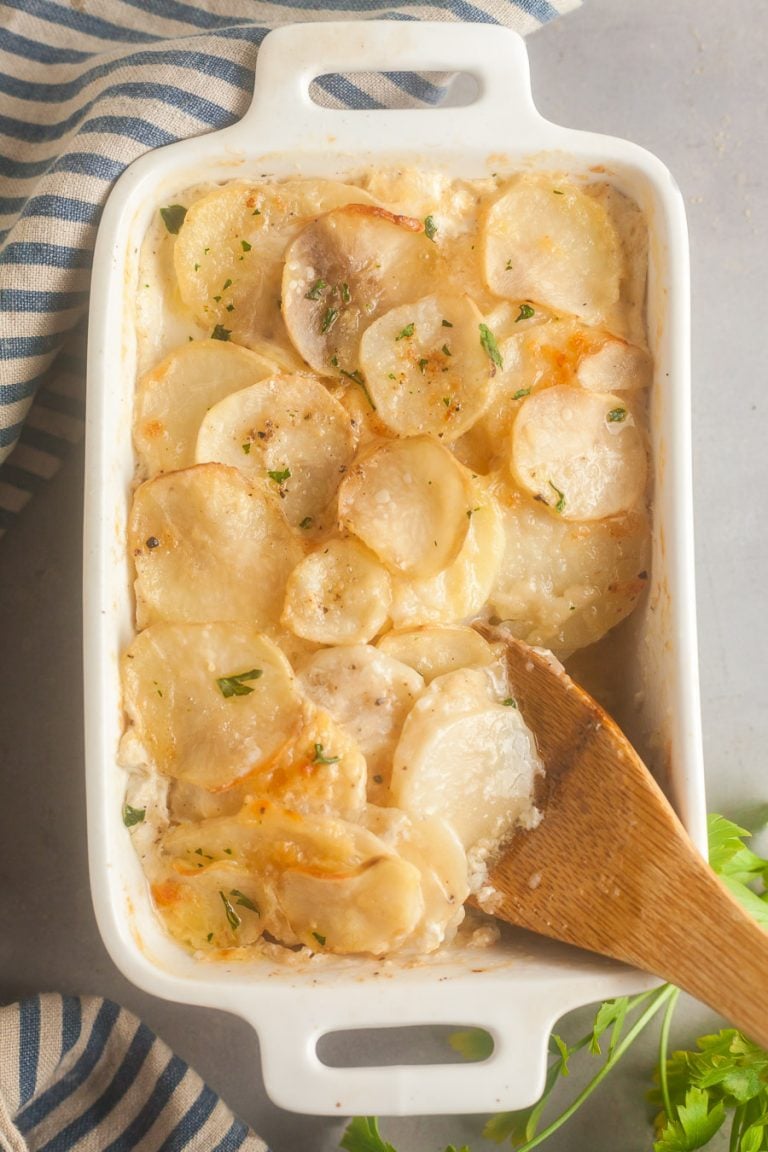 Growing up, baked scalloped potatoes from a box were one of my favorite side dishes. Or was it au gratin potatoes? I could never keep them straight, but they were delicious.
(People use the terms interchangeably, but traditionally au gratin potatoes are the cheesy ones. Bety Crocker's boxed scalloped potatoes have cheese though, so you really can't blame anyone for being confused!)
These days, those dehydrated potatoes kind of weird me out. Not to mention all of the other chemical-y sounding ingredients listed on the box.
Luckily, it turns out that homemade scalloped potatoes are super easy to make with real, whole-food ingredients. They only take a few minutes longer to prepare than the boxed version and they're so much tastier!
I've been making this scalloped potato recipe about once a month for the last year or so. This time around, I thought I'd try a new recipe from the new book All Stirred Up: Suffrage Cookbooks, Food, and the Battle for Women's Right to Vote, written by my friend Laura Kumin.
This year marked the 100th anniversary of the ratification of the 19th amendment, granting women the right to vote. In her book, Laura explores the history of the women's suffrage movement and the way they used cookbooks and community events to get their message out.
In addition to being a fascinating account of the history of women's suffrage, it's a great collection of classic, down-home recipes adapted for today from original suffrage cookbooks.
For this month's edition of Progressive Eats, we're doing a blog tour of recipes from the book, so be sure to scroll all the way down to the bottom of this post for links to more!
Making scalloped potatoes from scratch
This cheesy scalloped potatoes recipe is even easier than the one I had been using since it eliminates the step of starting everything on the stovetop.
You just layer everything in a casserole dish and bake it until the potatoes are soft and the sauce is bubbling and browned. How much easier can it get?!
To make it, you'll need:
Potatoes. Choose something starchy like peeled Yukon Gold or Russet potatoes. The starches help thicken the sauce, so this recipe won't come out right if you use a waxy potato.
Flour. It might look like you're adding a lot, but it's important since it helps thicken the sauce. If you don't add enough, your potatoes might come out soupy, and no one wants that!
Butter. Because butter makes everything better.
Cheese. You can omit this, but why would you want to? More on the best types of cheese to use below.
Mustard Powder. You can leave this out if you don't have any, but it adds a nice, subtle flavor to the casserole.
Milk. Use whole milk for this recipe; lower fat and non-dairy milk won't necessarily thicken properly.
Cutting the potatoes
To ensure the potatoes soften properly and don't end up crunchy, you need to slice them really, really thin. I like to slice mine to about a 1/8-inch thickness.
Since this recipe only calls for one pound of potatoes, I usually just use a mandolin. Be sure to use the finger guard or wear a pair of cut-proof gloves to protect your hands!
If using a mandolin makes you nervous (I don't blame you!) you can also use a food processor with a slicing attachment. This is also a great option if you're making a larger batch and have more potatoes to deal with.
Of course, you can also just use a sharp knife, cutting the potatoes as thinly and evenly as you can.
If you opt to go this route, it's helpful to cut each potato in half length-wise to create a flat edge. This helps stabilize the potato on your cutting board so you can get thinner slices. The potatoes will be a half-moon shape instead of round, but they'll cook up just the same and will still be delicious!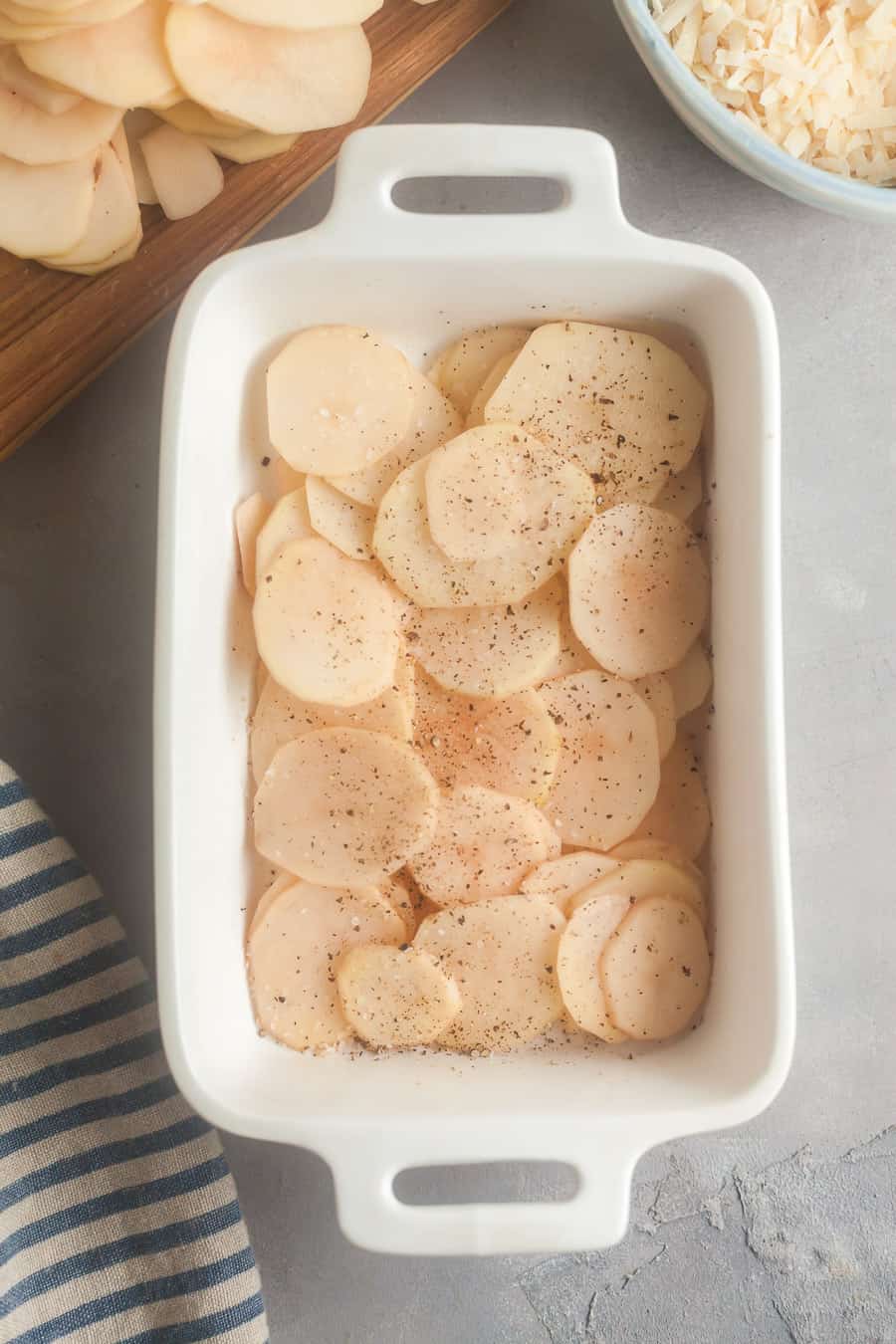 What kind of cheese to use?
The recipe for these easy scalloped potatoes just calls for cheese, without specifying which kind to use. That's because any hard cheese will do, so you can feel free to use whatever you prefer — or whatever you happen to have on hand.
Laura said she likes to make them with sharp cheddar, which sounds fantastic. I used Parmesan since that's what I had in the fridge and is what I'm used to using.
Next time, I'm going to use a nutty gruyere, which I think will be delicious and perfect for winter.
More recipes from All Stirred Up:
Welcome to Progressive Eats, our virtual version of a Progressive Dinner Party. This month's theme is a celebration of women's suffrage, and our host is Laura who blogs at Mother Would Know.
If you're unfamiliar with the concept, a progressive dinner involves going from house to house, enjoying a different course at each location. With Progressive Eats it's a virtual party. The host for the month chooses the theme and members share recipes on that theme suitable for a delicious meal or party. Then you can hop from blog to blog to check them out. So come along and see all of the delicious and inspired dishes!
Cocktail
Appetizers
Main Courses
Sides
Dessert
Classic Scalloped Potatoes
This recipe was reprinted with permission from All Stirred Up by Laura Kumin
Print
Pin
Save
Saved!
Ingredients
1

pound

Yukon gold potatoes

peeled and very thinly

sliced by hand or with a mandoline

1

⁄2 teaspoon kosher or sea salt

2

tablespoons

1–11⁄2 oz/28–43 g unsalted butter

2

tablespoons

3/5–4/5 oz/16–23 g all-purpose flour

1

cup

4 oz/113 g shredded cheese

1

teaspoon

dry mustard

optional

1

cup

8 fl oz/237 ml milk
Instructions
Preheat the oven to 350° F/180° C. Butter or oil a small baking
dish (I used a 4 1⁄2 x 7-inch/close to 20 x 10 cm casserole).

Put a layer of the raw potatoes in the baking dish. Sprinkle salt
and pepper on top, dot the butter, and sprinkle or sift about a 1⁄2–1
tablespoon of flour on top. (If desired, add the shredded cheese
mixed with dry mustard.) Repeat the layers until all the potatoes
are used up. End with butter.

Pour milk into the dish until it just about covers the top potatoes.
Bake for about 45 minutes covered, then uncover and bake for an
additional 15 minutes. If desired, broil for 1–2 minutes at the end
to crisp up the top layer of potatoes.
Nutrition Facts
Classic Scalloped Potatoes
Amount Per Serving (1 g)
Calories 415
Calories from Fat 81
% Daily Value*
Fat 9g14%
Cholesterol 22mg7%
Sodium 368mg16%
Carbohydrates 72g24%
Protein 11g22%
* Percent Daily Values are based on a 2000 calorie diet.