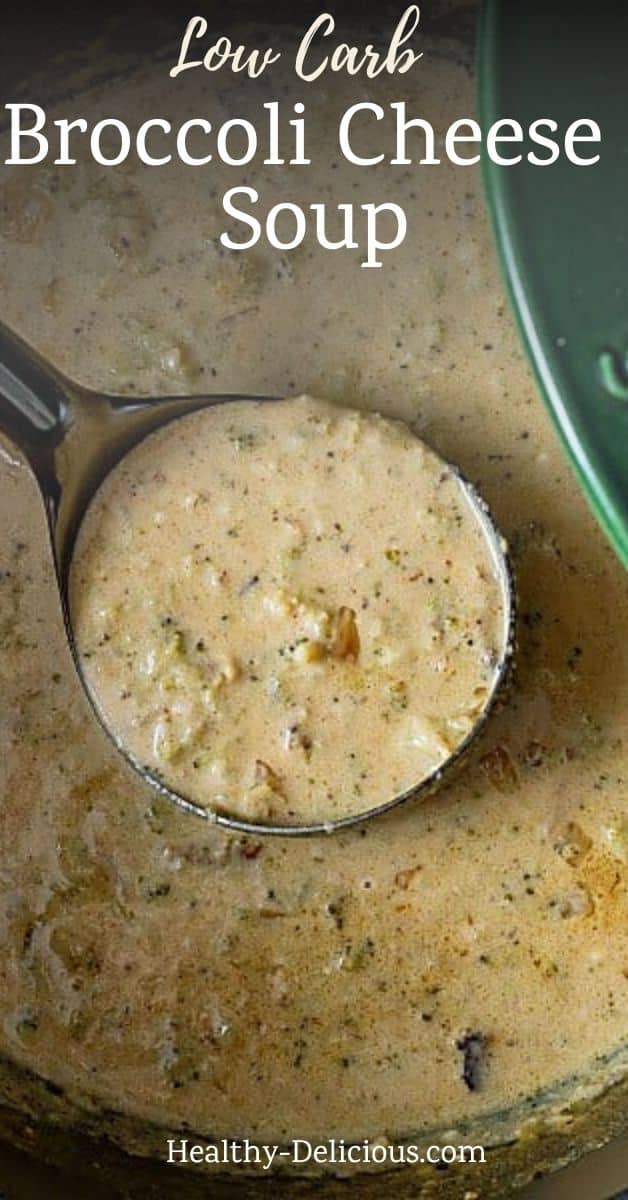 Creamy broccoli cheese soup made with a blend of three cheeses and a hint of spice is an easy weeknight dinner ready in under 30 minutes. Plus it's vegetarian! What could be better?
I love broccoli soup. I mean, who doesn't? So I was really surprised when I realized that I didn't have a broccoli cheese soup recipe here on the site. I have an amazing creamy cauliflower soup, but no broccoli.
Obviously I got to work remedying that right away!
This spicy broccoli soup is really something special.
First off, there's a hint of spice from some chipotle chili powder. It's not crazy hot, but it's a subtle, smoky heat that's so. freaking. good. It's the kind of heat that lingers a little and makes this chowder so incredibly cozy.
Then, there's the cheese. Or should I say the cheeses. There are 3 of them. Go big or go home, right?
Sharp cheddar cheese gives this soup the classic flavor that you expect from broccoli soup. Parmesan adds a sharp bite and a ton of depth. And Monterey Jack melts so well – it gives the chowder great body and richness. This soup must just be the ultimate comfort food.

How do you make broccoli cheese chowder?
To make this soup, you'll start by sauteing an onion in butter and oil. I like using a combination of the two instead of one or the other. The butter gives you great flavor, but it burns easily if you use it on its own. Adding a little bit of olive oil raises the smoke point, so you can all of that delicious buttery flavor without any burned bits.
Stir in the spices and let the toast for a minute or two. This helps bring out their flavor. You'll be able to tell the difference in how they smell as they toast!
Stir in the broccoli and vegetable broth and simmer until soft.
If you want, you can use an immersion blender to gently blend some of the soup, giving it a creamier texture. It's up to you! If you do decide to blend it, be sure not to go overboard – you want to keep some texture! I bought this Kitchen Aid stick blender recently and I love it (affiliate link). It's definitely a great deal for the price, and cute too!
Finally, stir the cheese in slowly, letting it melt into a creamy puddle. Ahhhhhhh! So good.
Why use frozen broccoli in cream of broccoli soup?
I wish I could tell you the reason I use frozen broccoli in this soup is because I'm lazy and don't feel like chopping fresh broccoli, but that's only part of the truth.
The real reason is that frozen broccoli is blanched, so it's already partially cooked. That means the soup comes together faster and the broccoli will be softer than if you use fresh broccoli. If you really want to use fresh you can, but plan to let it simmer for at least a half hour to give the broccoli enough time to fully soften.
How do I keep homemade broccoli cheese soup from being grainy?
A lot of times, homemade broccoli soup can have a grainy, sandy texture. That happens when the soup is too hot when you add in the cheese, or if you try to add too much cheese at once. The proteins seize up and the cheese sticks together in clumps rather than melting into the smooth chowder that dreams are made of.
To keep this from happening, take the soup off the burner before you add the cheese and let it cool down slightly. Then add the cheese little by little, letting it melt completely before you add more. Using freshly grated cheese rather than pre-shredded cheese, which is coated in starch, will also help it melt more smoothly.
What should I serve with spicy broccoli soup?
I LOVE serving broccoli soup with good, crusty bread for dunking. If you're feeling ambitious, these homemade potato rolls are great. You could also serve this soup in miniature bread bowls or topped with pretzel crisps.
For a gluten-free option, I actually love serving this soup with apple wedges. You can even dunk them just like you would with bread. Apples and cheese are so good together – trust me!
A big green salad dressed with an acidic dressing, like simple oil and vinegar, is also a great side dish that helps balance out the richness of the soup.
Spicy Broccoli Cheese Soup
Creamy broccoli cheese soup made with a blend of three cheeses and a hint of spice is an easy weeknight dinner ready in under 30 minutes. Plus it's vegetarian!
Print
Pin
Save
Saved!
Ingredients
4

Tablespoons

butter

2

Tablespoons

olive oil

1

onion

diced

2

garlic cloves

minced

½

teaspoon

smoked paprika

¼

teaspoon

chipotle chili powder

½

teaspoon

nutmeg

1

Tablespoon

Dijon mustard

16

ounces

frozen broccoli florets

2

cups

vegetable broth

8

ounces

sharp cheddar

shredded

8

ounces

Parmesan cheese

shredded

8

ounces

Monterey Jack cheese

shredded
Instructions
In a large soup pot, melt the butter and oil over medium heat. Add the onion and cook until softened, 3-5 minutes. Stir in the garlic, paprika, chili powder, and nutmeg; cook for 1-2 minutes, until fragrant.

Whisk in the broth and mustard. Add the broccoli. Cover and simmer for 15 minutes, until the broccoli is tender.

If desired, gently blend some of the soup using an immersion blender.

Remove the soup from the heat. Slowly stir in the cheese little by little, letting each addition fully melt before adding more.

Season to taste with salt and pepper.
Nutrition Facts
Spicy Broccoli Cheese Soup
Amount Per Serving (1 serving)
Calories 300
Calories from Fat 216
% Daily Value*
Fat 24g37%
Cholesterol 59mg20%
Sodium 750mg33%
Carbohydrates 6g2%
Protein 17g34%
* Percent Daily Values are based on a 2000 calorie diet.