This air fryer rotisserie chicken recipe, with deliciously crispy skin and juicy meat, is about to become your new go-to for weeknight dinners. It's so easy to make, just toss everything in the air fryer and let it work its magic. Once you give this recipe a try, you'll be hooked.
Fantastically juicy air fryer chicken with crispy skin
Rotisserie chicken is one of the most simple and satisfying dinners around, but baking it in the oven can take a while so it isn't usually an option on weeknights.
Enter, the air fryer!
Most people think air fryers are only good for bready, fried foods but you can cook almost anything in them. It works just like a traditional oven, but cooks food faster and doesn't take any time to preheat.
That means this air fryer rotisserie chicken is fully cooked in just about 50 minutes!
The fan that circulates air inside the fryer helps dry out the skin, making it super crispy and golden brown and locking the juices inside for some of the most tender chicken you'll ever eat.
Even the breast meat is super juicy and flavorful!
This recipe will leave you licking your fingers clean!
Looking for more protein options to make in your air fryer? I'm also a huge fan of air fryer salmon and air fryer chicken meatballs. You might also like this air fryer pork loin.
Ingredients
Technically the only thing you need to make this air fryer rotisserie chicken is a chicken that fits in your air fryer basket. For my 3.7 quart air fryer, a whole chicken under about 4 pounds works pretty well.
Of course, you know me — I need to ramp up the flavor as much as I can to make my recipe really special.
So before cooking, I make a thick paste inspired by Cornell chicken (also known as State Fair Chicken) and give the chicken a good rub down. This infuses the meat with flavor and gives the skin a bright, salty, and slightly tangy flavor.
To make the Cornell chicken marinade, you'll need:
Apple Cider Vinegar
Olive Oil or Avocado Oil
Fresh Lemon Zest and Juice
Dry Parsley
Dry Basil
Dry Oregano
Kosher Salt
Cracked Black Pepper
Garlic Powder
You could also use a brine, like this easy turkey brine, instead of the rub.
How to make air fryer roast chicken
To prepare your chicken, start by mixing together the oil, vinegar, and spices.
Rub the mixture all over the chicken. You can cook it right away or stick it in the refrigerator for up to 24 hours to let the flavors infuse. If you have time and can plan ahead, I recommend letting it sit with the marinade for at least an hour.
Next, place the chicken breast-side down in the air fryer basket. Cooking the chicken this way lets the juices from the meat drip down into the breast as it cook and prevents the white meat from drying out. It's seriously so juicy!!
Air fry the chicken for 40-55 minutes, or until it reaches an internal temperature of 165ºF.
Note that cooking the chicken "upside-down" will mean the final presentation is a little funny since we're used to looking at a chicken served with the breast side up. The skin on the breast side will melt away as the chicken cooks, so presenting it this way isn't possible when cooking it in an air fryer. For a more formal presentation, you can slice the chicken and arrange it on a nice platter.
Tips for the best air fryer chicken
My marinade/rub for this recipe was inspired by State Fair Chicken/Cornell Chicken, similar to chicken spiedies. Feel free to use a store-bought marinade of your choice or an entirely different homemade marinade.
If you don't anticipate using up leftover chicken during the week, freeze it for up to 4 months instead in an airtight container.
The best way to reheat leftover chicken is in the oven, covered with aluminum foil, so that the meat doesn't dry out while being reheated. Since chicken is a leaner meat with less fat than other meats, it's important to be extra careful not to dry out the meat.
While you can cook your chicken right away, I do recommend that you marinade for 12-24 hours for best results. This will allow the chicken to become more tender and juicy as well as extremely flavorful.
Don't let the bones go to waste! Use the carcass to make delicious homemade chicken stock.
Ways to use leftover air fryer rotisserie chicken
Leftover air fryer rotisserie chicken can be used up in various other recipes to be enjoyed as main meals, snacks, or appetizers. Consider making the following recipes with your leftover chicken:
How to store rotisserie chicken
Leftover air fryer rotisserie chicken will last for up to 4-5 days in the refrigerator when stored in an airtight container, giving you ample time to use up your chicken!
Side dish ideas for rotisserie chicken
This air fryer rotisserie chicken pairs beautifully with almost any side dish.
Serve yours with a side of Jiffy cornbread dressing or your favorite vegetables, rice, or a light leafy salad while leftovers can easily be stored and used during the week ahead for additional meals to feed yourself or the family.
Here are some of my personal favorite sides dishes to serve with this air fryer chicken recipe:
In addition to side dishes, consider making some homemade chicken gravy to add to this meal! You can also find my delicious vegetarian mushroom gravy recipe here.
More Staple Air Fryer Recipes: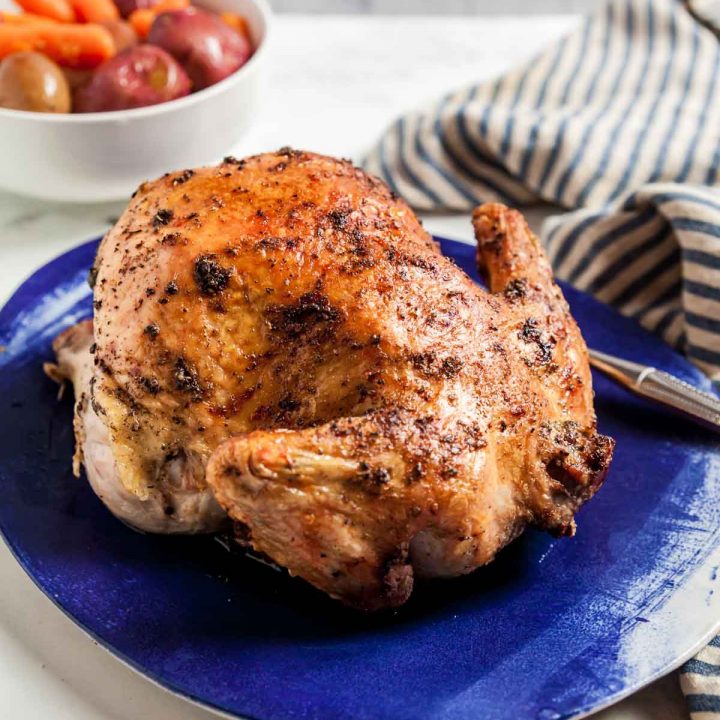 Air Fryer Rotisserie Chicken
Air fryer rotisserie chicken is perfect for weeknight dinners. This recipe is so easy and quick, you can have dinner on the table with practically no effort at all. Be prepared for everyone at the table to fight over the crispy chicken skin! You can serve this roast chicken with your favorite sides, then use the leftovers to make sandwiches, salads, soup, etc.
Print
Pin
Save
Saved!
Ingredients
¼

cup

apple cider vinegar

2

tablespoons

olive oil or avocado oil

1

lemon

zested and juiced

1

teaspoon

dried parsley

1

teaspoon

dried basil

1

teaspoon

dried oregano

1

teaspoon

kosher salt

½

teaspoon

freshly ground black pepper

¼

teaspoon

garlic powder

1

small whole chicken

about 3.5-5 pounds
Instructions
To make the marinade, combine the vinegar, oil, lemon juice and zest, and spices to form a thick paste. Rub al over the chicken and refrigerate for up to 24 hours.

Place the chicken breast side down in the basket of your air fryer.

Air fry at 360°F for 40-55 minutes, or until it reaches an internal temperature of 165 degrees and the juices run clear when pierced with a knife. Note that cooking time with vary slightly depending on the size of your chicken, with smaller chickens cooking slightly faster than larger ones.

Remove from the air fryer and let rest for 10 minutes before slicing.
Nutrition Facts
Air Fryer Rotisserie Chicken
Amount Per Serving (1 /6 chicken)
Calories 303
Calories from Fat 180
% Daily Value*
Fat 20g31%
Cholesterol 88mg29%
Sodium 293mg13%
Carbohydrates 1g0%
Protein 27g54%
* Percent Daily Values are based on a 2000 calorie diet.