Crispy baked chicken wings with a margarita glaze and a smattering of salt are the perfect way to celebrate National Margarita Day!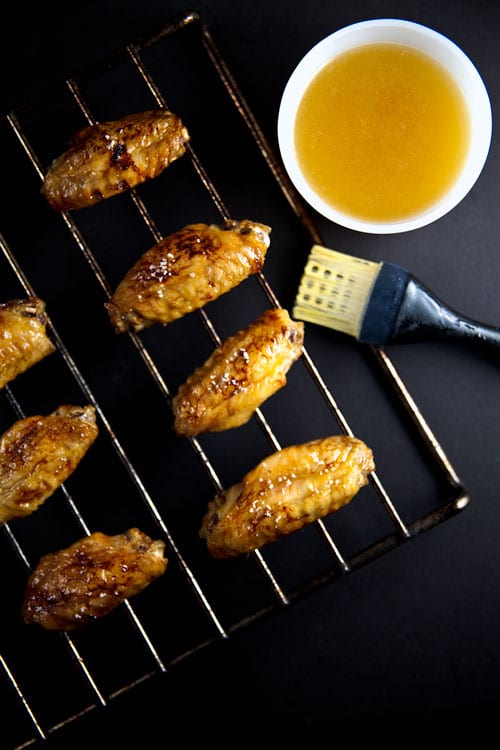 Did you know that just about every day has been designated as the nation something or other day related to food? It's a little silly, but some are definitely worth celebrating. Today, a group of friends and I are celebrating National Margarita Day – probably one of the very best days there is!
I didn't really feel like making an actual margarita though, since I already posted a few cocktail recipes this month (my blackberry-basil margarita and this awesome color changing cocktail). I've had chicken wings on my mind ever since Eat the Love posted a whole week of chicken wing recipes last month (more specifically since the second I first laid eyes on his Korean Fried Chicken Wings, which I plan to make very, very soon), so it seemed like a natural choice to make Margarita Chicken Wings!
These wings are baked at high heat until they're perfectly crisp before getting slathered with a sticky, sweet, citrusy glaze. Since no margarita is complete without the salt, a smattering of crunchy sea salt is the perfect finishing touch. These are so easy to make and are such a fun dish to serve at a party or perk up a weeknight dinner. They're also dangerously good – we gobbled them right up!
(These wings are delicious with just the glaze but if you like to spice things up, they're also great with a splash of hot sauce. My instinct was to grab a bottle of Cholula, which you can see below, but I was wrong. We both thought they were way better with Tabasco, which is thinner and more vinegary.)


If you love margaritas, be sure to check out all of these National Margarita Day posts from my friends! From drinks to desserts, we have all of the bases covered.
Margaritas:
Margarita Bites: