Cauliflower Rice Risotto is a lower carb alternative to one of my favorite classic recipes. Enjoy it as a side dish, or top it with an egg, shrimp, or your favorite protein for an easy main dish.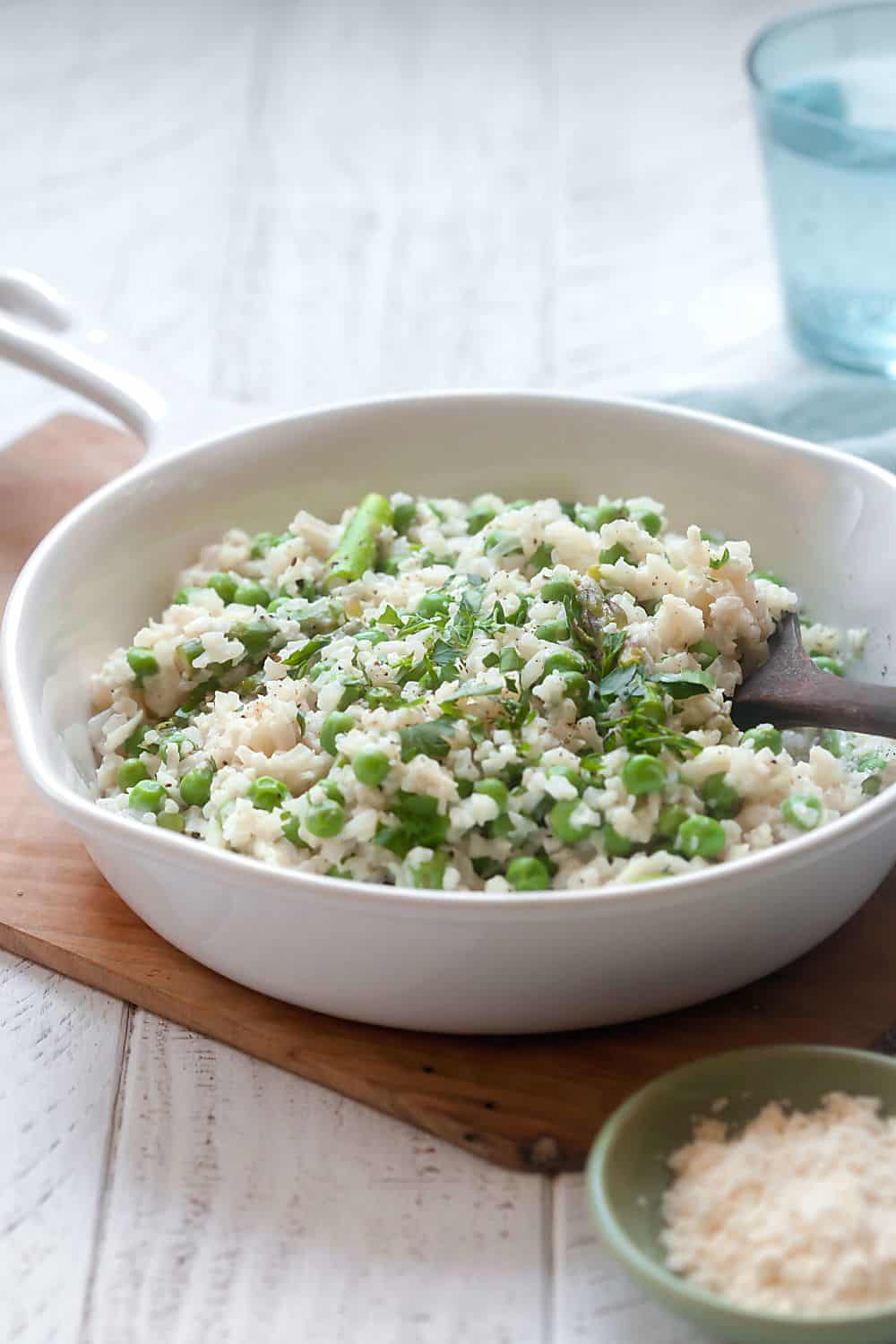 I created this recipe for my client, GO VEGGIE. Their vegan cream cheese and lactose-free parmesan adds tons of flavor to this cauliflower rice risotto recipe while keeping things lactose-free – great if you're serving this at a holiday gathering where people might have food allergies! As always, thank you for supporting the brands that keep me inspired in the kitchen.

It isn't a secret that I'm obsessed with risotto. I've made it the traditional way, in the oven, for breakfast, and with farro instead of rice. Now that I've been trying to eat fewer carbs, it was only a matter of time before I made it with cauliflower rice.
In addition to being chock-full of nutrients, cauliflower rice risotto is also much quicker to make than traditional risotto, coming together in just about 15 minutes. That means it works great as a quick and easy weeknight meal when you pair it with your favorite protein (I'm partial to a runny egg or grilled shrimp!) It would also be right at home as a side dish with your Easter ham.
How to make cauliflower rice risotto
Making "risotto" with cauliflower rice is so easy! Start by sautéing some garlic and shallot to build a good base flavor. Next, add cauliflower rice, asparagus, peas, and a splash of white wine and cook until softened.
To mimic the creaminess that arborio rice provides to traditional risotto, melt in some GO VEGGIE chive and garlic vegan cream cheese. The cream cheese coats each grain of cauliflower with a creamy sauce that also packs in tons of flavor. I also add GO VEGGIE's lactose-free parmesan for even more flavor. I love the flavor that the chive and garlic cream cheese gives this risotto. Use their store locator to find it near you, since it can be difficult to track down sometimes. If you can't find the chive and garlic flavor, the classic plain works just as well, just add more fresh garlic (4 cloves should do it!) and stir in a tablespoon of chopped fresh chives at the end.
I've been loving cauliflower rice lately and have been using it in everything from stuffed pepper soup to stir fry. You can make it yourself using fresh cauliflower and a food processor, but it's becoming easier and easier to find pre-made which is a huge time saver. Look for it in the produce section or by the frozen veggies.
Do you have leftover cauliflower rice? Use it to make cauliflower tabbouleh salad! This is a great summer side dish that goes with all of your dairy-free favorites.
Ingredients
1

Tablespoon

avocado oil or olive oil

1

garlic clove

minced

1

small shallot

thinly sliced

4

cups

cauliflower rice

fresh or frozen

½

pound

asparagus

cut into 1-inch pieces

1

cup

peas

fresh or frozen

salt and pepper

3

tablespoons

dry white wine or water

3

tablespoons

GO VEGGIE Chive and Garlic Cream Cheese

2

tablespoons

GO VEGGIE Lactose Free Parmesan

2

Tablespoons

chopped fresh parsley

4

fried eggs

optional
Instructions
Heat the oil in a small pan set over medium heat. Add the garlic and shallot and cook 1-2 minutes,  until softened.

Add the cauliflower rice, asparagus, and peas; season with salt and pepper. Cook 4-5 minutes, until the vegetables begin to soften. Add the wine (or water) and continue cooking  until the vegetables are cooked through.

Push the vegetables to one side of the pan; add the cream cheese to the other side. When the cream cheese is melted, stir to combine. Stir in the parmesan and parsley. Season to taste with salt and pepper. 

If desired, top with a fried egg and additional parmesan. 
Nutrition Facts
Cauliflower Rice Risotto with Peas and Asparagus
Amount Per Serving
Calories 202
Calories from Fat 72
% Daily Value*
Fat 8g12%
Sodium 662mg29%
Protein 11g22%
* Percent Daily Values are based on a 2000 calorie diet.