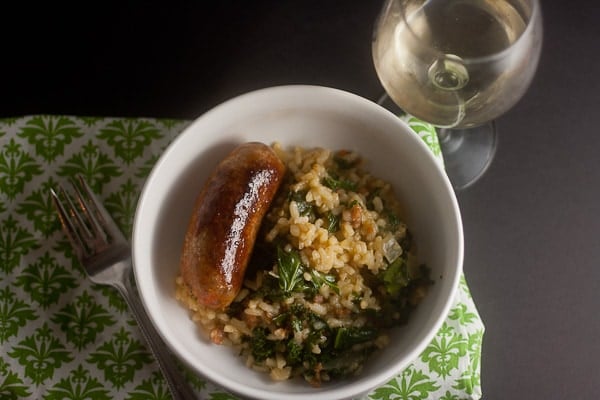 The man who works in the parking garage near my office was in a particularly bad mood this morning. I can't say that I blamed him. Saturday's warm sun had gone away, and cold rain settled in. The air was heavy and damp and everything looked gloomy. As he watched person after person head into their toasty warm offices filled with friendly colleagues, he was stuck sitting alone in his little booth (that is, until he had to come out in the rain to deal with my permit issues). On top of all that, it was Monday. I wished that had some of this hearty sausage and kale risotto to share with him – with it's stick-to-your-ribs warmth, it would have been sure to cheer him up. I could have used some myself.
I have a ton of risotto recipes – a quick search shows that I've shared well over two dozen variations over the last few years – and I've always contended that, while it requires a half hour of near constant stirring, it really isn't difficult to make. (It isn't.) Most of the time, I actually enjoy standing over the stove, coaxing the rice into a creamy porridge. But sometimes, well, I just don't feel like stirring the damn risotto.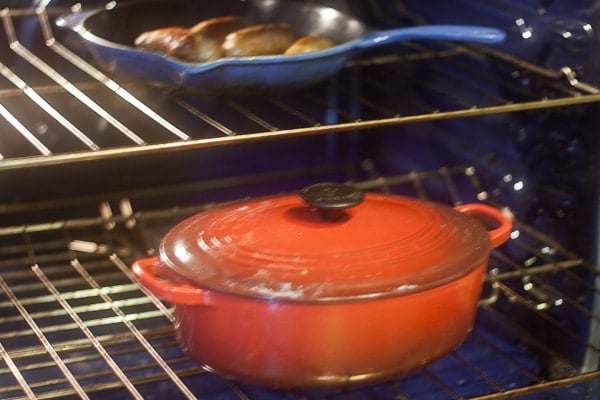 I first heard of baked risotto a few years ago, but I never bothered trying it out. Like I said, I actually like stirring risotto. It makes me feel good, like I'm earning my keep in the kitchen. Last week though, a long day at work (in very cute but verrry uncomfortable shoes) made standing over the stove the last thing I wanted to do when I got home. As I transferred the pot of rice from the stove to the oven, I imagined a thousand Italian grandmothers rolling over in their graves.
But you know what? It worked. Really, really well. It wasn't quite as creamy as risotto made on the stove I don't think I would have known the difference had someone else served it to me. And the combination of sausage on the risottto and in the risotto, too? Wife of the year award, right there. Not bad, considering it cooked itself while I put my feet up.
Baked Risotto with Sausage and Kale
When risotto is cooked on the stovetop, contant stirring is required to loosen the starches, which thicken the broth and give the dish its texture. In this baked version, bubbles from the boiling liquid knock the starches loose.
Print
Pin
Save
Saved!
Ingredients
1

pound

reduced fat Italian Sausage

about 6 links

1

small Onion

chopped

3

cloves

Garlic

minced

¾

cup

Arborio Rice

½

cup

White Wine

2-1/2

cups

Chicken Stock

warmed

¼

cup

grated Parmesan Cheese

3

cups

chopped Kale

Salt and Pepper
Instructions
Preheat the oven to 425*F. Remove the casing from two sausage links and crumble the meat into an oven save skillet or enameled dutch oven set over medium heat. Cook, stirring occasionally, until the sausage is browned. Add the onion and garlic and cook another 2 minutes. Stir in the rice and cook for 1 minute, or until the grains mostly translucent with a small white center.

Stir in the wine and cook until it is all evaporated. Add the chicken stock and bring to a boil. Cover and transfer to the oven. Bake for 20 minutes, or until most of the liquid has been absorbed. Stir in the cheese and kale, allowing the heat of the rice to wilt the kale. Bake an additional 10 minutes.

Meanwhile, cook the remaining sausage links. Sear them over high heat until the skins are deeply browned and begin to blister. Transfer to the oven until cooked through.