Crispy, crunchy air fryer empanadas are so easy to make at home without the mess or uncertain timing of deep-frying. These come out of the air fryer perfectly crisp and golden brown every time. Plus you can use any filling you want, which makes them great for picky eaters!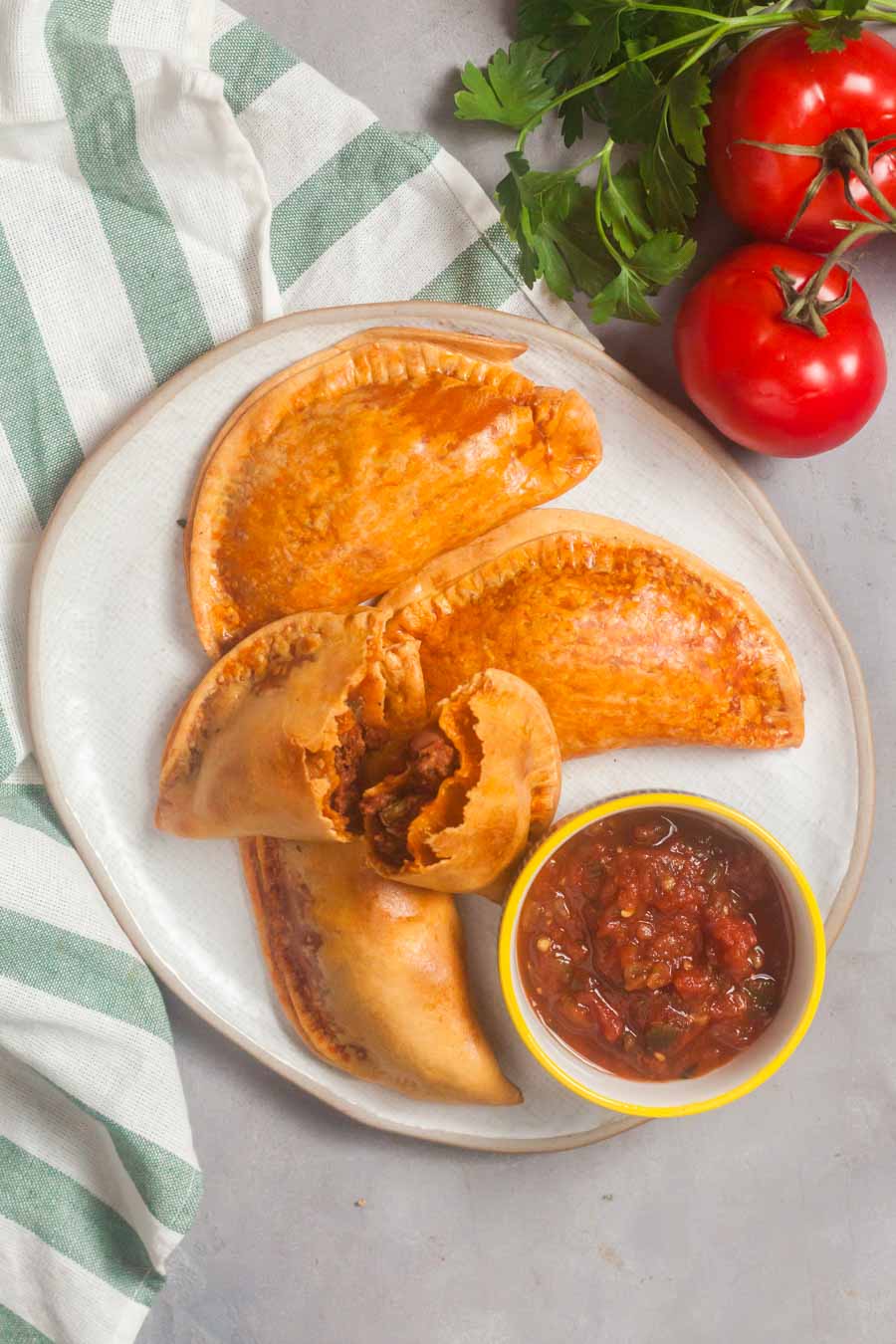 I've been working from home for the past year. One of the things I miss the most about going into the office is the food trucks that would line up outside of our building in the summertime. You could get anything from a hot dog or a Greek salad to jerk chicken with plantains.
One of my absolute favorites was the empanada truck.
I missed their empanadas so much so I set out to learn how to make my own hand-held meat pies. It turns out they're' actually super easy to make at home. And they come out AMAZING in the air fryer!
Air fryer empanadas are every bit as crispy as their deep-fried counterparts, but they're less greasy since they don't use any oil. They're also much easier to make an won't fill your kitchen with that thick fry oil smell.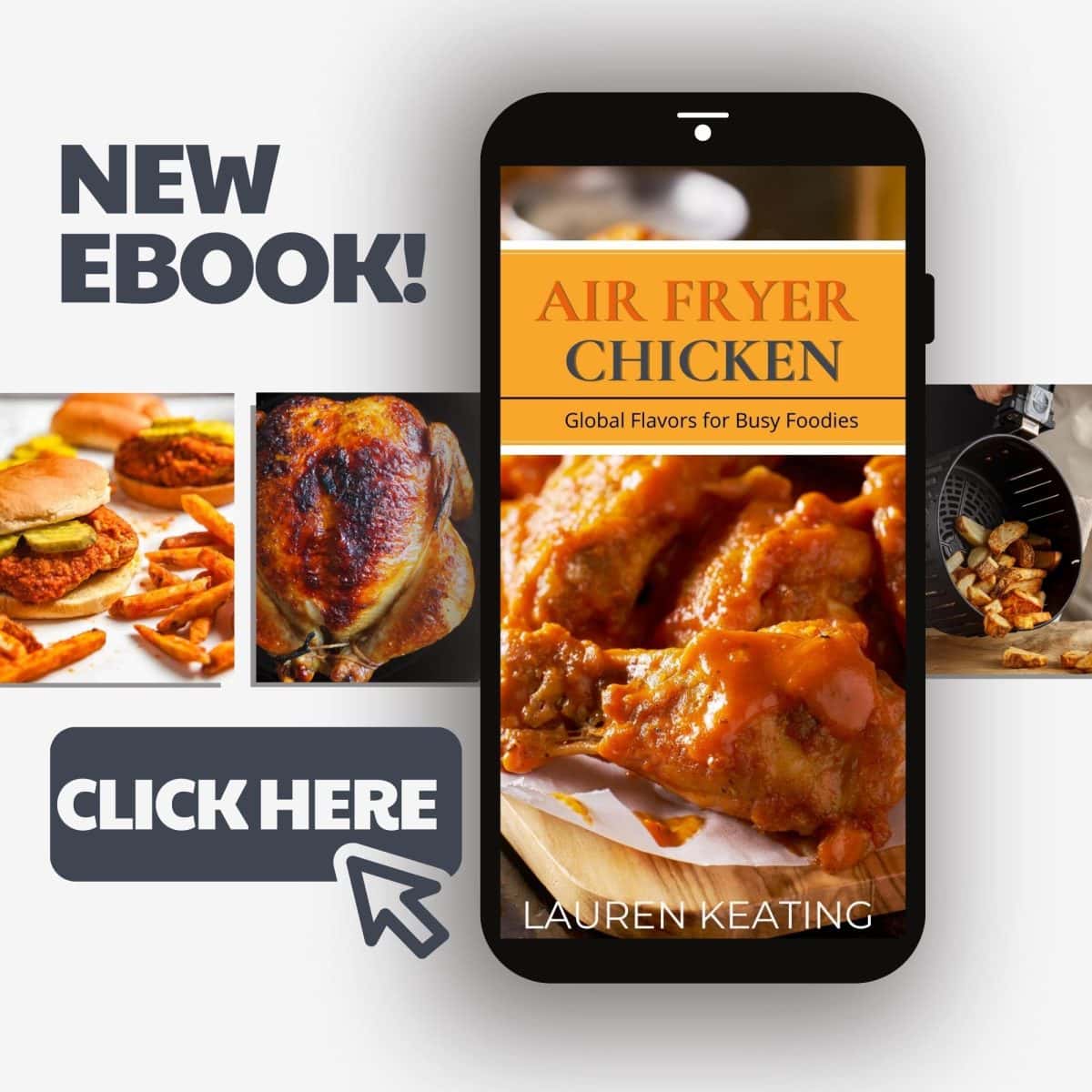 Empanada Dough
First things first, you'll need empanada dough.
Empanada dough is similar to a savory pie crust made with flour, butter, and salt. You can make your own homemade empanada dough or opt for something store-bought.
A lot of easy empanada recipes call for using puff pastry or even pizza dough, but those really don't have the right texture. Puff pastry is too light and flaky and pizza dough is too bready. You can use pie crust in a pinch, but it can be a little sweet.
Luckily, store-bought empanada dough is a thing! Even better it's already rolled out to the perfect thickness, so you don't need to worry about rolling it out or cutting it to size. Just fill, fry, and eat. What is this life?
Look for frozen empanada "discos" at any major supermarket. I usually find them in the case with other Latin foods like frozen plantains and tropical fruit puree.
You'll have a few options when buying empanada dough:
First, decide if you want large or small discs. Large discs, like I used here, are perfect for meal-sized empanadas. Small discs are perfect for an appetizer or snack (or for dessert empanadas!).
Next, choose white dough or dough with annatto added. I typically prefer the version with annatto, which has a golden yellow color and a nutty warm flavor similar to paprika or turmeric.
Whichever you choose, the method and cooking time with be the same.
Uncooked empanada discs don't keep very well in the refrigerator, and tend to get gummy pretty quickly once defrosted, so I like to pull them out of the freezer a few hours before I plan to use them. They defrost pretty quickly!
Ingredients for empanadas
Besides the empanada dough you'll need a few other ingredients:
Filling of your choice: An empanada is only as good as what it's filled with! For the air fryer empanadas pictured here, I used leftover chili. You could also use shredded chicken with salsa, sauteed cabbage, or your favorite melty cheese.
Egg: Brushing the empanada with egg wash (egg beat together with a little water) before putting it in the air fryer helps seal it shut and also helps give it a gorgeous golden color. The fat from the egg yolk helps the dough crisp, so you don't need to add any additional oil.
How to fill empanadas:
One you get the hang of it, filling empanadas is really easy!
Start by placing one empanada disc in front of you, then spoon on your filling. For large empanadas, you'll need about 2 tablespoons of filling while for small empanadas a few teaspoons is plenty. Avoid the temptation to add too much filling, or it will be difficult to seal your pastry. Keeping the filling toward one side of the dough makes shaping the empanada easier.
Next, fold the dough over to form a half circle encasing the filling inside. Press the edges together with your fingers to seal them, then crimp with a fork. This will ensure they're sealed really well and will also look pretty!
Finally, mix together 1 large egg and 1 tablespoon of water. Brush this mixture over the empanadas.
How to make air fried empanadas
Place your empanadas in your air fryer. How many you can cook at once will depend on the air fryer you're using and the size of your empanadas. I'm able to fit 2 large empanadas in my 2.6-quart air fryer or 6 large empanadas in my air fryer oven.
Air fry at 330F for 8 minutes, or until they're golden brown and crisp. The dough will bubble and blister, just like if they had been deep fried!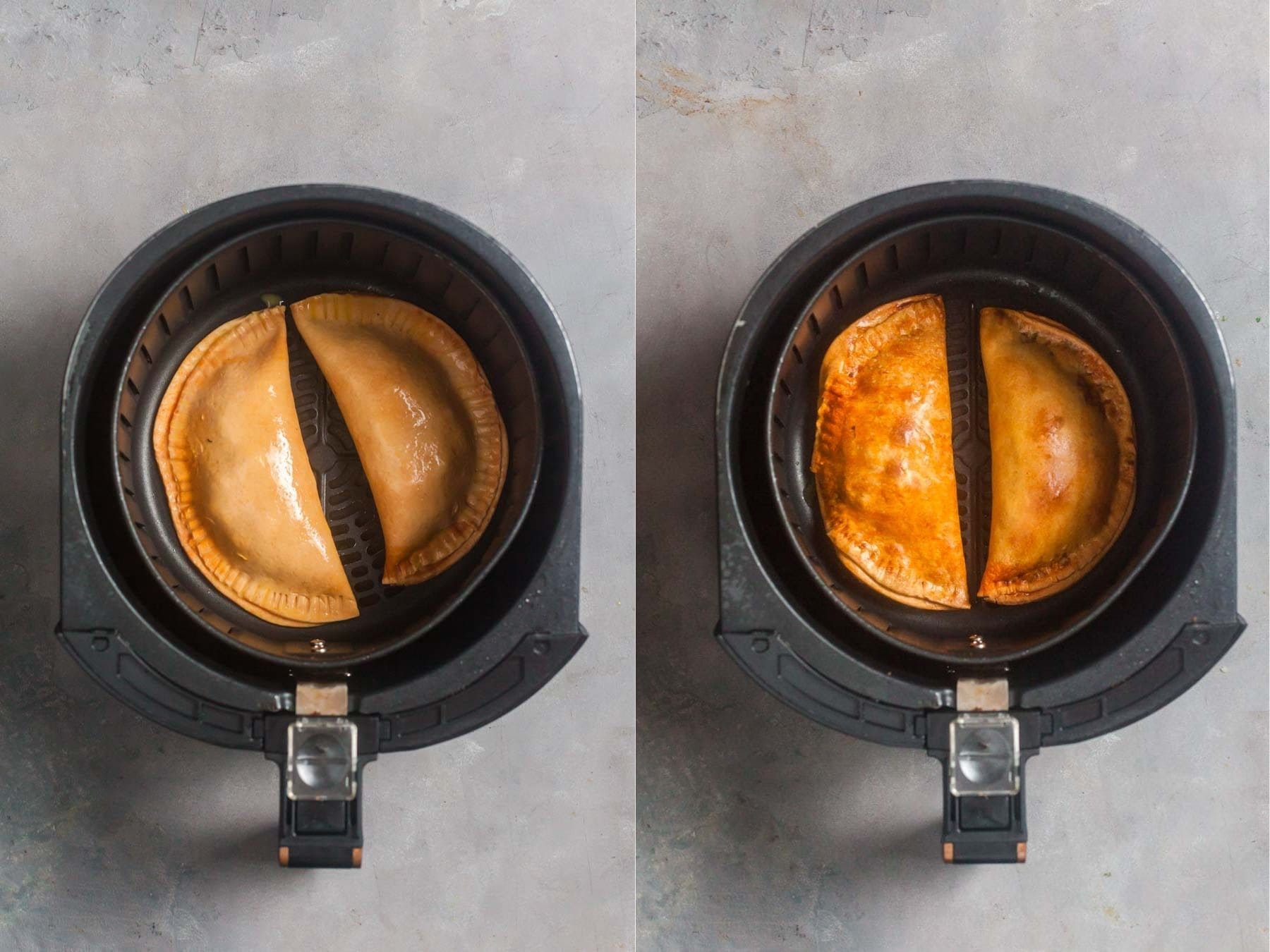 Can you Bake These in the oven?
If you don't have an air fryer you can bake these. The dough won't have the same blistered texture and they won't be quite as crisp, but they'll still be tasty. Bake at 375F for 15-20 minutes.
Do empanadas reheat well?
Yup! The cooked empanadas will keep in the refrigerator for 3-4 days. To reheat them, add them back to the air fryer and cook at 330F for about 5 minutes.
Can you freeze them?
Yes! These empanadas freeze exceptionally well and I always make extras to tuck away for easy lunches. Pop the frozen empanadas right back into your air fryer and cook at 350F for about 12 minutes, or until piping hot.
What should I serve with empanadas?
Depending on what you put inside, empanadas can be a meal on their own. I like to serve them with some salsa for dunking. You could also pair them with a side salad, rice and beans, or even vegetable soup for a heartier meal.
Do I need to pre-heat my air fryer?
Every air fryer is different, and some instruction manuals call for them to be preheated while others don't. Regardless, I've found that letting the air fryer heat up for 1-2 minutes helps crispy foods like these empanadas cook more evenly. It takes an extra minute, but the results are worth it and it's still so much faster than waiting for the oven to heat up!
Looking for more Tex-Mex or Mexican food recipes? Try:
For dessert, you might also love my apple cheesecake empanadas.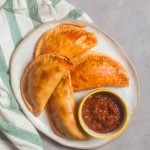 Air Fryer Empanadas
Crispy, crunchy air fryer empanadas are so easy to make at home without the mess or uncertain timing of deep-frying. Plus, they come out of the air fryer perfectly crisp and golden brown every time.
Print
Pin
Save
Saved!
Ingredients
10

empanada discos

thawed

1 ¼

cup

chili

or another filling of your choice, like shredded chicken

1

large

egg

1

tablespoon

water
Instructions
Place an empanada disco on a cutting board in front of you. Spoon 2 tablespoons of filling onto the disk, slightly off-center (see photos above). Fold the dough into a half-circle, encasing the filling side. Pinch the edges of the dough together to seal them, then crimp with a fork. Repeat with remaining dough/filling to form 10 empanadas.

In a small bowl, whisk together the egg and water. Brush onto the empanadas.

Place the empanadas into your air fryer in a single layer cooking them in batches if necessary. Fry at 330°F for 8-10 minutes, or until crisp and golden brown.
Nutrition Facts
Air Fryer Empanadas
Amount Per Serving (1 empanada)
Calories 223
Calories from Fat 63
% Daily Value*
Fat 7g11%
Cholesterol 24mg8%
Sodium 354mg15%
Potassium 124mg4%
Carbohydrates 34g11%
Protein 7g14%
Vitamin A 135IU3%
Vitamin C 1mg1%
Calcium 18mg2%
Iron 1mg6%
* Percent Daily Values are based on a 2000 calorie diet.