Spicy Jamaican jerk burgers are made from ground turkey with shredded zucchini tucked inside to make them extra juicy. They're topped off with fresh pineapple salsa for a tropical flavor explosion!
---
Flavorful. The recipe is packed with flavor, thanks to the spicy jerk seasoning and the fresh, sweet pineapple salsa.
Healthier. The recipe is a healthier take on a classic burger, made from ground turkey with addition of shredded zucchini to lighten up the meat and make it more nutritious.
Perfect for summer. The recipe is a great option for summer cookouts and gatherings, and the tropical flavors of the pineapple salsa make it so refreshing!
Bring the Heat and the Sweet with These Jamaican Jerk Turkey Burgers
If you ever ate out at a restaurant with me, you'd probably figure out pretty quickly that burgers are my favorite guilty pleasure food.
When I was invited to participate in Burger Month, I obviously couldn't say no. What better way to celebrate my love of one of summer's favorite foods than to share a new burger recipe just in time for your Memorial Day cookout?
Deciding to participate was easy, but figuring out what to make what much more difficult. Burger Month is all about celebrating epic, over the top burgers, but I also wanted to keep my contribution in line with my healthy, fresh point of view.
After a ton of brainstorming, I finally settled on this spicy jerk burger with pineapple salsa.
They're chock full of flavor without being heavy or greasy, and they won't make you feel like you're in a food coma.
If you have a smoker, they'd be delicious using this method for smoked burgers.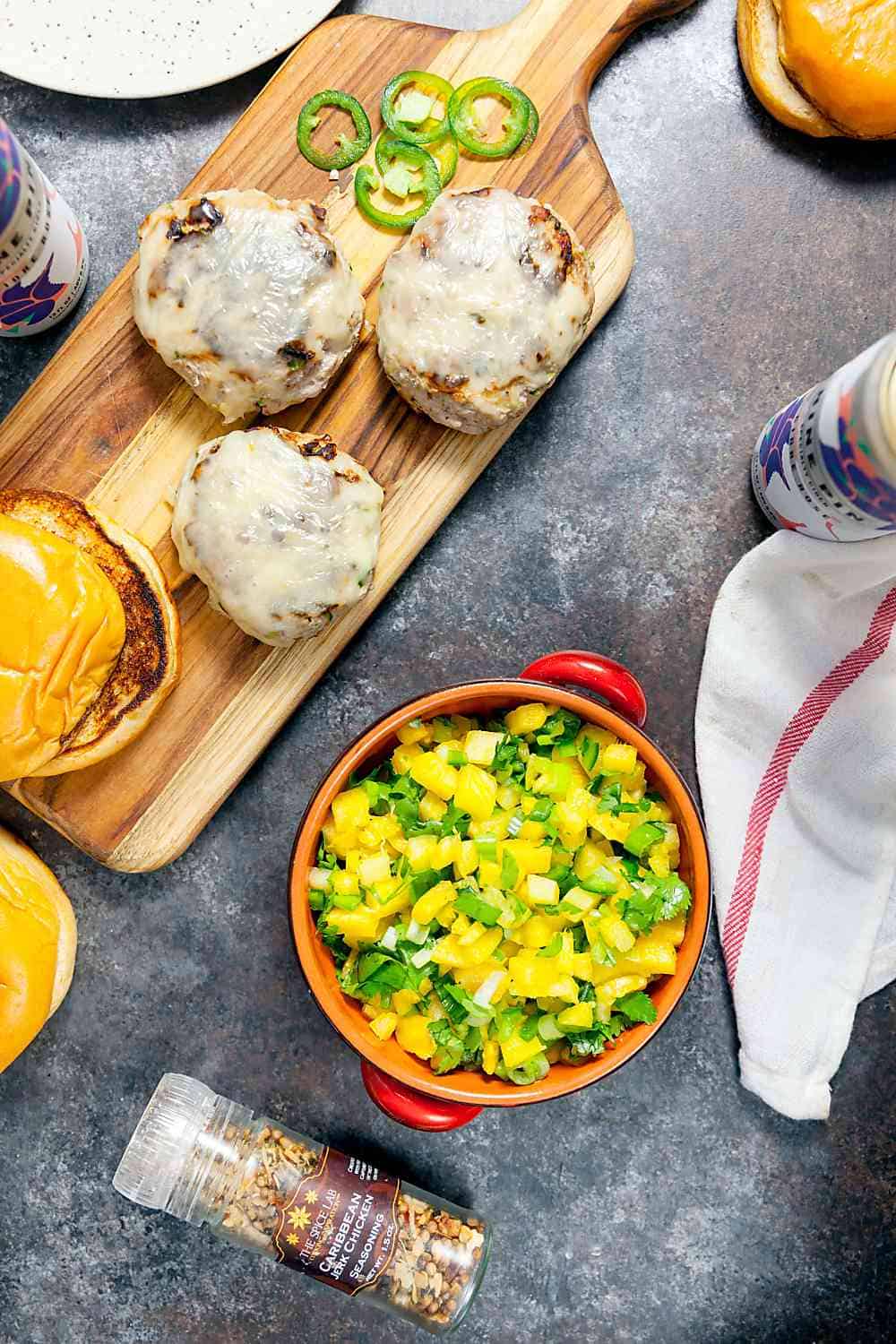 Ingredients You'll Need:
Ground turkey. The mild flavor of turkey really complements the jerk seasoning and salsa in this recipe. Choose a lean grind to keep things on the lighter side.
Grated zucchini. Mixing grated zucchini in with the meat is my favorite hack for making burgers healthier and super juicy!
Cheese. Because what good is a burger without cheese? I like to use a light jalapeno or pepper jack to play up this burger's spiciness.
Dry jerk seasoning. Provides the signature Jamaican jerk flavor to the burgers.
Fresh pineapple. The pineapple salsa adds a sweet and tangy flavor to the burgers, and balances out the spiciness of the jerk seasoning
Scallions. To add a mild onion flavor.
Cilantro. For a pop of freshness.
Jalapeno. I like adding jalapeno to my salsa for even more heat, but you can skip it if you prefer.
Lime juice. Adds acidity and brightness to the burgers
4 hamburger rolls. To serve as the vehicle for the burgers, providing a sturdy base for all the flavorful ingredients. I love using brioche rolls!
Handy tip: Mix grated zucchini into your burgers!
These jerk turkey burgers use my favorite trick to lightening up burgers – mixing shredded zucchini into the meat.
Zucchini has a neutral flavor that's barely noticeable, but it adds bulk and moisture to your patty to you can use leaner meat – and less of it! I've also used this technique in my turkey burgers with dill havarti and my beef and zucchini burgers.
How to make Jerk Turkey Burgers with Pineapple Salsa
Mix the ground turkey with jerk seasoning, shredded zucchini, and a generous pinch of salt to give the burgers tons of flavor.
Form the meat into patties and grill until just cooked through, then top them with cheese. Traditional cheddar works, but I like to spice things up even more with jalapeño cheddar or pepper jack. I usually cook my burgers on the grill or in a grill pan, but there are so many ways you can go. Do you know how to cook burgers in the oven? It's so easy and they come out great.
While the burgers cook, make the pineapple salsa. This is the most exciting part of this recipe, and it's really easy. Just mix together finely diced pineapple with green onions, jalapeños, cilantro, and lime juice. When I first started making this salsa, I always used red onion, but lately I've switched to scallions, which have a much milder flavor and don't have the same sharp onion bite. Since scallions are a major component of jerk sauce, they feel right at home on these burgers.
Top the burgers with the salsa, and serve them on toasted buns.
Any leftover salsa you have is delicious scooped up with tortilla chips!
FAQs
What is Jamaican jerk seasoning?
Jamaican jerk seasoning is a blend of spices and herbs, typically including allspice, Scotch bonnet peppers, thyme, and garlic. It has a spicy, slightly sweet, and aromatic flavor.
Can I substitute ground chicken or beef for the ground turkey in this recipe?
Yes, you can substitute ground chicken or beef for the ground turkey, but note that the flavor and fat content may slightly differ.
Are there any good side dishes that would pair well with these burgers?
Is the grated zucchini necessary for the recipe, or can I omit it?
The grated zucchini adds moisture and texture. You can omit it, but the the burgers will be smaller and be drier.
Can I use canned pineapple instead of fresh pineapple for the salsa?
You can use canned pineapple, but be sure to drain it well before using. Fresh pineapple will provide better flavor and texture.
Are there any good vegetarian or vegan alternatives to this recipe?
For a vegetarian or vegan alternative, you can use a plant-based ground meat substitute, such as Beyond Meat or Impossible Burger, and replace the cheese with a vegan cheese.
Can I make the jerk seasoning from scratch, or should I buy it pre-made?
You can make jerk seasoning from scratch by combining traditional ingredients like allspice, Scotch bonnet peppers, thyme, and garlic. Pre-made jerk seasoning is more convenient but making it from scratch allows you to customize the flavor to your liking.
More summer grilling recipes:
Ingredients
1

pound

ground turkey

1

small zucchini

grated (about 1 cup)

2

ounces

light jalapeño or pepper jack cheese

shredded

1

teaspoon

jerk seasoning

1

cup

finely diced pineapple

2

scallions

chopped

½

cup

cilantro

chopped

1

jalapeño

seeded and minced

1

lime

juiced

4

hamburger rolls

toasted
Instructions
In a mixing bowl, combine the turkey and zucchini. Season with jerk seasoning and a generous pinch of salt. Mix gently to combine to ingredients without overworking the meat. Form into 4 patties.

Grill the burgers over medium-high heat, turning at least once, for 10-12 minutes or until cooked through. Top with cheese. Cover and cook 30 seconds to 1 minute to melt.

While the burgers cook, prepare the salsa. In a second bowl, combine the pineapple, scallions, cilantro, jalapeño, and lime juice. Mix well and season to taste with salt.

Top the burgers with the salsa and serve on toasted rolls.
Nutrition Facts
Jerk Turkey Burgers with Pineapple Salsa
Amount Per Serving
Calories 324
Calories from Fat 54
% Daily Value*
Fat 6g9%
Protein 35g70%
* Percent Daily Values are based on a 2000 calorie diet.