My burger has a secret: it's only half beef.
Adding shredded zucchini to my burger is a tip that I picked up years ago from a magazine (Shape? Self? Something along those lines) and, every so often, I pull it out of my bag of healthy-cooking tricks. Since I don't really care for turkey burgers and I'm not always in the mood for a veggie burger, this is a great option for those times when I'm looking for a lower fat alternative to a traditional burger.
The moisture in the zucchini lets you use extra-lean beef without ending up with a dry burger, and the added bulk means a bigger burger for less calories and fat. While you probably won't be able to pull a fast one on your veggie-hating kids with this recipe (after all, you can see the shredded zucchini in there), you'd be hard-pressed to identify it in a lineup of all-beef burgers in a blind taste test.
Thinking about toppings? Blue cheese is my favorite, but you can also go for a more traditional American Cheese/Lettuce/Tomato combo. Or go wild with Onion Jam or Tzatziki!
(Those onion rings on the side are Alexia, another guiltless trick I've been using for years. They're heads above other onion rings you can find at the grocery store — and even better than some restaurants. They're actually whole rings of onion — not mushy chopped onion — and they get wonderfully crispy in the oven. If you haven't tried them yet, I highly recommend them.)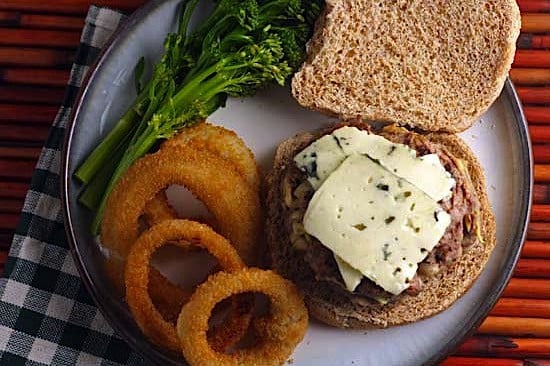 Beef and Zucchini Burgers
Serves 4.
1 lb. zucchini

1 lb. 90% lean ground beef

1 tsp steak seasoning

2 ounces blue cheese

4 whole wheat buns
Peel the zucchini, then use the side of a box grater to shred it into thin ribbons. Place the zucchini ribbons between two paper towels to remove some of the moisture.

In a large bowl, combine the shredded zucchini, ground beef, and steak seasoning. Use your hands to mix the ingredients until they are combined the zucchini is evenly distributed. Form into four patties.

Spritz a heavy skillet with cooking spray and set over medium-high heat. When your pan is hot, add the burgers. Cook burgers for 5 minutes on one side, then flip and cook on the second side until they are done to your liking — about 3 minutes for a medium burger.

Top with blue cheese and serve on buns.

Approx. 435 calories, 19 gram fat, 25 grams carbs, 2 grams fiber, 38 grams protein

By