This Greek Burger Recipe is going to quickly become a new family favorite! The combination of lean ground beef, Greek seasonings, and delicious creamy feta cheese topped with homemade tzatziki sauce is mouthwateringly delicious!
Want a Greek finger food instead? Check out these Loaded Greek Fries!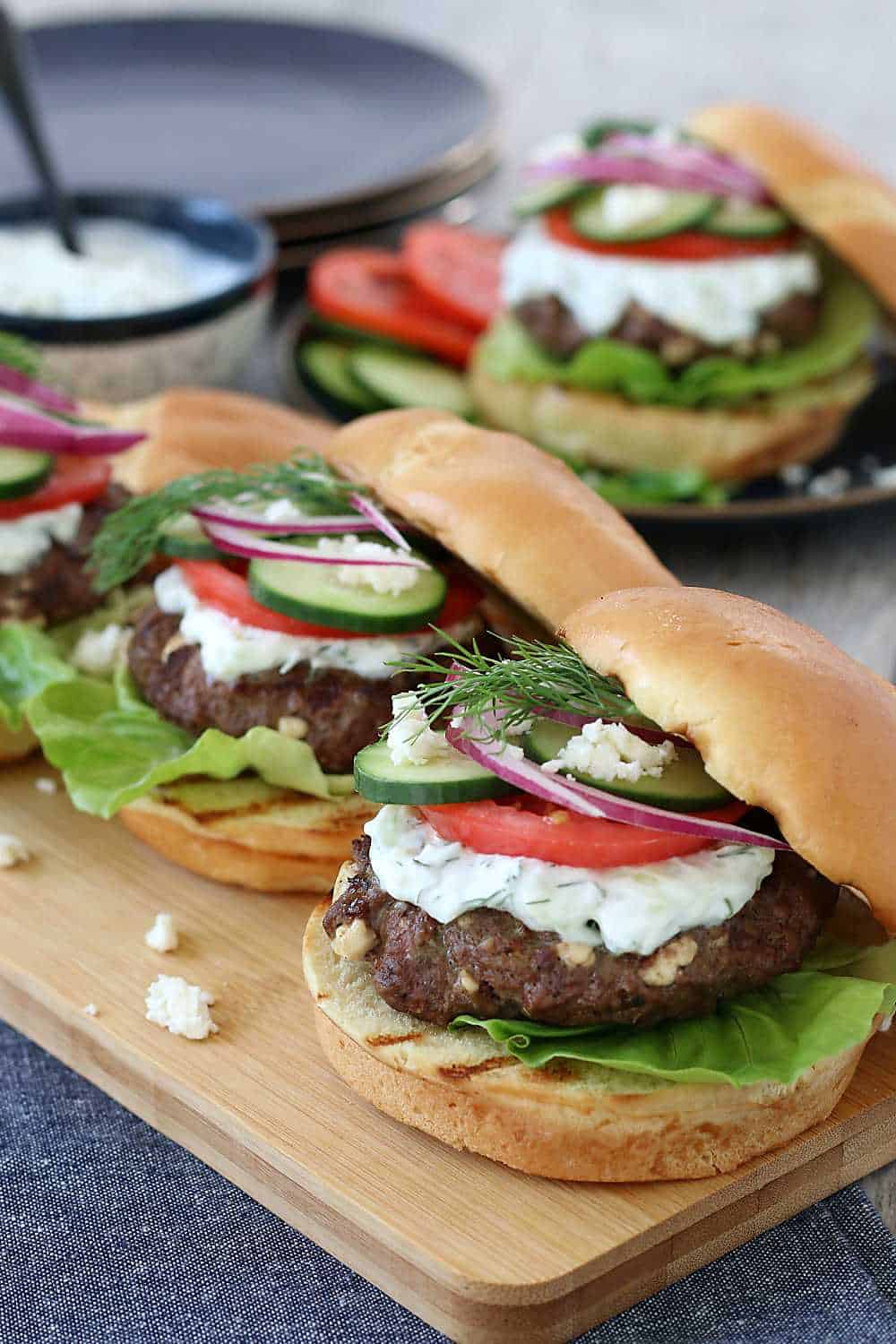 Homemade Greek Burger Recipe
I'm usually a burger traditionalist. You can give me some bacon, cheddar, and barbecue sauce, and I'm a happy girl. Then there was last summer's favorite, stuffed with stilton and topped with onion jam. We grill homemade burgers of all kinds all summer and fall. I just love how satisfying they are and how creative you can get with them! You might even say I'm burger obsessed. I even seriously considered starting a whole blog or Instagram dedicated to them!
This Greek Burger, laden with feta and spices and slathered with cool, tangy tzatziki sauce? I'm pretty sure this will be making frequent appearances on our table from now on. Especially since it pairs so naturally with a greek salad instead of heavy pasta salads or fries. I couldn't have asked for a more perfect meal to get my summer started
What fresh herbs and vegetables do I need for this homemade burger?
The idea for this burger had been in the back of my mind for a few days, but when I found some fresh garlic and some not so pretty cucumbers at the farmer's market, I knew it was time to create. If you have access to a farmer's market, I recommend checking the option there before you shop at a traditional market. Farm fresh almost always has the best flavor.
Oregano (dried works but fresh is best)

Fresh dill

Bulb of garlic

Cucumbers

Red Onion
What protein is best for this Greek burger?
I chose lean beef but you could use ground lamb, ground turkey, or ground chicken if you prefer. A blend of beef and lamb would also be a great choice.
The seasonings and cheese mixed into the meat are really where the flavor stands out, so choose your preferred protein. Don't let that stop you from trying out a new flavor in a fun homemade burger.
How to shape a Feta cheese burger
If you've ever struggled with your burgers shrinking as they cook, then I have a great tip! As you form your burger, press your thumb into the center to create a shallow crater about ⅓ the diameter of the patty.
As your burger heats and the center puffs up, it will rise to fill in the crater rather than pulling the edges into the center. As a result, your burger will have a smooth top and a diameter that is almost identical to the raw patty that you formed.
Tips for making the best burgers
Hamburgers are one of the easiest things you can make. With just a few steps and minutes on the stove or grill, you have a satisfying meal or snack that is loaded with protein and tons of flavor. Some of my favorite ways to make the best burgers are simple but make the burger incredible.
Serve on a non-traditional bun. For instance, this would be great on my

homemade pita bread

.

You can also cut calories or carbs by skipping the bun and wrapping the burger in lettuce instead.

If using lean meat, add cheese right into the patty for extra moisture

Mix two or more meats together for a different flavor profile

Mix the seasonings into the ground meat rather than just sprinkling on top of the patty

Don't squish the patty with your spatula as it cooks! That lets the juices out!

Use a meat thermometer to determine safe cooking temperatures, especially with poultry like chicken or turkey. Sometimes a little pink is still safe to eat.
More yummy Greek recipes
If you've checked out the site already, then you know Greek and Mediterranean flavors are some of my favorites. There is nothing as good as that bright flavor it brings to make a healthy meal even more delicious.
Since I have tried out so many different options for you already, you know the ones I share are sure to be delicious. Below are a few of my favorite recipes with a Greek vibe to them. Make sure to bookmark some of the recipes to check out next time!
Here are the original photos that I took when I first shared this recipe back in 2010!