Beef on Weck is a huge tradition in Western New York, but it can be impossible to find in other parts of the country. Thanks to this easy recipe, you can make delicious beef on weck sandwiches at home with homemade slow cooked beef (make it in the crockpot!) and my secret to the easiest homemade kimmelweck rolls ever.

There's so much awesome stuff going on in this recipe that I don't even know where to start! I'm not even going to talk about how excited I am that football is back because… obviously.
Let's talk about roast beef instead. Because ohmygodyouguys I made roast beef in the crockpot! Beautiful, medium-rare roast beef. In the crockpot. I'll give you a minute to let that sink in.
Seriously, I feel like this is life changing. I love roast beef, but making it is kind of a pain in the butt. Not anymore! Throw it in there, let it do its thing, and two and a half hours later (a little longer if you want your cooked more) you're rewarded with a piece of meat cooked so beautifully it might make you want to cry. There's going to be a lot of roast beef in my kitchen this winter! Oh yes.
This roast beef is perfect for making the classic Buffalo staple, beef on weck.
What is Beef on Weck?
Beef on weck is a variation of a roast beef sandwich that's popular in Buffalo, New York. It's made with thinly sliced, slow roasted roast beef served on a kimmelweck roll. Kimmelweck rolls (also known as kummelweck rolls) are kind of like pretzel rolls' older, cooler cousin. They're a little softer – similar to kaiser rolls – and topped with coarse salt and caraway seeds. They're so good. Anyway, to make a beef on weck sandwich, you slather the bottom of a roll with horseradish, pile it high with rare roast beef, and dip the top of the roll in au jus before placing it on top of the sandwich.
Beef on weck can be found pretty easily in Western New York (Charlie the Butcher is a must-visit in the area, but I've also had decent sandwiches right at the Bills Stadium/New Era Field.) Fun fact: if you've ever wonder why Buffalo Wild Wings is sometimes called "BW3's" it's because they used to be called Buffalo Wild Wings and Weck. Beef on weck is a Buffalo tradition right up there with the chicken wing.
It's hard to find these sandwiches once you venture out of upstate New York, but thanks to this recipe you can make great beef on weck at home. I even made super easy homemade weck rolls by shaping store bought Italian bread dough into slider rolls. It's so easy, and you'd never be able to tell if you didn't see the wrappers in the trash.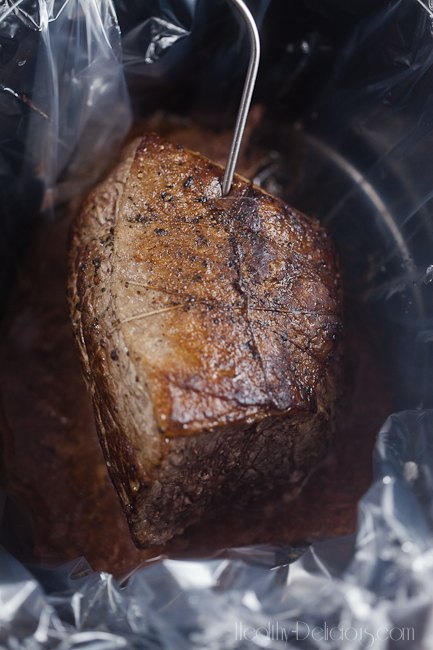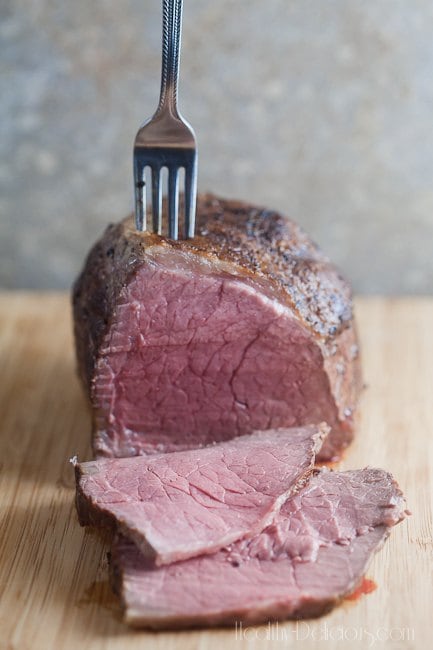 How to make roast beef in a slow cooker
You can make roast beef in the oven, or even buy your favorite variety at the deli counter, but this method of making roast beef in a slow cooker is a total game changer.
Start by generously seasoning a beef roast with salt and pepper, then brown it all over in a pan on the stovetop. This will give you a beautiful golden crust on the outside of the beef. Next, place the beef in your slow cooker and cook it on low until an instant-read thermometer shows it has an internal temperature of 140 degrees – it will take 2.5 to 3 hours, depending on the side of your roast.
Remove the beef from the pot and let it rest a few minutes before slicing it as thinly as you can.
That's all there is to it! You don't even need to add any liquid to the slow cooker. And the juices that are released from the beef make a delicious au jus, just like when you roast your beef in the oven.
These homemade beef on weck sliders would be perfect served at your next homegating party, or even for the Superbowl. For more healthy football food, try parmesan-herb party pretzels, baked buffalo chicken taquitos, or hummus quesadillas.
Crockpot Beef on Weck Sliders
Ingredients
2 pound bottom round or rump roast
salt and pepper
2 tablespoons olive oil
2 tubes Pillsbury Country Italian Bread (or similar bread dough)
2 teaspoons coarse salt
2 teaspoons caraway seeds
1/2 cup water
prepared horseradish
Instructions
Season the beef generously with salt and pepper. If desired, use kitchen twine to truss the beef ( see video here ).
Heat the olive oil in a large, heavy skillet. Add the beef and cook 3-4 minutes on each side, or until deeply browned. Transfer the beef from the pan to your crockpot; insert a meat thermometer into the thickest part of the roast. For medium-rare roast beef, cook on LOW until the temperature reaches 140º – about 2.5 hours.
While the beef cooks, prepare your slider rolls: Heat oven to 350º. Remove the dough from the tubes and cut each crosswise into 12 pieces (for a total of 24 pieces of dough). Roll each piece of dough into a ball. Remove the roast from the crockpot and tent with foil. Let sit 20 minutes.
Mix the salt and caraway on a small plate. Gently press the top of each roll into the seasoning mixture, then arrange on a baking sheet, 2 inches apart. Bake for 15-20 minutes or until lightly golden. Remove from oven and let cool. Slice crosswise.
Add water to the drippings that have collected in the bottom of the crockpot. Turn heat to high and bring to a simmer. Remove the twine from the beef. Slice the beef as thinly as you can.
Dip the cut sides of the rolls in the jus. Top with sliced roast beef and a thin schmear of horseradish.

Nutrition Information
Amount Per Serving
Calories

473
Total Fat

20g
Saturated Fat

7g
Cholesterol

85mg
Sodium

551mg
Fiber

2g
Sugar

1g
Protein

31g