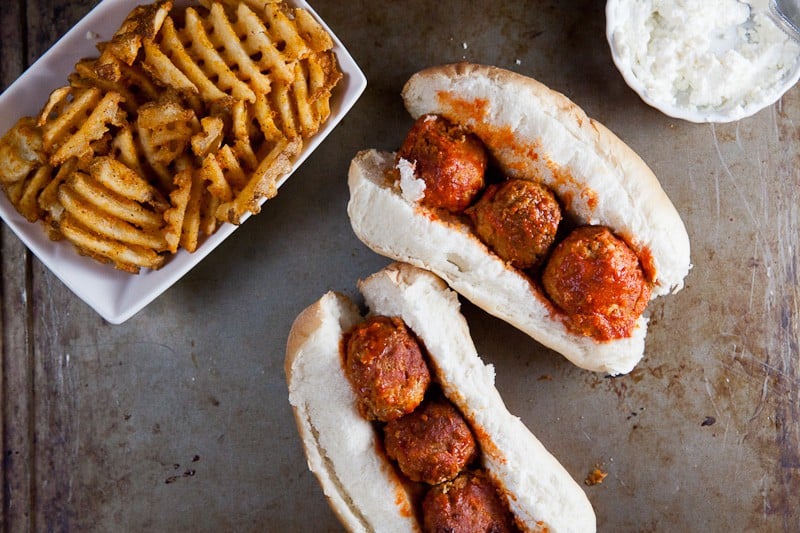 How would you like to come home from a long day at work and be greeted to a crock pot filled with warm, spicy buffalo chicken meatballs?
Yeah… that's what I thought.
I can't even begin to describe to you how ridiculously good my house smelled after these cooked all day. I took about two steps into the front hall and stopped short in my tracks, pausing to take in the scent.
Plopped onto soft buns spread thick with a tangy mixture of blue cheese and yogurt, these meatballs made one of the best subs I've had in a long while.
If you've been reading here for a while, you'll know that I'm always looking for ways to transform Buffalo wings into a legitimate, healthy dinner (Buffalo Chicken Chili or Buffalo Chicken Taquitos, anyone?), but this one might just take the title. I started with ground chicken breast, which can be a little bit of a pain to find but is totally worth the hunt (or, you can just ask your butcher to grind some boneless, skinless chicken breasts for you, or mince them yourself in a food processor.) I added some bufalo sauce, mince celery, and minced carrot for flavor and some bread crumbs and an egg to help bind everything together.
Then, the annoying part – bake them for 20 minutes. I know, I hate crock pot recipes that require precooking too, but step fulfills two important purposes: 1) it browns the meatballs and helps keep them from falling apart during the second stage of cooking, and 2) it cooks them through. You always want to cook ground meat at least almost all of the way though before putting it into a crock pot, ok?
Then I transferred them to my new Bills Crock Pot and gave them a nice hot sauce bath for 10 hours. The sauce will soak into the meatballs, making them super flavorful, and will cook down and concentrate until it looks almost like marinara. Yum!
(The Buffalo Bills slow cooker is part of Crock Pot's new NFL line – they have every team, which I was pretty excited about. These crocks are perfect for tailgating, since they have little clips that keep the lid in place. This also makes sure it stays on nice and tight while you food is cooking. I've had some problems with losing too much moisture with other slow cookers, but didn't have that problem with this one at all. At only $60, these are definitely a steal, and totally fun. Obviously I had to make Buffalo chicken in mine first. Next up, Beef on Weck!)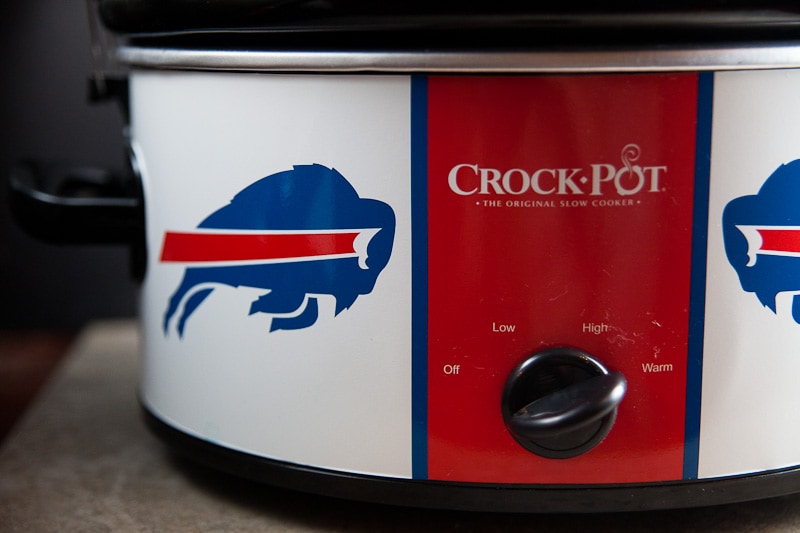 This post was brought to you in partnership with Crock Pot. I was compensated for my time creating this recipe. All opinions are my own.