This easy tomato jam recipe bottles up the all the delicious flavor of ripe summer tomatoes so you can enjoy it year-round. It's delicious on a cracker with cheese, slathered onto a burger, or by the spoonful!
Do you remember the recipe that made you fall in love with cooking? When my friend Colleen asked me that question, it took me about two seconds to answer. This tomato jam recipe, from The Little House Cookbook, is the first truly spectacular thing I ever made.
I still remember the day my mom and I made it. It was the summer before I started fourth grade and it was probably right around this time of year, when our garden was giving us more tomatoes than we could eat. We picked some tomatoes that were still green and fried them, then we preserved some of the ripest ones by making the best tomato jam.
I gave a jar of it to my teacher for Christmas that winter. When we came back from break, she told the entire class how amazing it was and how she had already finished the whole jar. Being the super shy kid that I was, I was humiliated. When she pointed out that my face was turning the same color as the jam I wanted to crawl under my desk and disappear.
I won't lie – I might have cried.
But secretly, I loved that she loved it. I already loved to cook, but that was the moment when I fell in love with cooking for other people. Making something that would make them smile. Or something that would remind them of summer in the middle of a very, very long New York winter.
What does tomato jam taste like?
Tomatoes probably aren't the first thing that come to mind when you think about jam, but they work beautifully. It's sticky and sweet, with a super concentrated tomato flavor. And no, it doesn't taste a thing like ketchup. It has all of the bright summer tomato flavor that tomatoes you can buy in the winter lack.
How to use tomato jam
Once you taste it, you'll find a million ways to use this jam. I love it on crackers (with or without a little goat cheese), spread on a grilled cheese sandwich (try it mozzarella and pesto for a wintertime caprese), or on burgers. You can also combine it with balsamic vinegar to make a lovely marinade for steak or mix it with cumin for a fantastic chutney-like accompaniment to chicken breast or fish.
What are the best tomatoes for jam?
Plum (roma) tomatoes are perfect for jam because they're nice and meaty, with a bright tomato flavor. You can use any tomatoes you happen to have though – just be sure to use the ripest summer tomatoes that you can get your hands on for the best flavor.
How long does tomato jam keep in the fridge?
Sealed tightly, this tomato jam will keep well in the refrigerator for about 2 weeks or in the freezer for about 6 months. You can also can the jam for longer storage. If you're interested in tomato jam canning, you can seal the jars in a hot water bath. If your choose to can your jam, be sure to use bottled lemon juice rather than fresh, since it's has a more consistent pH level.
Looking for more tomato recipes to make this summer? We love Creamy Tomato Basil Soup, Steak with Smokey Tomato Relish, and Smoked Tomato and Bacon Vinaigrette.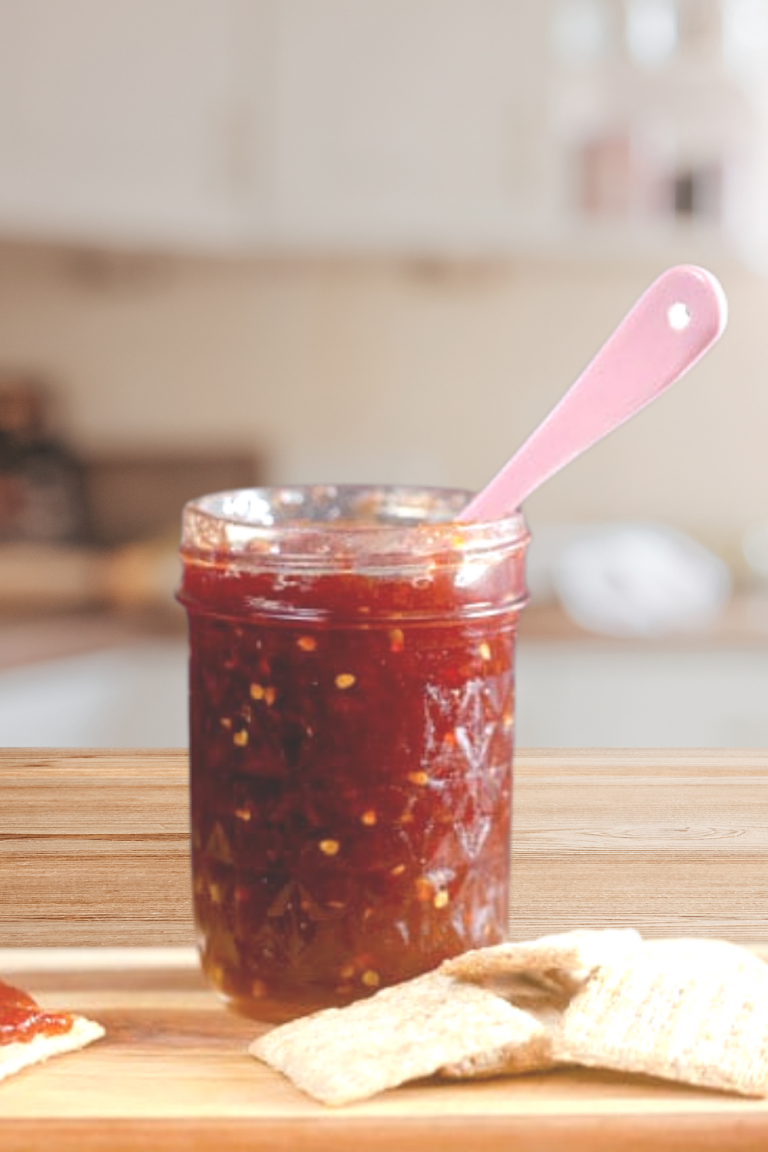 Summer Tomato Jam
If canning makes you nervous, you can also keep this jam in the refrigerator (or freeze it for long term storage).
Print
Pin
Save
Saved!
Ingredients
2

pounds

ripe tomatoes

cores removed

1 ½

cups

light brown sugar

¼

cup

lemon juice

1

Tablespoon

lemon zest

1

teaspoon

freshly grated ginger

or 1/4 teaspoon ground ginger

2

half-pint jars

sterilized (optional), for canning)
Instructions
Add the tomatoes to a blender or food processor. Pulse several times to crush the tomatoes.

Transfer the tomato puree to a medium skillet set over medium heat. Stir in the brown sugar, lemon zest and juice, and ginger. Cook, stirring frequently, until the mixture is thick and jammy – this will take about an hour. (To test, dip a cool metal spoon into the jam. It should slide of the spoon in a thick sheet – not in watery droplets.)

Ladle the jam into the jars. Store in the refrigerator or freeze. Alternately, wipe the rims, cover with the lids, and screw the bands on until they're just barely tight. Seal in a hot water bath for 20 minutes. Carefully remove the jars from the pot and let them rest on the counter for at least 6 hours. You should hear the jars make a "ping" sound when they seal. The jam is delicious right away, but tastes even better after a few weeks.
Nutrition Facts
Summer Tomato Jam
Amount Per Serving (2 Tablespoons)
Calories 76
% Daily Value*
Sodium 9mg0%
Carbohydrates 19g6%
Protein 1g2%
* Percent Daily Values are based on a 2000 calorie diet.