I can't think of anything better to do a cold, rainy fall afternoon than to curl up with a warm mug of creamy tomato soup (sans cream) and a handful of cheddar walnut crackers. Both recipes are amazing on their own, but together they're perfect.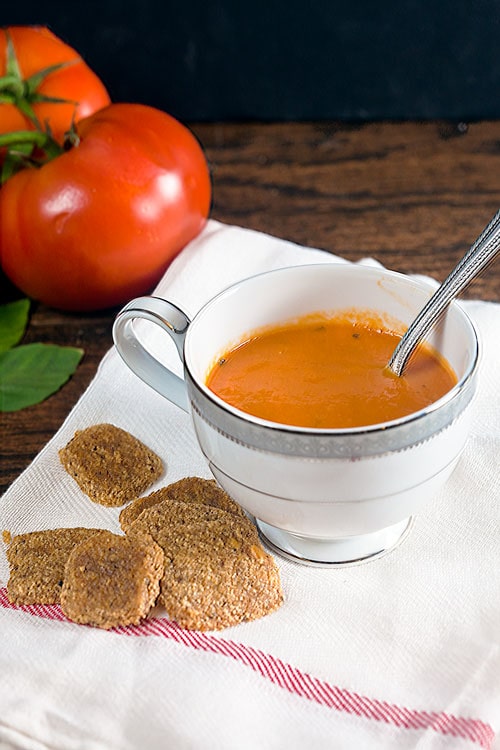 Some things can't be rushed. Like, for example, my appreciation of tomato soup. Growing up, I HATED it. I thought it was pretty much the worst thing anyone could possibly want to eat. It was acidic and tinny and just… plain. No macaroni or chicken or chunks of carrot? Yawn.
But then, slowly, I started to get its allure. It started when I dipped a chicken Panini into the side of sauce that came with Shawn's calzone. It was delicious – and the concept of dunking a grilled cheese into a bowl of tomato soup suddenly made sense.
For a while, that's the only way I would eat it: however much soup my sandwich sopped up was as much as I would eat.
When I decided to make tomato soup from scratch a few years ago, everything changed. You can't even compare a pot of good, homemade tomato soup to the stuff that comes out of a can. The homemade version is rich, creamy, and way less harsh.
For the best flavor, I use canned tomatoes. They're more consistent than fresh ones and you don't have to worry about removing the skins, which just makes life a lot easier. I also like to throw some tomato paste and sundried tomatoes into the pot. They might be unconventional, but they add a ton of depth to the flavor of the soup. Just before serving, I stir in a big spoon full of GO Veggie! Dairy Free Cream Cheese. I love how this cream cheese melts – it's incredibly smooth. It's a great alternative to cream, and it has four times more calcium than dairy cream cheese with less calories and fat. Plus, in addition to being dairy free it's also gluten free and vegan. Win-win-win.
Of course, that whole lack of texture thing still gets to me. Tomato soup just needs… something. Croutons or a toasted sandwich work, but crispy cheddar walnut crackers are even better. It took me a while to get this recipe just right, but I finally did it. In fact, Shawn and I did a side-by-side taste test with our favorite store-bought cheese crackers and we both agreed that we liked mine better! Their flavor is so much deeper more complex. I use GO Veggie! Lactose Free Cheddar Shreds, which means they're dairy free (so they don't bother me), gluten free (so I can share with my friends!) and have 50% more calcium, nearly as much protein and half the fat of dairy shreds (so I can feel better about using cheese!).
Ingredients
2

tablespoons

olive oil

2

carrots

diced

2

celery stalks

diced

1

leek

white part only, thinly sliced

2

garlic cloves

minced

1

tablespoon

tomato paste

4

cups

vegetable stock

32

ounces

peeled plum tomatoes

⅓

cup

sundried tomatoes

about 10 dried tomatoes

¼

cup

fresh basil

loosely packed

¼

cup

cream cheese
Instructions
Heat the olive oil in a saucepan set over medium high heat. Add the carrots, celery, leek, and garlic; sauté 5 minutes, until softened.

Add the tomato paste and cook 1 minute, stirring constantly.

Stir in the vegetable stock, canned tomatoes (with their liquid), and dried tomatoes. Bring to a boil, then reduce the heat and simmer 30 minutes. Stir in the basil.

Transfer the soup to a blender; blend until smooth.

Return the soup to the pan and stir in the cream cheese until melted.
Nutrition Facts
Creamy Tomato Basil Soup
Amount Per Serving (1 serving)
Calories 90
Calories from Fat 54
% Daily Value*
Fat 6g9%
Cholesterol 7mg2%
Sodium 527mg23%
Potassium 264mg8%
Carbohydrates 8g3%
Protein 2g4%
Vitamin A 3193IU64%
Vitamin C 5mg6%
Calcium 27mg3%
Iron 1mg6%
* Percent Daily Values are based on a 2000 calorie diet.