Nothing reminds me more of carrot cake than Spring! It must have something to do with the Easter Bunny's love of carrots. Although I don't think I've ever actually had carrot cake on Easter, the two items are linked in my mind. which is fine because carrot cake is awesome and I honestly have a tendency to forget about it otherwise.
This year, winter seems never-ending, so I pulled together this collection of 20 healthy carrot cake recipes. Maybe it will entice the warmer weather to finally show up? If not, we can at least eat our feelings.
This collection of healthy carrot cake inspired recipes includes everything from breakfasts like pancakes and oatmeal, to snacks like energy bites and cookies, to cakes and muffins. With plenty of paleo, grain free, dairy free, and low calorie options, you're bound to find a new favorite carrot cake inspired recipe that fits into your lifestyle!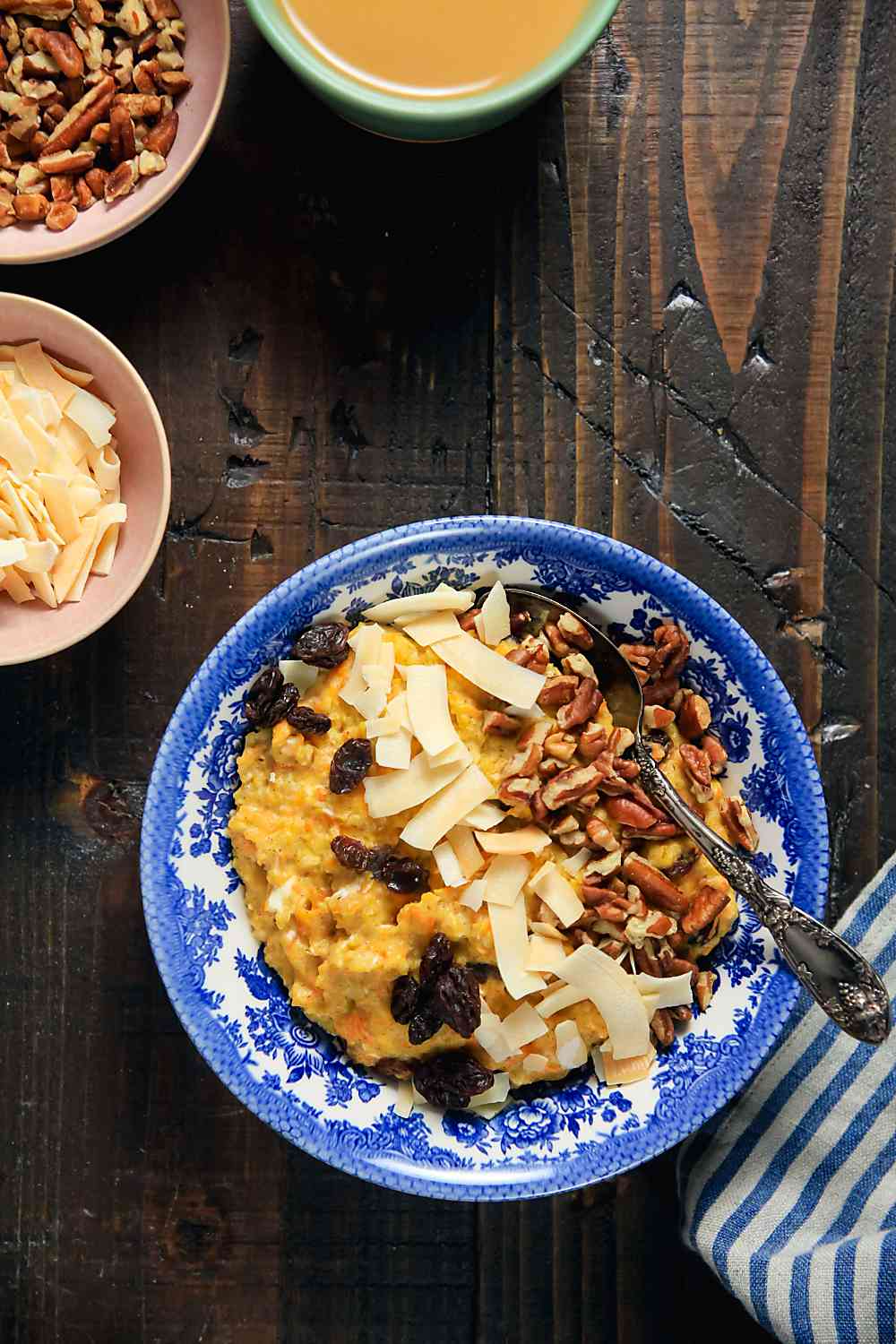 HEALTHY CARROT CAKE BREAKFASTS
Carrot Cake Granola (Gluten Free) by Healthy Delicious
Carrot Cake Oatmeal (Dairy Free) by Healthy Delicious
Carrot Cake Quinoa Flakes (Gluten Free) by Strength and Sunshine
Carrot Cake Overnight Oats (Vegan) by Vegan Heaven
Carrot Cake Pancakes (Whole Wheat) by Amy's Healthy Baking
Carrot Cake Smoothie (Vegan + Paleo) by Wallflower Kitchen
HEALTHY CARROT CAKE BARS, BITES, COOKIES, SCONES
Carrot Cake Baked Oatmeal Breakfast Bars (Vegan) by Sweet As Honey

Carrot Cake Energy Bites (Vegan) by Trial and Eater
Carrot Cake Quinoa Breakfast Cookies (Naturally Sweetened) by Simply Quinoa
Carrot Cake Scones (Naturally Sweetened) by Caroline's Cooking
HEALTHY CARROT CAKES
Gluten-Free Vegan Tropical Carrot Cake (Gluten Free) by Rhian's Recipes

Classic Grain Free Carrot Cake (Grain Free) by A Clean Bake
Healthier Carrot Cake Cheesecake (Whole Grain) by Texan Erin
Paleo Curry Carrot Cake (Paleo) by The Primal Desire
HEALTHY CARROT CAKE CUPCAKES AND MUFFINS
Gaps Friendly Carrot Cake Cupcakes With Yogurt Cheese Frosting (Gluten Free) by Health Home and Happiness
Sugar Free Carrot Cake Cupcakes (Low Carb) by Low Carb Maven
Carrot Cake Zucchini Muffins (Gluten Free) by Beauty and The Foodie
Healthy Inside Out Carrot Cake Muffins (Naturally Sweetened) by To Simply Inspire
Carrot Cake Weight Watchers Muffins by Drugstore Divas
Carrot Oatmeal Greek Yogurt Muffins (Naturally Sweetened) by Running With Spoons