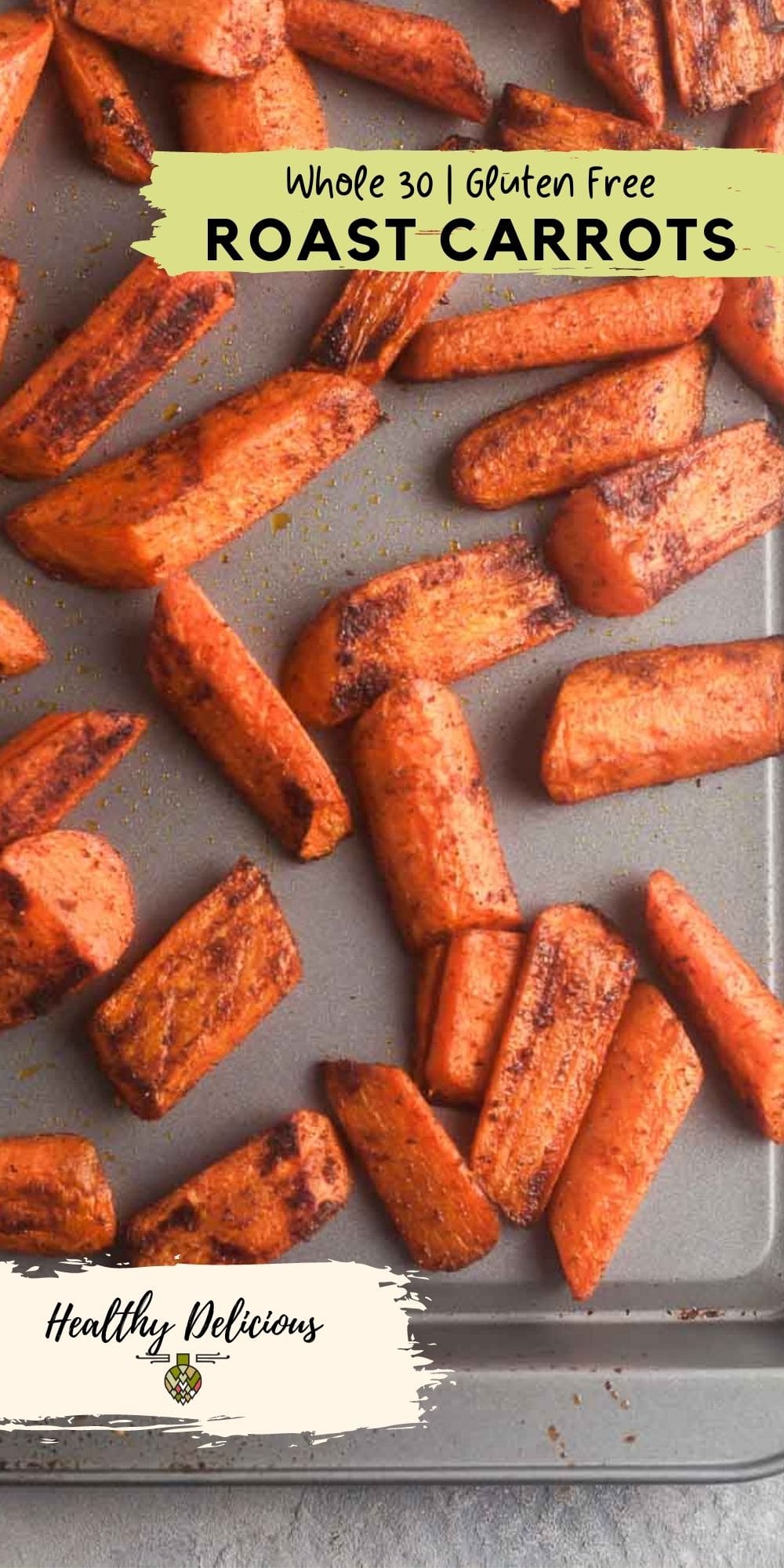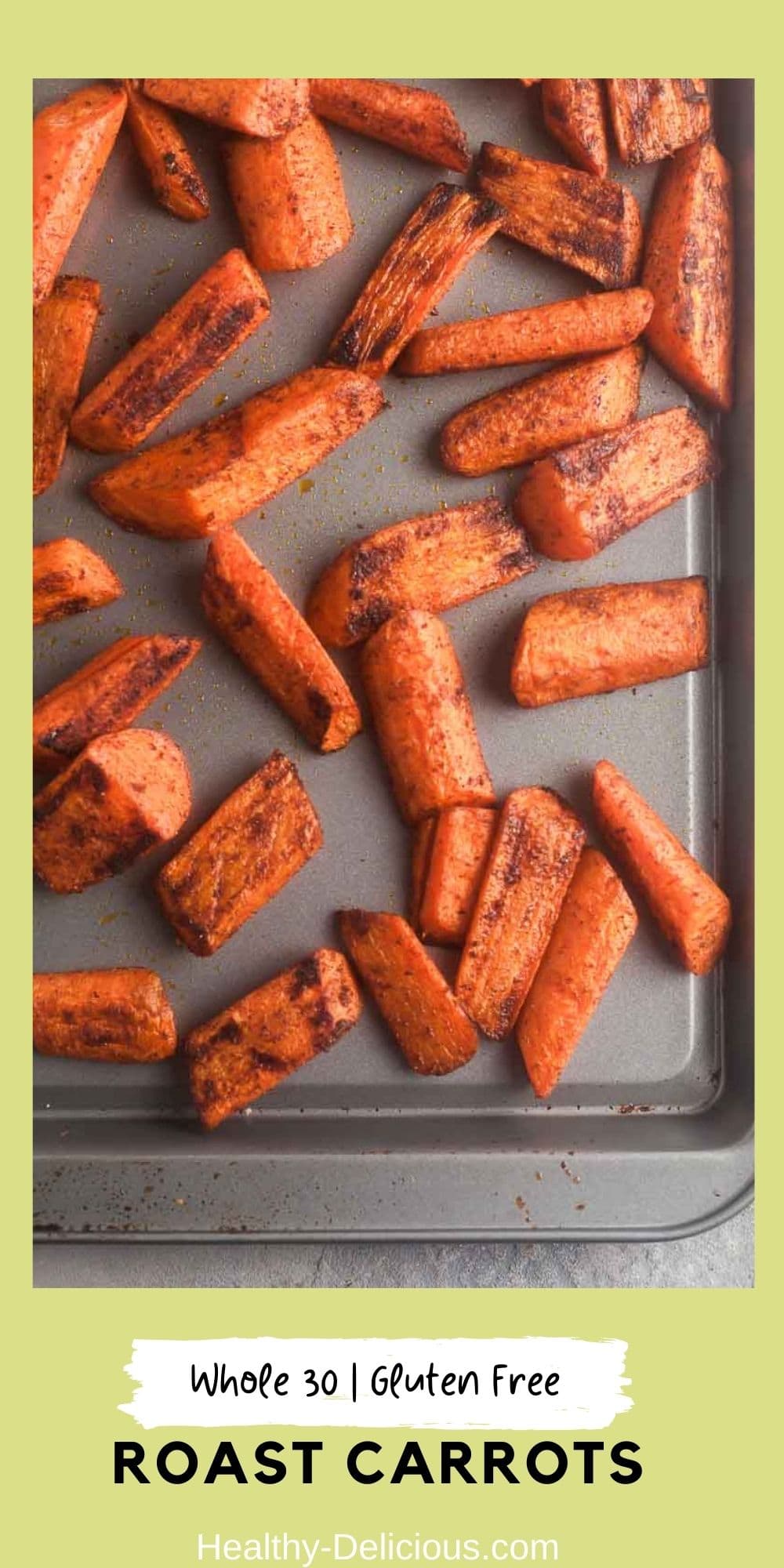 The BEST tender roasted carrots perfectly seasoned with an earthy mixture of Moroccan spices. Make them in the oven or the air fryer for an easy and healthy side dish.
---
Naturally sweet. Roasting the carrots brings out their natural sweetness and enhances their flavor. Kids love them!
A unique twist on a classic. Moroccan spices add depth and complexity to the dish. The combination of warm spices and sweet, caramelized carrots is so comforting!
Affordable and Special diet friendly. Naturally vegan, gluten-free and dairy-free.
I recently set a goal for myself to eat more vegetables. You know, go back to the old "5 a day" that they taught us way back in kindergarten when food groups were still a thing.
These roasted carrots with Moroccan spices make getting in at least one serving of vegetables a piece of cake. They have the perfect balance of sweet, savory, earthy, and spicy flavors that makes them so good!
This easy carrot recipe was inspired by a super fancy restaurant meal that we had for our last anniversary. It was at the kind of place that places 5 carrot slices ever so perfectly on the plate. Usually, that's plenty for me but I could have eaten an entire patter of the ras el hanout carrots that they served with my entree.
I definitely left that meal wanting more.
So I took matters into my own hands and made my own version at home. And then I ate the leftovers right out of the fridge as a snack.
These roast carrots go great with meaty dishes like lamb chops or steak. I recently served them alongside my crockpot meatloaf and they were wonderful. They'd also be great on top of a grain bowl or even on the side of some soft scrambled eggs.
Ingredients You'll Need
Carrots.
Olive oil or your favorite neutral oil. Avocado oil is another great option!
Ras el Hanout.
Fresh parsley.
If you really want to get fancy, these roasted carrots are also delicious sprinkled with toasted almond sliced or chopped Marcona almonds.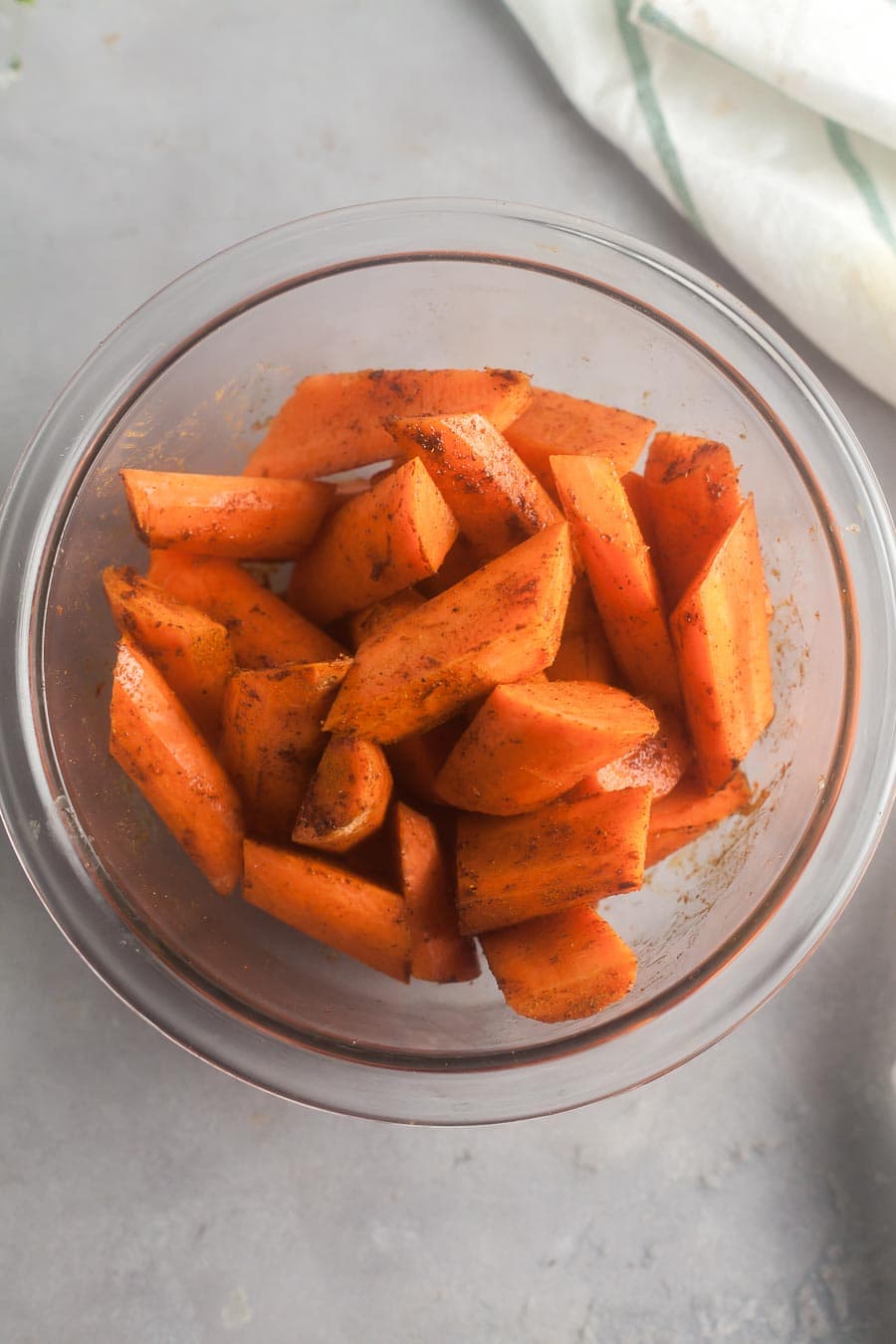 How to make Spicy Moroccan Carrots
Cut the carrots. The most important thing to keep in mind when making roast carrots, or any other roast vegetables, it to cut them evenly. This will ensure they cook at the same rate, preventing smaller pieces from overcooking before larger pieces have a time to finish.
The part that comes into contact with the pan will brown the best, so it's helpful to cut a flat surface. For these Moroccan carrots, I cut the carrots in half lengthwise, then cut each carrot half into 1 1/2 inch pieces. Cutting them at an angle makes them look extra pretty!
Coat the carrots with oil by placing the oil and carrots in a large bowl and stirring until the carrots are evenly coated. This helps insulate them from the hot oven and raises their surface temperature so they brown more evenly while preventing too much moisture from evaporating — this keeps them from drying out while they cook.
Season the carrots generously with salt and pepper or go with something more flavorful, like the ras el hanout that I used in this recipe.
Transfer the carrots to a baking sheet using a slotted spoon to lift the carrots out of the bowl. Taking the extra step to do this in a mixing bowl seems annoying, but it's worth it! It ensures the carrots are coated evenly and any excess oil gets left behind in the mixing bowl — not on your pan.
Spread the carrots in an even layer, leaving some space between them. This helps them brown nicely; otherwise, they'll just steam.
Roast until tender. The size of the carrots will determine how long you need to roast them for. Bigger pieces will take longer and should roast at a slightly lower heat, while smaller pieces will be done faster and should be cooked at a higher heat.
In this recipe, I cut the carrots into inch-and-a-half pieces and roasted them at 450ºF for about 30 minutes.
If you're roasting carrots whole, lower the oven temperature to 400ºF and roast them for 40-45 minutes.
If you cut the carrots into smaller, bite-sized pieces, roast them at 475ºF for about 20 minutes.
Pro-Tip: The secret to the best roast carrots
Have you ever wondered what the secret to perfect roast carrots is? The kind that are soft, but not mushy, with tons of earthy flavor and just the right amount of caramelization?
We did a whole unit on roasting vegetables in culinary school, so I have a few tricks up my sleeve!
When roasting, the heat of the oven dries the surface of the vegetable. When the dry surface approaches the same temperature as the oven, the natural sugars being to caramelize and brown and the flavor begins to concentrate.
Commonly Asked Questions
Can I make roasted carrot coins/Rounds?
If you prefer smaller, bite sized carrots, raise the oven temperature and reduce the cooking time. If you want to roast whole carrots, lower the temperature and cook them a little longer.
Do I have to peel them?
Peeling the carrots before you roast them makes them look prettier, but it isn't necessary. If you're in a rush and don't want to spend time peeling them, don't worry about it!
What about baby carrots?
You can also roast baby carrots. These don't even need to be cut first, although cutting them in half lengthwise to create a long, flat surface will help them brown more evenly.
What is ras el hanout?
Ras el hanout is a fantastic Moroccan spice blend. Like Indian curries, the blend can vary depending on who makes it. Generally, it includes a mixture of cardamom, cumin, cinnamon, paprika, and turmeric. It has a bold, earthy flavor that's not too spicy and not too sweet.
You can buy it premixed or make your own ras el hanout from spices on your spice rack. If you have extra, it's delicious in lentil soup or with lamb.
Can I make them in an Air Fryer Or Convection Oven?
I absolutely love using my air fryer or countertop oven to roast vegetables. It heats up so fast, so you don't have to spend a ton of time waiting for the oven to get hot. This alone can cut the cooking time in half!
The fan that circulates the air inside the air fryer/convection oven also helps the surface of the carrots dry out faster, so caramelization starts happening sooner. This reduces the cooking time by about 20%, bringing it from 30 minutes to 24 minutes.
More vegetable side dish recipes
Roasted Carrots with Moroccan Spices
This irresistible recipe for roasted carrots is infused with the warm and aromatic spices of Morocco. The natural sweetness of the carrots is enhanced by the roasting process and paired perfectly with a spice blend that gives depth and complexity to the dish.
Print
Pin
Save
Saved!
Ingredients
1

pound

carrots

1

Tablespoon

olive oil

1

teaspoon

Ras El Hanout

½

teaspoon

kosher salt

2

Tablespoons

chopped fresh parlsey
Instructions
Heat your oven to 450°F.

Scrub or peel the carrots.

Cut the carrots in half lengthwise to form a long, flat edge. Then cut each carrot half into 1 ½-inch segments.

Add the carrots to a mixing bowl. Drizzle with the olive oil. Stir or shake the bowl to distribute the oil, making sure all of the carrots are evenly coated. Add the ras el hanout and salt and stir or shake until evenly coated.

Use tongs or a slotted spoon to transfer the carrots from the bowl to a baking sheet. Spread the carrots out so they're in a single layer with the cut side down.

Roast the carrots for 20 minutes. Turn them over, then roast for another 10 minutes, or until tender.

Transfer the roast carrots to a serving bowl and stir in the parsley.

Nutrition Facts
Roasted Carrots with Moroccan Spices
Amount Per Serving (1 serving)
Calories 70
Calories from Fat 36
% Daily Value*
Fat 4g6%
Carbohydrates 10g3%
Protein 1g2%
* Percent Daily Values are based on a 2000 calorie diet.