Steakhouse-style baked potatoes, straight from your air fryer! These air fryer baked potatoes are crispy on the outside, fluffy on the inside, and seasoned to perfection. Whether you top them with butter and sour cream or get creative, this recipe is a winner.
---
Fast: These potatoes are ready to eat in under an hour, a fraction of the time it takes to make them in the oven!
Crispy: The air fryer provides a crispy exterior to the potatoes while keeping the inside fluffy and tender.
Perfectly Seasoned: Seasoned generously with kosher salt for that delicious steakhouse flavor.
Perfect Steakhouse-Style Baked Potatoes in the Air Fryer
I love baked potatoes. But, for the longest time, I avoided making them at home because they take forever to cook in the oven.
I'd usually rush and take them out too early, which meant the inside was still too firm. Unless I was already making something that needed a long time in the oven, like a chicken or roast beef, I'd usually skip them.
Then, I discovered the magic of air fryer baked potatoes.
They're done in about a third of the time as traditional oven baked potatoes! Plus the skins come out so crispy, just like the ones you'd get at a steakhouse.
Plus, the centers come out so light and fluffy! They're just begging to be loaded up with all of your favorite toppings.
Grab your favorite potatoes, fire up your air fryer, and let's get started!
The best potatoes for baked potatoes
For the best bake potatoes, you'll want to choose a starchy spud, like Russets. They have a lower moisture content then other potatoes, which makes them perfect for baking. Plus, their high starch gives you that classically fluffy texture on the inside.
Other potato varieties, like Yukon Gold or Red Potatoes have less starch and can result in a waxy texture. These are great options for roasting, but when it comes to a classic baked potato Russets are where it's at!
Ingredients You'll Need
Potatoes. As discussed above, I like to use Russet potatoes. Specifically, I prefer the ones that come in a bag (usually 5 pounds) because they tend to be smaller than the ones sold individually. Either way, you'll want potatoes that ar between a half pound to three quarters of a pound each, or roughly the side of your palm.
Olive oil or Avocado oil. A little bit of oil encourages the skin to crisp up beautifully. Plus it helps the salt stick for a perfectly-seasoned steakhouse style potato!
Kosher salt. Or flaky sea salt.
How to make them
Pierce each potato a few times with a fork. This will help prevent steam from building up inside of it while it cooks, which can cause it to crack or explode.
Rub the potatoes all over with a light coating of oil, then rub with salt.
Air Fry until done. You'll know your baked potato is ready when the skin looks paper and begins to pull away from the inside. You should also be able to pierce is very easily with a fork.
Let Rest until cook enough to handle, then cut a slit the long way across the top. Hold the potato at both ends and squeeze the together to make the perfect pocket for your favorite toppings.
Creative Baked Potato Toppings
You can never go wrong with butter or sour cream with salt and pepper, but if you're feeling more adventurous here are some more baked potato topping ideas:
Chili: top your baked potato with your

favorite chili recipe

and shredded cheddar cheese.
Loaded: add chopped bacon, diced green onion or scallions, and a dollop of sour cream.
Tex-Mex: top with black beans, pickled jalapenos, shredded lettuce, guacamole, and salsa.
Mediterranean: top with hummus, kalamata olives, diced cucumbers, and crumbled feta cheese.
BBQ: add leftover pulled pork or chicken, barbecue sauce, and Greek yogurt coleslaw.
Buffalo: top with shredded chicken tossed in buffalo sauce and blue cheese crumbles.
Pizza: add marinara sauce, mozzarella cheese, and your favorite pizza toppings.
Breakfast: top with scrambled eggs, sausage or bacon, and shredded cheese.
Veggie: top with sautéed vegetables, avocado, and tahini dressing.
You can also make my pot roast stuffed potatoes with gremolata. Or have a baked potato bar and let everyone come up with their own unique potato concept – it's a great way to clean out the fridge!
Commonly asked questions
How To Store And Reheat
Let the potatoes cool completely, then place them in an airtight container with a lid. You can keep them in the refrigerator for up to 5 days.
When you're ready to reheat them, pop them back into the air fryer until they're warmed through. You can also microwave them for a quick and easy option, but the skins won't be as crisp.
Do I need to wrap the Potatoes in Foil?
Do I need to poke holes in the potatoes before air frying them?
While not absolutely necessary, poking holes in the potatoes lets steam out while they cook. Use a fork or a sharp knife.
Can I make multiple baked potatoes in the air fryer at the same time?
Yes, go ahead and load it up! If you have multiple layers of potatoes in your air fryer basket, rearrange them about half way through the cooking process to ensure they cook evenly.
Do I need to preheat the air fryer before making baked potatoes?
It's always recommended to follow the instructions for your individual air fryer — some call for preheating and others don't.
Either way, it wont' make much of a different with this recipe since there's a longer cooking time. If you don't preheat they might need an extra minute or two; if you do preheat, they might be ready a minute or two sooner.
Can I season the baked potatoes before air frying them?
Sure! I keep things simple with oil and salt, but feel free to add any seasonings you like or that go with whatever else you're serving.
Garlic powder is a popular one, but I also enjoy using chili powder or cajun seasoning to spice things up!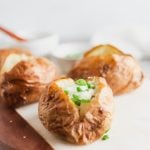 The best baked potatoes in the air fryer
With minimal prep time and no need to heat up the oven, air fryer baked potatoes are a quick and easy side dish. Cooking baked potatoes has never been easier!
Print
Pin
Save
Saved!
Ingredients
4

medium

Russet potatoes

(about 7 ounces each)

1

tablespoon

olive oil

or avocado oil

½

teaspoon

kosher salt
Instructions
Preheat your air fryer to 400ºF.

Pierce each potato 3-4 times with a fork. Rub the potato skins all over with olive oil and season generously with salt. Place in your air fryer basket.

Air fry the potatoes for 25-40 minutes, or until the skins looks wrinkled and the potatoes are easily pierced with a fork or knife.

Remove the potatoes from your air fryer to cool. Once they're cool enough to handle, split them open and fill with your favorite toppings.
Nutrition Facts
The best baked potatoes in the air fryer
Amount Per Serving (1 potato)
Calories 199
Calories from Fat 36
% Daily Value*
Fat 4g6%
Sodium 301mg13%
Potassium 888mg25%
Carbohydrates 38g13%
Protein 5g10%
Vitamin A 2IU0%
Vitamin C 12mg15%
Calcium 28mg3%
Iron 2mg11%
* Percent Daily Values are based on a 2000 calorie diet.