Nothing beats the bright, tangy taste of a simple vinaigrette! Luckily, basic vinaigrettes are incredibly easy to make yourself. Grab your whisk and a few simple ingredients and you'll be minutes away from a delicious homemade salad dressing that's so easy to riff on.
---
Make it in 5 minutes, keep it all week: This recipe is so easy to mix up, and it keeps well in the fridge for weeks!
Less Processed: This homemade vinaigrette avoids many of the artificial flavors, preservatives, and added sugars found in commercially bottled dressings.
Tastier: Let's be honest, homemade dressings just taste better! They're fresher, more flavorful, can be customized to your specific taste preferences.
More sustainable: Making your own vinaigrette is a great way to reduce food waste and use up ingredients you already have in your kitchen. Why buy something new when you can make it in minutes with ingredients that you already have?
Master the Basics: How to Make a Simple Vinaigrette
If you're like me, you've probably found yourself standing in the grocery store aisle, staring at the dizzying array of salad dressings and feeling a little overwhelmed.
Which one is the best? Which one is healthiest? And, let's be honest, which one actually tastes good?
While some store-bought salad dressings can be okay in a pinch, there's really no substitute for homemade vinaigrette.
And, honestly, whipping up a basic vinaigrette is so simple that you really don't have any reason not to – especially since they use simple ingredients that you probably have in your kitchen already.
What is a vinaigrette?
Vinaigrette is a mixture of oil and vinegar that's commonly used on salad.
While people tend to consider vinaigrettes to be salad dressings, there is technically a difference: a vinaigrette is an unstable emulsion (it will separate as it sits) while a dressing incorporates protein to create a stable emulsion.
For the purposes of this post, I'll use the terms interchangeably.
Ingredients
Grab your favorite oil and vinegar and let's get to it!
Vinegar. Keep things simple with white wine vinegar, which has a neutral flavor, or go bolder with balsamic or red wine vinegar. Apple cider vinegar will add a sweet and tangy flavor thats delicious with winter squash, and sherry vinegar is great with Spanish-style tapas or paella.
Oil. Olive oil is standard, but you can also use avocado oil or any other neutral oil that you enjoy.
Dijon mustard. Mustard helps emulsify the dressing, bringing all of the ingredients together. I have a strong preference for Maille, but you can use whatever is in your fridge.
Honey. To add a touch of sweetness that balances out the acidic vinegar.
Salt and Pepper.
Substitutions and Variations
Use fresh lemon juice instead of vinegar for a citrusy salad dressing.
Try a fruit vinegar, like a blackberry or fig, for a fun and unique dressing.
Swap the honey for maple syrup for a homemade dressing that goes beautifully with Brussels sprouts salad or winter squash. You can also sweeten it with agave nectar.
Replace the oil with buttermilk or plain yogurt for a creamy dressing.
Add 1-2 grated garlic cloves for a flavorful dressing that holds up to hearty greens like kale.
Add a tablespoon of fresh herbs (dill is wonderful!), dried herbs or herb blends like Italian seasoning, or minced shallots to complement the flavors in your salad.
The basic vinaigrette ratio
When I was in culinary school, I learned that the traditional ratio for a vinaigrette is
3 parts fat to 1 part acid.
I followed that ratio in the recipe below, but you can easily adjust it to suit your personal tastes.
Want it a little sweeter? Drizzle in more honey.
Prefer it tangier? Use more vinegar or less oil.

Commonly asked questions
How to store It
Store any leftover dressing in a mason jar (or similar jar with a tightly fitting lid) in the refrigerator. As written, the vinaigrette will keep for several weeks, but note that the addition of fresh ingredients like lemon juice or herbs may shorten its shelf life.
The dressing will separate as it sits, but you can give it a vigorous shake to bring it back together.
What kind of vinegar should I use?
It's really up to you and the flavor that you're going for!
White wine vinegar has a clean, neutral flavor that works well on almost any salad. I love using this on tender leafy greens.
Balsamic vinegar is a classic that pairs perfectly with Italian dishes. It's a little sweeter than other vinegars, so you might not need as much honey if you're making a balsamic vinaigrette.
Red wine vinegar has a sharp, acidic flavor that always reminds me of old-school Italian restaurants with checkered tablecloths. This is what you'd traditionally get if you ask or a salad with oil and vinegar.
How should I use it?
Add it to your favorite salad or sandwich, use it to marinate chicken or fish, drizzle it over roasted vegetables, or add it to cooked pasta or grains to perk them up!
Can I scale this recipe up?
Yes, go ahead and make a double or triple batch! No adjustments are necessary.
How much vinaigrette should I use for each serving of salad?
As a general rule, you'll want to use 2 tablespoons for each serving.
If you're making a huge salad or one with a lot of ingredients, you might want to use a little extra dressing to ensure that everything is coated well. On the other hand, if you're making a simple salad with delicate flavors, you might want to use less dressing to avoid overwhelming the other flavors in the dish.
More homemade dressings and sauces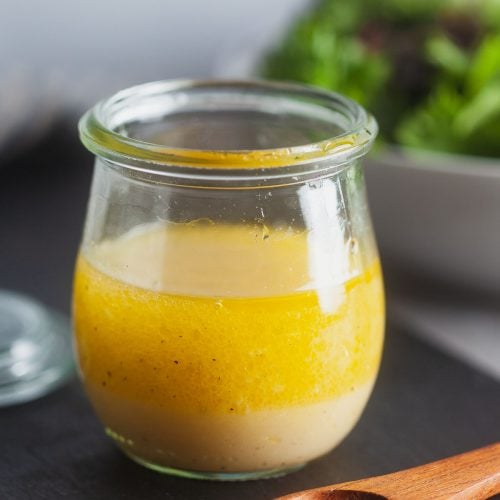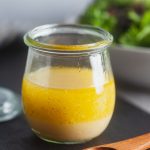 Basic Vinaigrette Recipe
Discover the joy of homemade dressing with this basic vinaigrette recipe. Made with just 4 ingredients, it's sure to become a staple in your kitchen.
Print
Pin
Save
Saved!
Ingredients
⅓

cup

vinegar

½

teaspoon

mustard

½

teaspoon

honey

1

cup

olive oil

½

teaspoon

kosher salt
Instructions
Add the vinegar, mustard, and honey to a bowl or jar. Whisk to combine.

Drizzle in the olive oil while whisking constantly.

Season with salt to taste.
Nutrition Facts
Basic Vinaigrette Recipe
Amount Per Serving (2 Tablespoons)
Calories 194
Calories from Fat 198
% Daily Value*
Fat 22g34%
Sodium 3mg0%
Potassium 1mg0%
Carbohydrates 0.3g0%
Protein 0.01g0%
Vitamin A 0.2IU0%
Vitamin C 0.003mg0%
Calcium 1mg0%
Iron 0.1mg1%
* Percent Daily Values are based on a 2000 calorie diet.