Meet my new favorite salad. It's piled high with tons of toppings and dressed with a sweet-tart dressing that I can't get enough of! I created this recipe for Produce for Kids – keep reading to lean more about their latest campaign with Price Chopper and Feeding America.

If a walking taco and a barbecue dinner had a baby, this southwest barbecue chicken salad is what you'd get. It's basically the most epic salad ever and it's the only thing I've felt like eating all week. I'm hooked.
This salad is loaded with flavorful toppings in a variety of textures that really keep things interesting. Crispy greens, creamy avocado, sweet grilled corn, juicy tomatoes – you name it, it's on there. Plus some corn chips for a crunchy bonus that will have even the pickiest eaters asking for seconds.
As if that's not all delicious enough, I was completely blown away by the cilantro-lime-honey dressing that ties it all together. It's sweet and tart and I want to put it on everything. It's my new go-to dressing, for sure.
And (it just keeps getting better) if you head to your local Price Chopper/Market 32 to pick up the ingredients, you can also help put a healthy meal on the table of a local family.
Produce for Kids is a great organization focused on teaching families about the benefits of healthy eating and raising money for children's non-profits. Now through July 24, they're running a campaign with Price Chopper/Market 32 to raise money for Feeding America food banks across the Northeast.
Supporting the brands with the Produce for Kids logo (Avocados from Mexico, Dole Salads, Vidalia Sweet Onions, and Setton Farms Pistachios) will help give back to Feeding America food bank programs that support children and families. Thanks to last year's campaign, over 74,000 meals were donated to children and families in need!
Produce for Kids is also a great resource for families looking for simple, healthy recipes and lunchbox ideas – visit the Produce for Kids Website, facebook event page, twitter, and instagram for recipe ideas and more information on how to get involved in the Price Chopper campaign.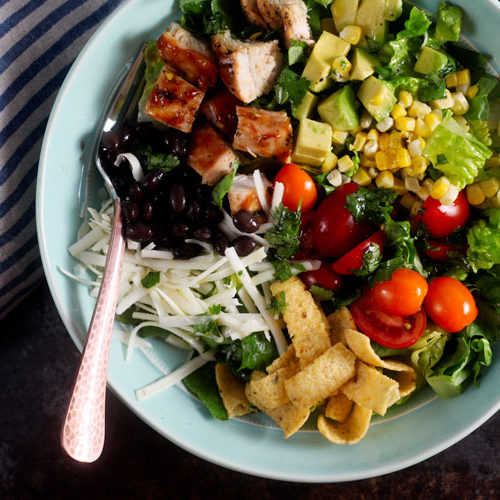 Southwest Barbecue Chicken Salad with Cilantro Lime Dressing
Ingredients
2 boneless, skinless chicken breasts
2 ears corn, husks removed
1/2 cup barbecue sauce
1/4 cup fresh lime juice
1/4 cup olive oil
1/4 cup loosely packed cilantro, chopped
1 garlic cloves, grated
1 teaspoon honey
salt and pepper
1 cup low sodium black beans, rinsed and drained
1 package (9 ounces) Dole® hearts of romaine
1 avocado, diced
1 pint grape tomatoes, halved
2 ounces Monterey Jack cheese, shredded
1/2 cup corn chips
Instructions
Heat your grill to medium high. Add the chicken and corn; cook for 8 minutes or until the chicken is partially cooked and the corn begins to brown. Remove the corn from the grill. Brush both sides of the chicken with barbecue sauce and cook an additional 5-10 minutes, or until cooke through. Remove from grill and dice. Cut the corn away from the cob.
In a small jar, combine the lime juice, olive oil, garlic, cilantro and honey. Mix well to combine. Season with salt and pepper.
In a large bowl, toss the romaine with half of the dressing; divide the dressed lettuce among four bowls.
Top each salad with chicken, corn, tomatoes, avocado, beans, cheese, and corn chips. Serve with additional dressing, if desired.
Nutrition Information

Amount Per Serving

Calories

629

Total Fat

30g

Saturated Fat

7g

Cholesterol

112mg

Sodium

1276mg

Sugar

22g

Protein

43g

By