It's hard to beat the convenience of air fryer frozen salmon. It's ready in under 15 minutes and you don't even have to defrost it first! You're going to love this convenient technique for tender and flaky salmon fillets.
Looking to cook fresh salmon filets? Check out my perfect air fryer salmon recipe instead.
I love to cook with fresh ingredients, but it's always great to have some go-to pantry recipes to have for those times when you haven't gotten to the grocery store or didn't have time to plan your next meal ahead of time.
When I'm looking for a healthy dinner that's quick and easy to throw together, I reach for frozen salmon!
The beauty of frozen salmon is that you don't have to defrost it before you cook it in your air fryer; you can take it straight from the freezer to your plate in about 15 minutes. But don't worry! It definitely won't taste like it was made in a hurry. The air fryer does a great job at not only cooking the fish perfectly but also keeps it moist and delicious!
This simple air fryer frozen salmon is such a versatile dish, too. You can eat it as-is with some rice or quinoa, throw it on a salad, use it in a casserole or with pasta, or make my favorite salmon patties.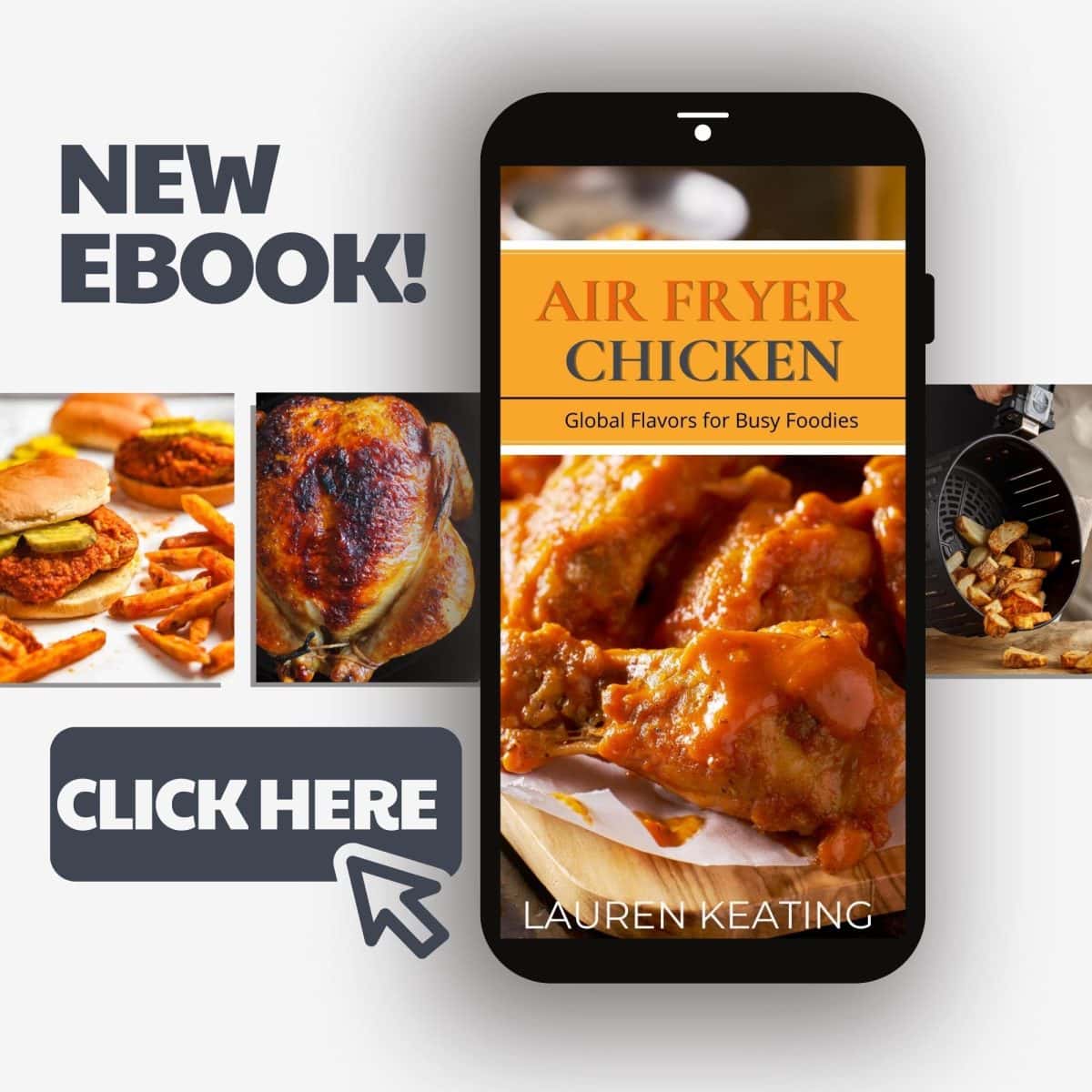 What you'll love about this recipe:
---
FAST. No need to defrost your salmon first—just take out what you need and get cooking!
AIR FRYER RECIPE. No need to heat up your big oven!
VERSATILE. You can eat the fillets as is with your favorite side dishes or use them in another recipe. Either way, they're delicious!
HEALTHY. Salmon is high in protein and Omega-3 fatty acids.
SPECIAL DIET FRIENDLY. Salmon is naturally gluten-free and low carb. It's also appropriate for Whole 30, paleo, and keto diets.
What you'll need to cook frozen salmon fillets
There's nothing more delicious than a fresh, flavorful piece of salmon. This recipe keeps things super simple, with just a few ingredients. All you need are:
Frozen salmon fillets. I like to buy individually wrapped fillets so I can easily grab exactly the amount I want to cook. Individaully wrapped salmon also resists freezer burn and prevents ice build-up, so they retain their delicious flavor.
Lemon slices. I almost always have fresh citrus around, and popping a few lemon sliced on top of the salmon as it cooks is a great way to infuse it with flavor. The lemons soften as the heat up, so they're extra juicy. Go ahead and squeeze them into your fish before digging in!
Olive oil.
Salt and pepper. I use simple seasonings for maximum versatility.
Ingredient Substitutions and Variations
No fresh lemons? Drizzle the salmon with a teaspoon of bottled lemon juice.
Swap avocado oil in for the olive oil. You can also use cooking spray if you prefer. Be sure to spray it directly onto the fish, not onto the air fryer basket.
Tuck a few sprigs of fresh thyme or dill under the lemons, or dust the salmon fillets with cajun seasoning or your favorite seasoning blend.
The benefits of frozen salmon
You might think of frozen fish as a bit of a downgrade from fresh-caught salmon, but there's no reason to fear the freezer! It's one of the best tools we have in the kitchen, and fish is just one of the many things that are made even better by freezing.
You may not know this, but the "fresh" fish you buy at the supermarket has usually been previously frozen anyway, so you need to eat it pretty quickly.
Buying frozen salmon is more convenient, since freezing halts bacterial growthth and helps ensure your fish doesn't spoil quickly. You can keep salmon in your freezer for up to six months before it starts to lose its quality. It's there and ready to cook whenever you're ready to eat!
Freezing also preserves nutrients, including protein, fat and fat-soluble vitamins like vitamins A and D. So if you're wondering if frozen salmon is healthy, the answer is a resounding yes! It's even considered a superfood!
How to cook salmon straight from the freezer
1. Before you start cooking, remove any ice or excess water from the frozen fillet. You can do this by patting it down with paper towels. This will allow the salmon to cook evenly and thoroughly and will prevent it from getting mushy.
2. Pop the frozen salmon in your air fryer for 7 minutes. This step is to defrost the fish, it won't be fully cooked yet.
3. Brush the salmon with a little bit of olive oil and season generously with salt and pepper. Then, lay the lemon slices in a single layer over the fillets.
4. Return the salmon to the air fryer and cook for 3-7 minutes, depending on how thick your fillets are and how you like your salmon done. (The thin salmon fillets in the photos here took 3 minutes; thicker fillets will take longer.)
Common questions about frozen salmon:
What about the skin?
The skin on salmon is totally edible (and delicious!), so you don't have to worry about removing it if you don't want to.
Keeping the skin on the salmon as it cooks also helps insulate it, keeping it moist and holding it together. If your salmon fillets have skin, I recommend cooking them with the skin on, even if you plan to remove it before eating them. Add the salmon skin side down to your air fryer.
How to know when your salmon is done?
The USDA recommends cooking salmon to an internal temperature of 145ºF, and if you're pregnant or immuno-compromised you should definitely follow that guideline.
That said, at this temperature, your fish will be very well done and dry. Most chefs recommend cooking salmon to medium, with a temperature of 125-135º (remember the temperature will continue to increase even after you stop cooking).
The easiest way to check for doneness is by using a meat thermometer, but you can also look at it. The salmon should be crisp and slightly browned on the edges and should fall into tender flakes when scraped gently with a fork.
Does cooking salmon in the air fryer dry it out?
If you choose good-quality frozen salmon filets and cook them properly, they will be very moist and juicy even without any sauce or marinade.
Do I need to defrost salmon before cooking it in the air fryer?
Nope! Just follow these instructions and you'll have perfectly cooked salmon straight from the freezer. It's so easy!
More delicious salmon recipes
How to Cook Frozen Salmon in the Air Fryer
If you have a craving for salmon but don't have time to thaw it out, this is the recipe for you. It will take you only minutes to cook this tender and flaky salmon.
Print
Pin
Save
Saved!
Ingredients
2

frozen salmon fillets

½

teaspoon

olive oil

½

lemon

thinly sliced
Instructions
Preheat your air fryer to 390°F according to the manufacturer's instructions.

Remove any excess ice from your salmon fillets. Place the frozen fillets directly in your air fryer basket. (If your salmon still has the skin on, place it in the basket skin-side down.)

Cook the frozen salmon for 7 minutes.

Brush the salmon with olive oil and season with salt and pepper. Lay the lemon sliced over the fillets.

Return the salmon to the air fryer and cook another 3-7 minutes, or until the salmon is cooked to your liking.

The cooking time will depend on the thickness of your salmon and your prefered level of doneness. The salmon is ready whn it reaches an internal temperature of 135°F and flakes easily when scraped with a fork. For the salmon pictured above, I cooked for 3 minutes. For thicker fillets I set the timer for 5 minutes.
Nutrition Facts
How to Cook Frozen Salmon in the Air Fryer
Amount Per Serving (1 fillet)
Calories 258
Calories from Fat 108
% Daily Value*
Fat 12g18%
Cholesterol 94mg31%
Sodium 75mg3%
Potassium 870mg25%
Carbohydrates 3g1%
Protein 34g68%
Vitamin A 74IU1%
Vitamin C 14mg17%
Calcium 27mg3%
Iron 2mg11%
* Percent Daily Values are based on a 2000 calorie diet.