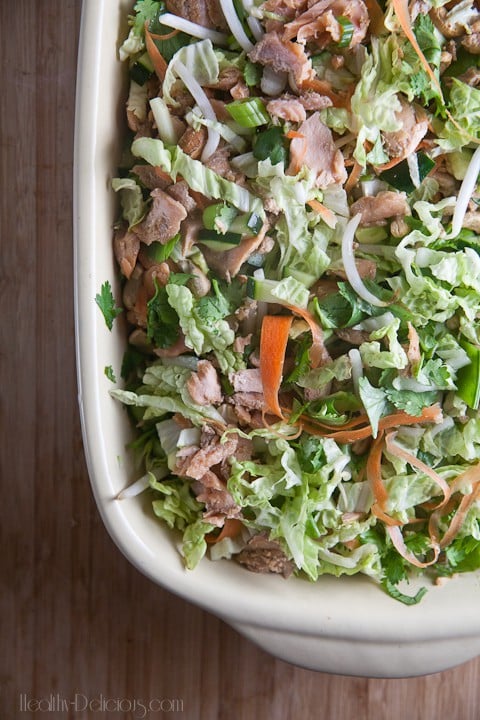 I might have a problem: I might be a little sriracha-obsessed. That bottle up there? I bought it last week and it's already almond have gone. I've been finding ways to sneak it into things left and right. When I originally came up with the idea for this salad, I envisioned a creamy avocado-lime dressing. You see how that turned out, right? No avocado in sight; instead, I dressed it with a spicy mixture of yogurt, sriracha, and lime juice. And I don't regret it for a second, because the dressing kind of made the salad.
The ingredient list for this recipe is a little long, but most of the ingredients are cheap. You probably even have a bunch of them in your fridge. They also each serve a purpose: The cabbage provides a backdrop for the rest of the ingredients. The cucumber and spouts add watery crispness. The snow peas (which were one of my favorite aspects of the salad) give it a vegetal bite. The cashews give it crunch. The cilantro and onion give it freshness. And the carrot gives it color. It's the one ingredient that could probably be sacrificed in terms of flavor, but you'd be left with an awfully green entrée.
We both loved this. I'll admit that I was a little hesitant at first but it kept growing on me the more I ate. Shawn enthusiastically described it as being "very vegetable-y, but good. And when you get something that's not a vegetable, like salmon or dressing, it's really good!" He also asked me to keep the leftovers, saying that he'd eat them for lunch the next day. Considering 1) he's not a leftovers kind of guy, and 2) it was a salad, I'd consider this recipe a keeper!
More Salmon Recipes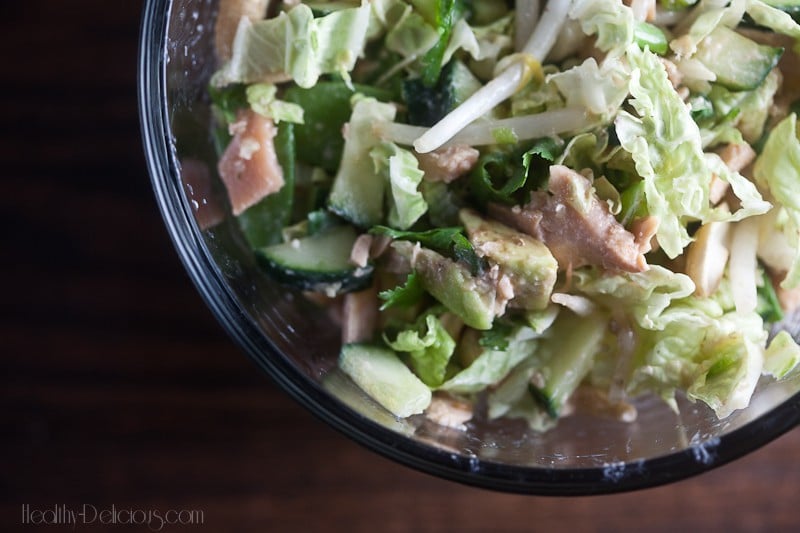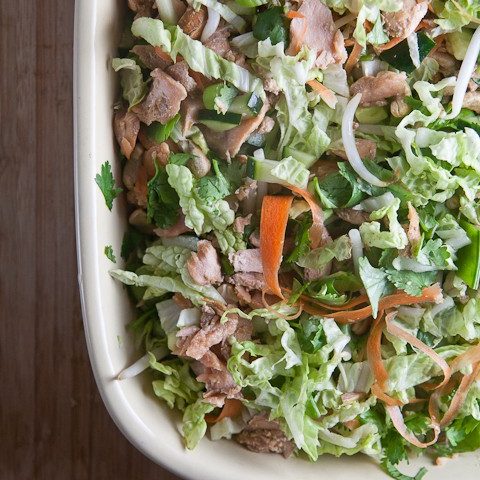 Ingredients
2

tablespoons

low sodium soy sauce

1

tablespoon

grated fresh ginger

1

teaspoon

sesame oil

2

salmon filets

1

head Napa cabbage

shredded

1

cucumber

sliced into half circles

2

carrots

shredded

1

cup

bean sprouts

½

cup

snow peas

roughly chopped

½

cup

cashews

½

cup

loosely packed cilantro

4

green onions

chopped

½

cup

plain fat free Greek yogurt

1

tablespoon

sriracha

1

tablespoon

lime juice

1

tablespoon

olive oil
Instructions
Heat broiler. Wisk together the soy sauce, ginger, and sesame oil. Set a cast iron (or other broiler proof pan) on a burner set to high. Once he pan is hot, add the salmon filets. Immediately pour the soy sauce mixture over top. Transfer to the boiler; broil for 2 minutes or until the salmon is cooked.

In a very large bowl, combine the shredded cabbage, cucumber, carrot, bean sprouts, snow peas, cashews, cilantro, and green onions.

In a small dish, mix together the yogurt, sriracha, and olive oil. Use a fork to separate the salmon into large flakes. Add salmon and dressing to the salad; mix well.
Nutrition Facts
Crunchy Salmon Salad with Sriracha Dressing
Amount Per Serving
Calories 206
Calories from Fat 95
% Daily Value*
Fat 10.5g16%
Protein 13.5g27%
* Percent Daily Values are based on a 2000 calorie diet.
I'm submitting this to February Food of the Month: Salad!