What is it about holidays like Memorial Day and the Fourth of July that necessitate barbecues? Sure Memorial Day is the unofficial start of summer, but our grill has already been going strong for weeks. Still, I felt the need to prepare some sort of traditional backyard fare. Shawn suggested burgers, but that seemed like a waste of a good day off. We can have burgers whenever. I wanted something a little more creative. Something that actually required some thought. I settled on salmon grilled on a cedar plank and BBQ baked lentils.
Yes, that's right: lentils. I don't really care for baked beans. They're too starchy or too soft something. My mom makes what everyone considers pretty awesome baked beans — they're requested at every family get-together — but I never ate them. When I was little, there was one kind of baked bean that I would eat. They came from a can. They were BBQ. And they contained a melange of various beans rather than simply relying on navy beans. I still remember the day when we stopped being able to find them in the grocery store. It was heartbreaking. This past Easter, we sat down to dinner and I saw that my mom had made her beans. They looked amazing. Plump, succulent beans swimming in a lightly spiced sauce, all capped off by a perfectly crisp layer of meaty bacon. It was the bacon that did me in. Those beans have been in the back on my mind ever since.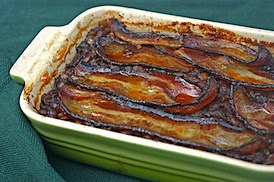 My recipe takes it's inspiration from my mom's version, complete with that all-important bacon layer. I used lentils instead of beans and was thrilled with how the texture turned out — they soaked up the sauce and were juicy without being too starchy. I also thought carefully about my sauce. I didn't want to rely on a store-bought sauce. Too many of them just taste like flavored corn syrup, and almost all of them are too sweet — especially after reducing in the oven. Plus, I wanted something with some heat to it. I ended up using my pomegranate-chipotle barbecue sauce recipe, which was complimented the meatiness of the applewood smoked bacon perfectly. The pomegranate juice added a touch of tartness, the chipotles added smoke and spice. While the final dish was exactly spicy it did have a lingering heat — if you're very sensitive to hot foods, you may want to use less chipotle.
Since the flavor of the beans was so bold, I wanted to keep the salmon on the simpler side. I grilled it on a cedar plant with some fresh orange slices. The result was a silky-smooth fish with a faint wood flavor and brightness from the citrus. Together, the two recipes came together in a meal that took the lazy summer cookout to a new level: simple and traditional enough for the burger-lovers of your group, but with a refined flavor and enough elegance to impress almost anyone.
*****
Don't forget to enter my latest giveaway, featuring a 5.5 quart enamel cast iron dutch oven!
******
Through June 15, I will be blogging healthy and unique recipes featuring lentils and dried peas under a sponsorship agreement through theUSA Lentil and Dy Pea Council. Although these posts are sponsored, opinions in them are my own and all recipes are original unless otherwise noted.