This is a sponsored post written by me on behalf of Seafood Nutrition Partnership for IZEA. All opinions are 100% mine.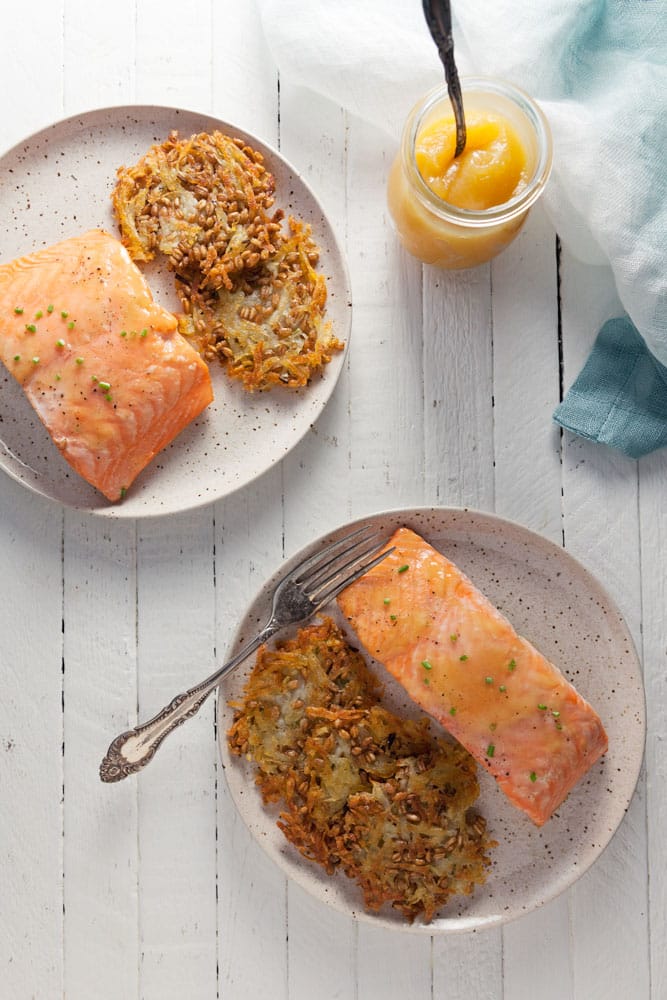 October is National Seafood Month and I'm partnering with the Seafood Nutrition Partnership again to help promote their Healthy Heart Pledge. I took the pledge myself and am committed to eating at least two servings of seafood per week. I made this Lemon Curd Salmon with Potato-Farro Rosti last week and I'm completely obsessed.
A lot of people are intimidated by cooking fish at home, but you don't have to be! This recipe is practically fool-proof. The whole thing is made with just 5-ingredients, but it tastes like something you'd get at a fancy restaurant.
Using lemon curd as a glaze for baked salmon is one of my favorite kitchen hacks. It melts into a luscious sauce that adds the perfect amount of citrus flavor to the fish with practically no effort. Since the salmon is so simple, you'll have time to focus on the delicious potato-farro rosti. Rosti is the Swiss version of a potato pancake, and it reminds me a lot of hash browns. You make them with shredded potatoes and don't use any binder. I've found that adding leftover cooked farro and chopped chives to the mix adds loads of texture and flavor – they're irresistible!
With recipes this easy and delicious, there's really no excuse not to eat fish at home. Which is great, since the USDA recommends eating two servings per week. Seafood is high in healthy fats (omega-3s) which are essential for heart health and brain health. An estimated 50,000 deaths from heart disease and stroke are avoided per year by eating fish! Take the Healthy Heart Pledge, and like Seafood Nutrition Partnership on Facebook for tons of inspiration on how to work seafood into your weekly menus.