Have you ever wondered how to make homemade sausage? It's easier than you might think! This sage sausage recipe is not only delicious, but it also comes together quickly and easily. You'll be able to impress your friends and family in no time.
Fresh Sausage From Your Home Kitchen
I had the opportunity to take a few cooking classes while I was in New York City for the Wine and Food Festival. The Grand Tasting and the dinner parties are always the highlights of the Festival, but the classes are really great and a fantastic bargain!
I attended Sausage Making 101 and The Art of Chocolate Making.
Both classes were fantastic, but the sausage making class was my favorite. When I was telling people about it afterwards though, they all had a similar reaction which was "Oh, cool! But… do you think you'd really make sausage at home? Isn't it messy?!"
While I'm not about to give up store bought sausage any time soon, I definitely will make it at home for special occasions. And making these homemade sage sausages isn't messy at all – the "ick factor" is really no worse than making meatballs. Since I took a bajillion photos, I thought I'd do a step by step of the process so you can see for yourself.
(This recipe uses pork, but I've since made homemade beef sausage too!)
Tips for making homemade sausage
Equipment needed
To start, you'll need a few things:
a big bowl full of ice
a smaller bowl that you can nestle into the ice to keep your meat cold
a way to grind the meat.
I have this Kitchen Aid Meat Grinder Attachment at home, and it's great (I also use it to make extra lean ground chicken from boneless, skinless chicken breasts), but you could also use a stand alone grinder.
Process
Grind your meat (a shoulder cut like picnic roast) through the coarse grinding plate, then put it into a bowl set on top of the ice. Sausage in an emulsion of meat and fat, and it's much easier to work with when it's super cold.
Use your hands to mix in the seasonings to make this sage sausage.
First, mix in the salt getting everything nice and blended.
Then, add toasted garlic, black pepper, and fresh sage.
When everything is thoroughly mixed, work in some white wine.
Pro Tip
Press a small ball of meat into the bowl of a spoon and turn the spoon upside down. If the sausage stays for 5 seconds before falling, you're ready to go! If not, add ice water little by little until you achieve the right balance.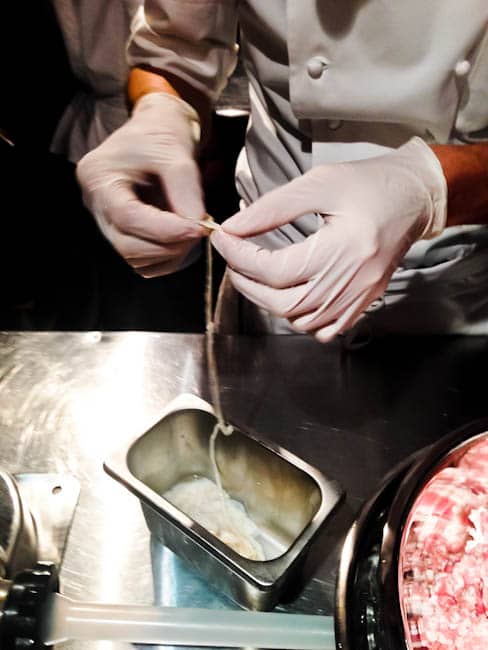 Next comes the the only slightly icky part: preparing the casings.
You can buy natural casing (intestine) or artificial casing (made from collagen or cellulose) online or at some major grocery stores or butcher shops. We worked with natural casing and I recommend that you do too – it gives the sausage a great "snap" that artificial casing can't match.
The casing will come packed in salt brine and come in two sizes: hog is for larger sausages like we made and lamb is for smaller sausages (like breakfast links). Soak the casings in water, then flush them to ensure they're nice and clean and to remove any of the brine.
Find an end and work the casing onto your stuffer (again, there's a Kitchen Aid attachment that's really affordable), leaving about 6 inches hanging off the end. The casings are a little slippery and pretty resilient and fairly easy to work with.
You can also skip the casing entirely and fry up sausage patties instead if you really want.
Load your meat in and SLOWLY start cranking it through, holding the loose end of the casing.
When the sausage starts filling the casing, tie the end off (it's kind of like tying a balloon).
Keep churning the sausage through until you reach the end, working the sausage into a coil as you go. You'll need to guide it gently to prevent it from getting overstuffed and bursting!
When you get to the end, tie it off.
To Shape sausage links
You can leave your sausage in a big coil or form links by sectioning off 3-inch pieces of sausage and twisting it around to separate it from the next one.
Twist one clockwise, then the next counterclockwise, until you're done!
Now, take a sharp knife and poke a small hole in each link to let out any air that might have gotten trapped inside.
TA-DA! You made sausage!
They'll keep for 3 days in the refrigerator or about six months in the freezer. Cook them for 7 minutes on each side until they're cooked through – they're so delicious!
Fry up your sage sausages for breakfast or dinner, or use them to make one of these recipes:
Ingredients
3

pounds

pork shoulder

1 ½

tablespoons

salt

1

tablespoon

freshly ground black pepper

2

tablespoons

minced toasted garlic

½

cup

fresh minced sage

1

ounce

white wine

2

cups

ice water

1

small container sausage casing
Instructions
Grind the pork through a coarse grinding plate. Place into a chilled bowl set into a larger bowl of ice. Using your hands or a wooden spoon, mix in the salt until well blended. Mix in the pepper, garlic, and sage.

Add the white wine and test the consistency by pressing a small ball of meat into the bowl of a spoon and turning the spoon upside down; if the sausage stays for 5 seconds before falling, you're ready to go! If not, add ice water little by little until you achieve the right balance.

Form into patties or stuff into casings (see interactions above).

Cook for 7 minutes on each side or until done.