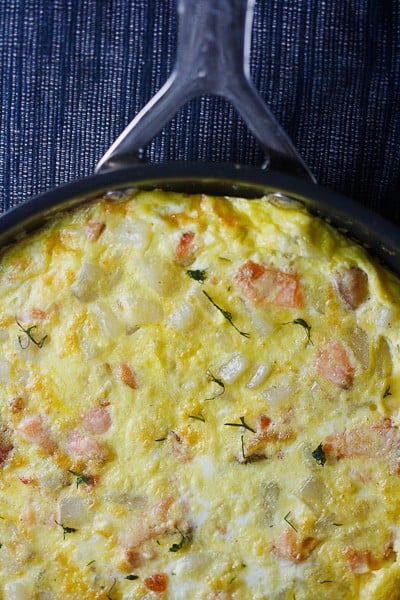 Lately, I've been using up a lot of my culinary creativity on freelance projects. One of my favorites are potato and smoked salmon pancakes with creamy dill sauce that I created for Eat Better America last month. I ate them every day for a week and still wasn't tired of them. They were crispy on the outside, creamy on the inside, and the smoked salmon went perfectly with potato.
When I found myself with extra egg whites after making a batch of grapefruit curd the other day, I decided to make a frittata using the same flavors as those pancakes. While it was a little less elegant than the potato pancakes, it was just as luxurious. Plus, it was quick and easy – a combination that can't be beat!
Served this frittata with a crisp salad dressed with a simple tarragon vinaigrette (equal parts tarragon vinegar and olive oil, with a touch of mustard, salt, and pepper) for a great lunch or light dinner.
I used smoked salmon trimmings to make both these and the potato pancakes that I mentioned above. This new-to-me product isn't as pretty as the smoked salmon that I'm used to (and the small, thickly cut pieces probably wouldn't work well on a bagel) but at under $9 a pound, it's a steal!