This is a sponsored post written by me on behalf of Jackson's Honest. All opinions are 100% mine.
Next time you feel snacky, reach for this tropical-inspired shrimp and grapefruit ceviche, served with Jackson's Honest Potato Chips. Using pre-cooked shrimp makes it so easy!

When we were in Costa Rica back in December, I pretty much lived off of ceviche and fruit. Our daily routine was pretty much waking up super early, heading off for an adventure of some sort, then trying to make it back to our resort before they stopped serving lunch at 2. Of course, things never worked out according to the plan – we always had too much fun and didn't make it back to the hotel until after the kitchen had closed. I don't think we managed to eat lunch there a single time! Luckily, the snack bar by the pool stayed open a little later, so we usually grabbed a bite there.
Most of what they served was pretty junky (think pizza and wings) but the ceviche was out of this world delicious. We were looking to have a fun snack the other night and I thought it would be fun to make a recipe inspired by those lunches. I'm not sure what kind of fish they used in theirs – it was firm and white – but I made mine with shrimp. And, since it's in season, I added red grapefruit segments along with more traditional citrus.
You can serve this shrimp ceviche recipe with tortilla chips, but I liked it even better with potato chips – it was especially good on Jackson's Honest purple potato chips.
Shawn loves crunchy snacks, so we always have a few bags of potato chips, tortilla chips, or cheese puffs in the kitchen. Lately, we've been really liking chips from Jackson's Honest.
What's so special about Jackon's Honest?
Jackson's Honest potato chips are slow cooked in coconut oil, which helps preserve nutrients, and they actually taste like potato (and they aren't greasy at all). I'm obsessed with the purple heirloom variety. They also have an apple cider vinegar flavor that I really want to try since I love salt and vinegar chips. I've found them at Whole Foods as well as at our local food co-op.
In addition to potato chips, Jackson's honest makes corn tortilla chips and grain-free puffs. Both of those are cooked in coconut oil, too. I haven't been able to find them locally, but I'm planning to order some from Amazon soon.
Every Jackson's Honest product includes the statement: "Goodness. Pass It On." which summarizes their mission to provide tasty, shareable snacks made with traditional fats like coconut oil, and to share the role that traditional fats play in helping the founder's son Jackson, who has a rare autoimmune disease. You can learn more about their story here or follow them on facebook and instagram.
Or you can just eat their snacks because they're delicious.
Now, back to that shrimp and grapefruit ceviche.
Ceviche is traditionally made with raw seafood marinated in citrus juice and spices. The acid in the juice "cooks" the fish without adding any heat, so it needs to be prepared very carefully. I didn't want to mess with that (and I guessed that you wouldn't either) so I used pre-cooked shrimp. It makes this ceviche pretty much foolproof.
To make it, you'll combine chopped cooked shrimp (the same kind you'd use for shrimp cocktail) with the juice from a few lemons and limes, grapefruit segments, diced red onion, and chile pepper. Let it marinate in the refrigerator for a few hours, then stir in diced avocado, cilantro, oil, and salt. Serve the ceviche with your favorite chips for scooping.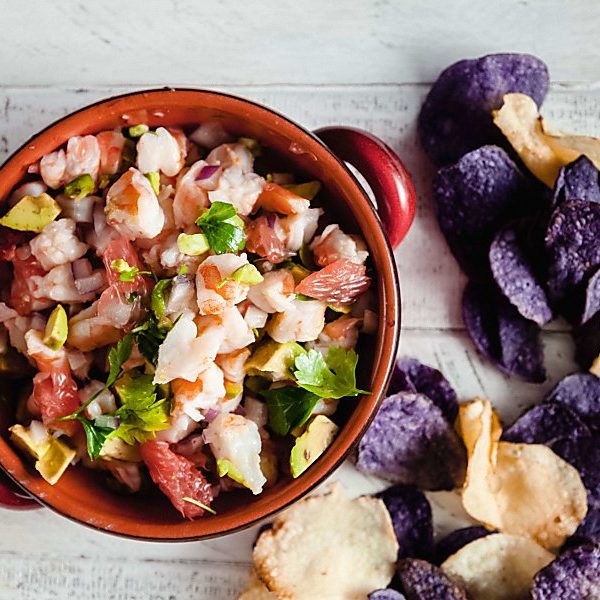 Ingredients
1

pound

medium cooked shrimp

2

limes

2

lemons

1

red grapefruit

1

small red onion

diced (about 1/4 cup)

2

serrano chile peppers

minced

1

avocado

diced

2

tablespoons

olive oil

¼

cup

fresh cilantro

chopped

Jackson's Honest potato chips

for serving
Instructions
Chop the shrimp into bite sized pieces and put them in a non-reactive bowl. Juice the limes and lemons and pour the juice over the shrimp.

On a shallow plate, cut the grapefruit into small segments. Add the segments, along with any accumulated juices, into the shrimp. Stir in the minced serrano peppers. Cover and refrigerate at least 1 hour.

Before serving, stir in the avocado, olive oil, and cilantro. Season to taste with salt.
Nutrition Facts
Shrimp and Grapefruit Ceviche
Amount Per Serving (1 g)
Calories 205
Calories from Fat 81
% Daily Value*
Fat 9g14%
Cholesterol 160mg53%
Sodium 720mg31%
Carbohydrates 14g5%
Protein 19g38%
* Percent Daily Values are based on a 2000 calorie diet.