Revamp your dinner routine with this game-changing air fryer recipe! I'll show you how to cook frozen chicken breasts in the air fryer, so you can enjoy delightfully juicy and flavorful results in under an hour. No need to thaw or spend hours marinating, simply let the air fryer work its magic.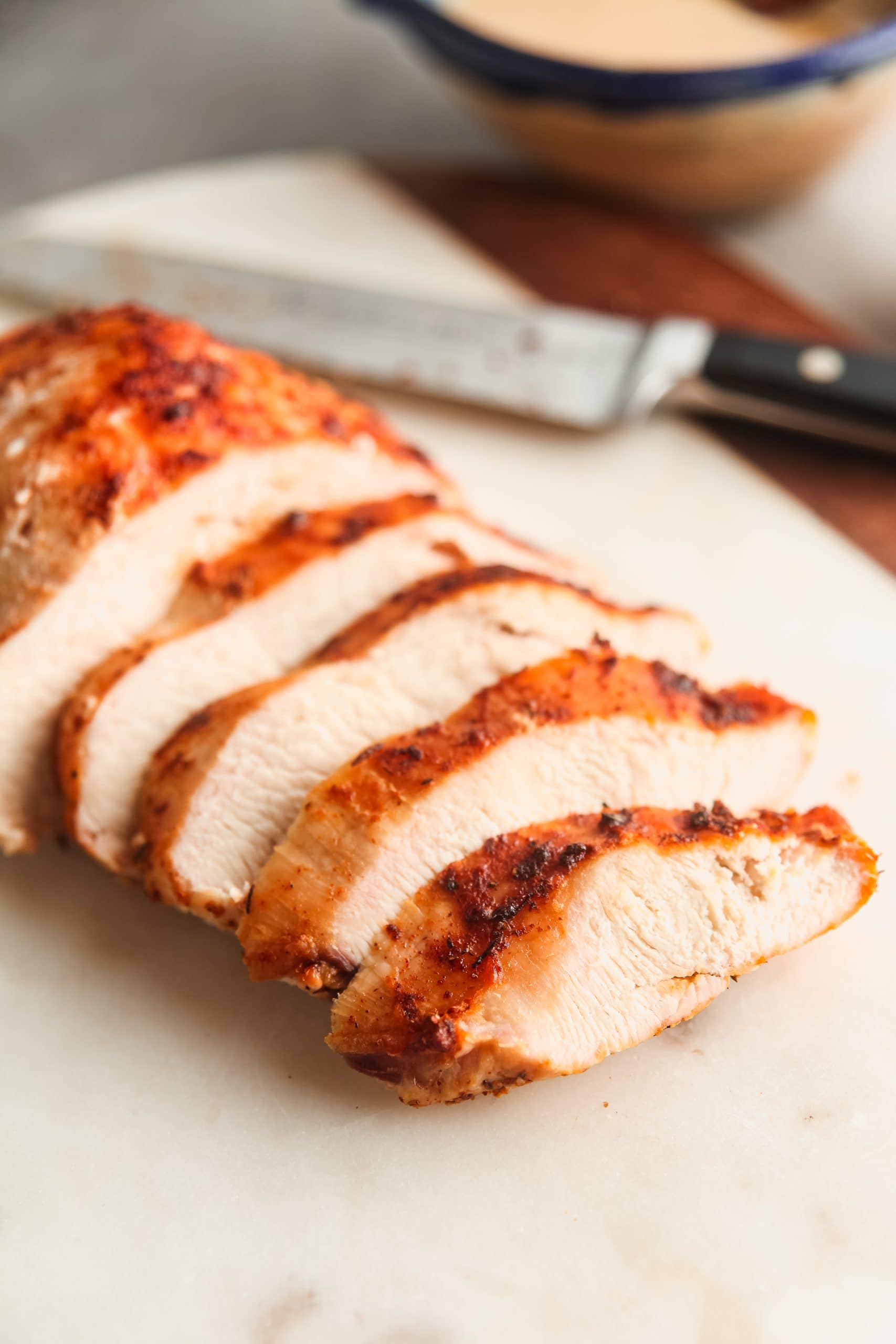 Say Hello to Juicy, Delicious Chicken Breasts with This Foolproof Air Fryer Recipe
When it comes to quick, easy, and affordable meals, frozen chicken breasts are a lifesaver.
And thanks to the magic of the air fryer, you don't even have to worry about thawing your chicken before cooking! Whether you forgot to plan ahead or simply haven't had a chance to make it to the grocery store, frozen chicken can be a delicious and convenient option for a last-minute dinner.
---
Easy. No need to defrost your chicken breast first—just take out what you need and get cooking!
Super juicy. The air fryer cooked the chicken from the outside in, locking all of the delicious juices inside. You've never had chicken this good.
Versatile. You can eat the chicken as is with your favorite side dishes or use them in another recipe. Either way, they're delicious!
Special diet friendly. Chicken breasts are naturally gluten-free and low carb. They're also appropriate for Whole 30, paleo, and keto diets.
What you'll need to air fry frozen chicken breasts
Juicy chicken breasts are the centerpiece of so many meals, but do what to do when you forgot to pull some out of the freezer before dinner?
Just pull out your air fryer, of course!
This simple recipe turns out beautifully roasted chicken breasts straight from the freezer.
Frozen chicken breasts. I like to buy individually flash frozen chicken breasts so I can easily grab exactly the amount I want to cook. Chicken packaged this way also resists freezer burn and prevents ice build-up, so it retains it's delicious flavor and texture. If you have leftover chicken breasts or chicken cutlets from a fresh package, you can freeze them in individual freezer bags with as much air pressed out as you can manage. When you're ready to cook them, run them under cool water for a minute or two if you need to loosen the bag. Freezing them individually prevents the chicken breasts from freezing together in a giant clump the way they would if you put them all in one big bag.
Olive oil.
Your favorite seasoning. Penzey's poultry seasoning is my go-to for a classic roast chicken flavor, but use whatever seasoning you're feeling at the moment. For the chicken shown here, I used Spiceology Black Magic Cajun blackening blend. This method is also great with my homemade cajun seasoning blend, garlic powder and paprika, or lemon pepper!
Pro Tips and Ingredient Variations
If cooking multiple pieces, choose chicken breasts that are roughly the same size and thickness. This ensures they cook at the same rate, so you don't end up with one that's overcooked and another that's undercooked.
Arrange your the frozen chicken breasts in a single layer in the air fryer basket; don't stack them.
Invest in an instant read meat thermometer to check the temperature in the thickest part of the chicken to ensure it's cooked enough.
Let the chicken rest for at least 5 minutes before slicing, to allow the juices to redistribute throughout the meat.
Swap avocado oil in for the olive oil. You can also use cooking spray if you prefer. Be sure to spray it directly onto the chicken, not onto the air fryer basket.
Top each frozen chicken breast with fresh herbs and sliced lemon before cooking for a citrusy vibe similar to piccata
What to serve with air fryer frozen chicken breast
This recipe is so versatile, and you can use it for just about anything!
Serve it as a stand-in for roast chicken, with mashed potatoes or rice and your favorite side dishes (you can even make a batch of my famous chicken gravy without drippings while the chicken cooks)
Slice it onto a giant salad.
Toss it with pasta or zucchini noodles.
Shred it and mix with barbecue sauce for a quick take on pulled chicken.
Season with taco seasoning and use it in tacos or enchiladas.
Think of this chicken as a blank canvass that you can turn into just about anything!
How to cook frozen chicken without thawing
Before you start cooking, remove any ice or excess water from the frozen chicken breasts You can do this by patting it down with paper towels. This will help the chicken to cook evenly and thoroughly and will prevent it from steaming.
Preheat your air fryer to 360ºF.
Rub the chicken with oil and season generously with your desired seasoning blend.
Cook for 10 minutes, then flip and cook until the thickest part of the breast reaches an internal temperature of 165ºF. By this point, the outside should be browned and things should star to smell delicious.
Transfer the chicken to a cutting board and let rest for 5-10 minutes before slicing.
How long does it take to cook chicken from frozen?
The total cooking time needed will depend on the size of your frozen chicken. You'll want to plan for about 15 minutes of cooking time per inch.
The chicken shown in the photos for this post were HUGE and took a full 45 minutes.
For planning purposes, you can use the following guidelines:
Cutlets up to 1/2 inch: 10 minutes
Smaller pieces, about 1 inch thick: 15 minutes
Medium pieces, about 1 ½ inches: 20 minutes
Large chicken breasts, 2 inches thick: 30 minutes
As always, all air fryers are slightly different, so you should start checking a few minutes before you think it should be done and don't be afraid to let it go for a few minutes longer if you need to.
Commonly asked questions
Is cooking frozen chicken safe?
Absolutely! As long as you cook it through, you have nothing to worry about.
How To Know When Your Chicken Is Done?
The USDA recommends cooking salmon to an internal temperature of 165ºF, and if you're pregnant or immuno-compromised you should definitely follow that guideline.
I like to take mine out when it reaches 155ºF. The temperature will continue to rise as the chicken rests, and I've personally never had a problem with it being undercooked this way.
Does Cooking chicken In The Air Fryer Dry It Out?
Nope, on the contrary it results in some of the juiciest chicken I've ever eaten.
Do I Need To Defrost chicken Before Cooking It In The Air Fryer?
Nope! Just follow these instructions and you'll have perfectly cooked chicken breasts straight from the freezer. It's so easy!
Does it keep well?
You can keep leftover chicken breast in the fridge for up to 3 days. It's great for throwing on a salad or in a quesadilla for a quick lunch!
More delicious air fryer recipes
How To Cook Frozen Chicken Breasts In The Air Fryer
When it comes to quick and easy dinners, frozen chicken breasts are a pantry staple. And with this simple air fryer recipe, you can have perfectly cooked, juicy chicken in just minutes – no thawing required!
Print
Pin
Save
Saved!
Ingredients
2

frozen boneless, skinless chicken breasts

approx. 1-inch thick

1

Tbsp

olive oil

1

Tbsp

seasoning

¼

teaspoon

Kosher salt
Instructions
Preheat the air fryer to 360ºF.

Rub the frozen chicken breasts with oil. Season generously with your desired spice blend and salt. Place the chicken in a single layer in the air fryer basket.

Flip the chicken and cook an additional 5 minutes, or approximately 15 minutes total per inch of thickness, until the chicken reaches an internal temperature of 165ºF.

Remove the chicken from the air fryer basket and let it rest for at least 5 minutes before slicing.
Nutrition Facts
How To Cook Frozen Chicken Breasts In The Air Fryer
Amount Per Serving (1 serving)
Calories 210
Calories from Fat 90
% Daily Value*
Fat 10g15%
Cholesterol 72mg24%
Sodium 424mg18%
Potassium 511mg15%
Carbohydrates 5g2%
Protein 25g50%
Vitamin A 160IU3%
Vitamin C 2mg2%
Calcium 124mg12%
Iron 3mg17%
* Percent Daily Values are based on a 2000 calorie diet.