You've probably heard of chicken fingers, but have you ever heard of steak fingers? In my take on this popular Idaho recipe, tender pieces of steak are coated in spicy gluten-free breading and air fried until they're perfectly crisp. Brush on some more hot sauce, then dip them in creamy dill pickle dip to tone down the heat.
This post was sponsored by the New York Beef Council.
---
Quick and Easy. This recipe is incredibly easy to make, taking only a few minutes to prepare and less than 10 minutes to cook.
A Healthier Option. This air fryer version is a much healthier option than traditional deep fried steak fingers. They're also gluten free!
Budget-Friendly. This recipe is an affordable option for anyone who wants a delicious and satisfying meal without breaking the bank.
The Ultimate Guide to Making Crispy Air Fryer Finger Steaks
Chicken fingers have been a staple on dinner tables across the country for decades, but it turns out that our friends in Idaho have been holding out on us. All this time, they've been eating steak fingers (also known as finger steaks)!!
Well, I'm on to their secret now and there's no looking back.
If you're looking for a fun new finger food, you definitely need to give steak fingers a try!
Finger steaks are new to me, but apparently they're super popular across Idaho and can be found at almost any local restaurant. I recently had the opportunity to attend a virtual event with Idaho ranchers Wyatt and Christie Prescott where they shared some information about their business and taught us their family recipe for finger steaks.
I always love events like this because it's great to get an inside peek at where our food comes from. I've visited more New York farms than I can count, but this was my first time learning about the beef industry in a different region. It was so interesting to get to know the Prescott's and see some of the regional differences in how beef was raised.
In particular, I was fascinated to learn that their cattle are raised on pastures that they lease from the federal government. Multiple herds graze on the same pastures, with different ranchers sharing the same space. That concept is so foreign to me here in New York where our farmers keep their herds on their own property, but it seemed so efficient!
Fun beef fact: Idaho has 2.5 million heads of cattle compared to NY's 1.42 million. While the population of Idaho and NY (minus NYC) are roughly the same Idaho has about 65% more geographic area. That's so much space for the cattle to roam!
But back to those steaks…
What are Idaho Finger Steaks?
Finger steaks are Idaho's answer to fried chicken, and are similar in many ways to the chicken fingers that we all know and love.
There are countless family recipes for finger steaks but, at their core, they're thin strips of tender steak that are breaded and fried until they're golden brown, then served with sauce for dipping.
The Prescott family recipe uses crushed saltine crackers as breading, which was really delicious, but you know I had to change things up and put my own spin the finger steak concept!
We're been watching our carbs lately, so for this recipe I coated our steaks with spicy seasoned almond flour. I air fried them until they were crisp and golden brown, then brushed them with a super-spicy hot sauce inspired by Nashville hot chicken!
These spicy finger steaks are really simple to make and are such a fun and unique meal.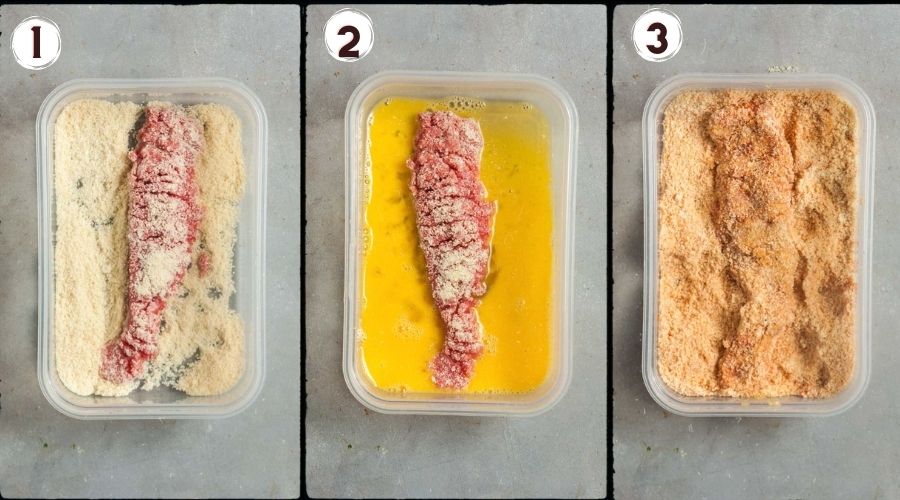 How to Make Air Fryer Steak Fingers
To make this finger steak recipe, you'll start by breading strips of cube steak in almond flour seasoned with cayenne pepper, garlic powder, and paprika. A little brown sugar helps balance out the heat.
What is cube steak?
Cube steak is a cut of beef that has been tenderized by pounding it flat. The name comes from the cube-shaped indentations left behind by the tenderizer!
In the package, cube steak looks a little like ground beef, but the pieces are still solid and hold together. They're super tender and easy to bite, which makes them great for recipes like these finger steaks! You definitely want a tender piece of beef that you can easily pick up and bite — no knife required!
You can buy cube steak in most major grocery stores or butcher shops. If you have trouble finding it, you can also use the spikey side of a meat mallet to pound top round or top sirloin until it's about 1/4-inch thin.
My cube steaks were pretty small, so I cut each one in half to form finger-like strips.
Carb conscious breading for finger steaks
To make the delicious breading for these finger steaks, I combined almond flour with cayenne pepper, garlic powder, paprika, salt, and pepper. I made mine pretty spicy (we definitely appreciated the cool, creamy dip to cool things down!) so you can use less cayenne if you prefer.
Put a few tablespoons of plain almond flour in a shallow dish, two beaten eggs in a second dish, and the seasoned flour in a third dish.
To bread the steaks, first pat each strip dry with a paper towel and season it with salt and pepper. Next, dip it in the plain almond flour. You're just looking for a light dusting of flour here — it will help the egg stick.
Now, dip the strip in the beaten egg, making sure both sides are coated.
Finally, dredge the steak in the seasoned flour mixture. Press the flour into the meat, making sure each piece if thoroughly coated.
(Note: If carbs aren't and gluten aren't a concern for you, you can use all purpose flour instead of the almond flour!)
Dipping Sauce for Finger Steaks
Finger steaks are delicious straight from the pan (or in this case, the air fryer) but they're even more fun when you pair them with dipping sauce!
Popular options include country gravy (think chicken fried steak in finger food form!), Ranch dressing (make it with homemade buttermilk ranch seasoning powder!), or steak sauce.
Since my air fryer steak fingers recipe was inspired by Nashville hot chicken, I created a dill pickle dip to go along with them! It's made from a combination of sour cream, milk or heavy cream, and chopped dill pickles. It has a fantastic cooling effect that goes so well with the spicy steak!
I served these steak fingers with a side of creamy mayo-free coleslaw, but fries, onion rings, or a green salad would all be great options as well.
More Delicious Air Fryer Recipes to Try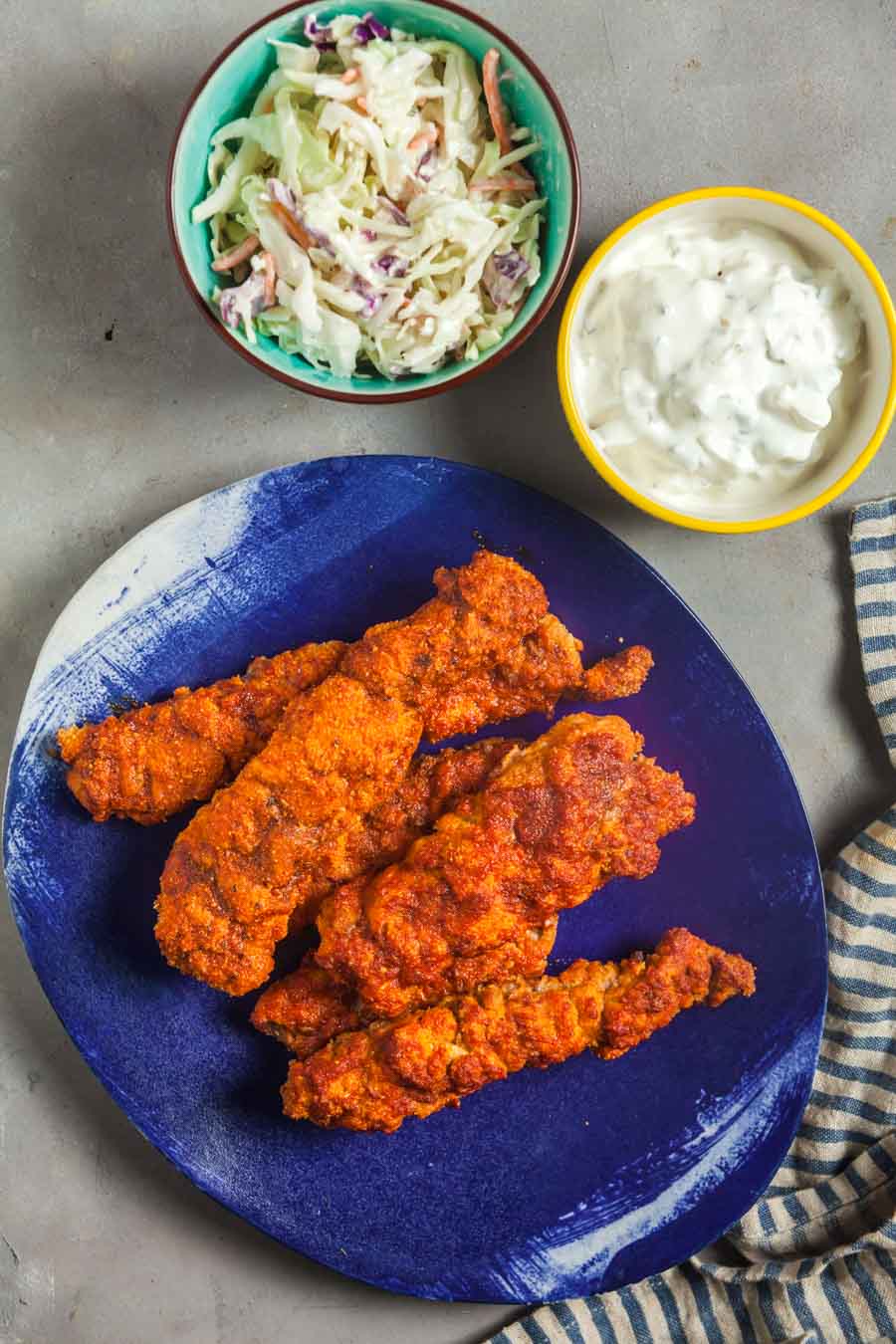 Spicy Air Fryer Steak Fingers with Dill Pickle Dip
These crispy air fryer steak fingers are coasted with a spicy sauce inspired by Nashville hot chicken! This recipe packs a punch, but you can adjust the amount of cayenne pepper to suit your tolerance for heat. Don't skip the creamy dill pickle dip to cool things down and add even more flavor!
Print
Pin
Save
Saved!
Ingredients
For the spicy finger steaks:
1

pound

cube steak

2

teaspoons

cayenne pepper

1

teaspoon

brown sugar

½

teaspoon

paprika

½

teaspoon

garlic powder

¼

teaspoon

kosher salt

¼

teaspoon

black pepper

2

large eggs

1

cup

+ 2 Tablespoons almond flour

olive oil spray

2

Tablespoons

olive oil
For the dill pickle dip:
½

cup

sour cream

1

Tablespoon

milk

2

Tablespoons

finely chopped dll pickles

1

Tablespoon

pickle juice
Instructions
Cut the cube steak into thin strips (My steaks were small so I cut each in half to make 6 fingers)

In a small dish, combine the cayenne pepper, brown sugar, paprika, garlic powder, salt, and pepper.

In a shallow dish, combine half of the spice mixture with 1 cup of almond flour. Add the remaining 2 tablespoons of almond flour to a second dish, and beat the eggs in a third.

Pat the steak strips dry and season with salt and pepper. Dip each piece into the plain almond flour, then into the egg, then into the seasoned almond flour. Repeat with all of the steak.

Arrange the breaded steak fingers in a single layer in the basket of your air fryer (cook in batches if necessary). Spritz the top of the steak with olive oil spray, then fry at 400°F for 8 minutes.

While the steak is cooking, combine the remaining spice mixture with the olive oil and 2 tablespoons of water. Brush the hot sauce onto the cooked steak.

To make the dill pickle dip: In a small dish combine the sour cream, milk dill pickles, and pickle juice. Refrigerate until ready to serve.
Notes
No air fryer? No problem! You can also bake these steak fingers at 425°F for 12-14 minutes.