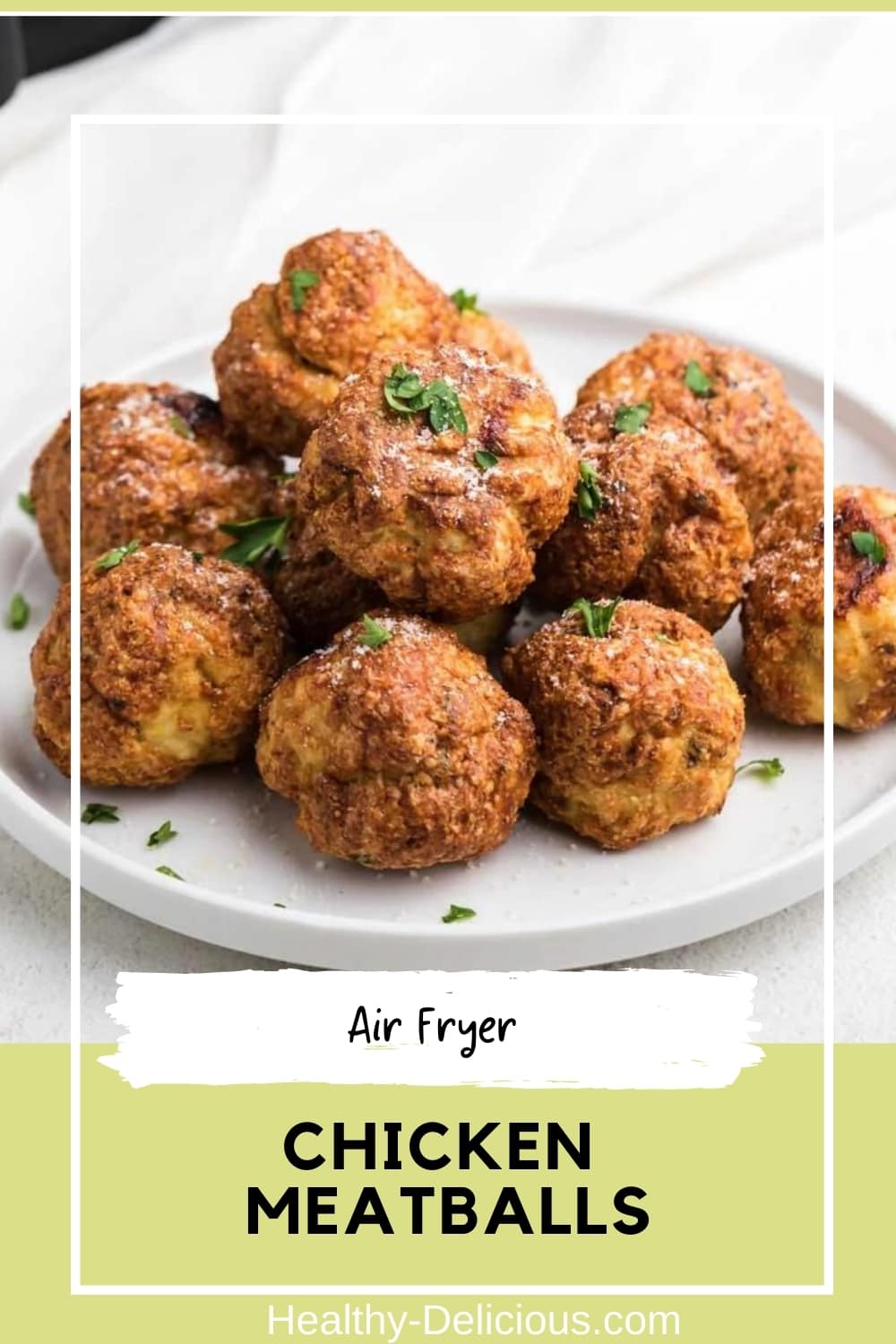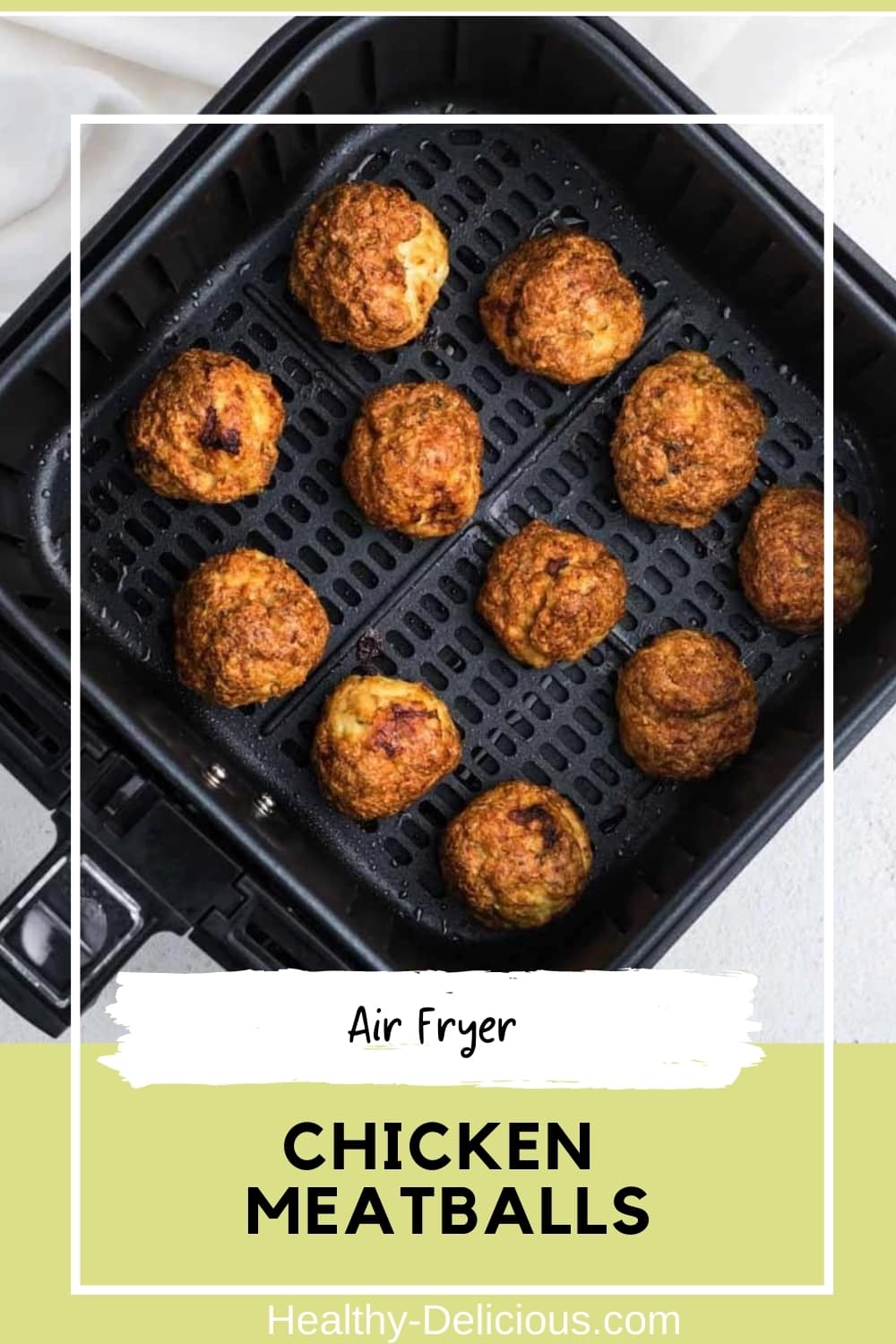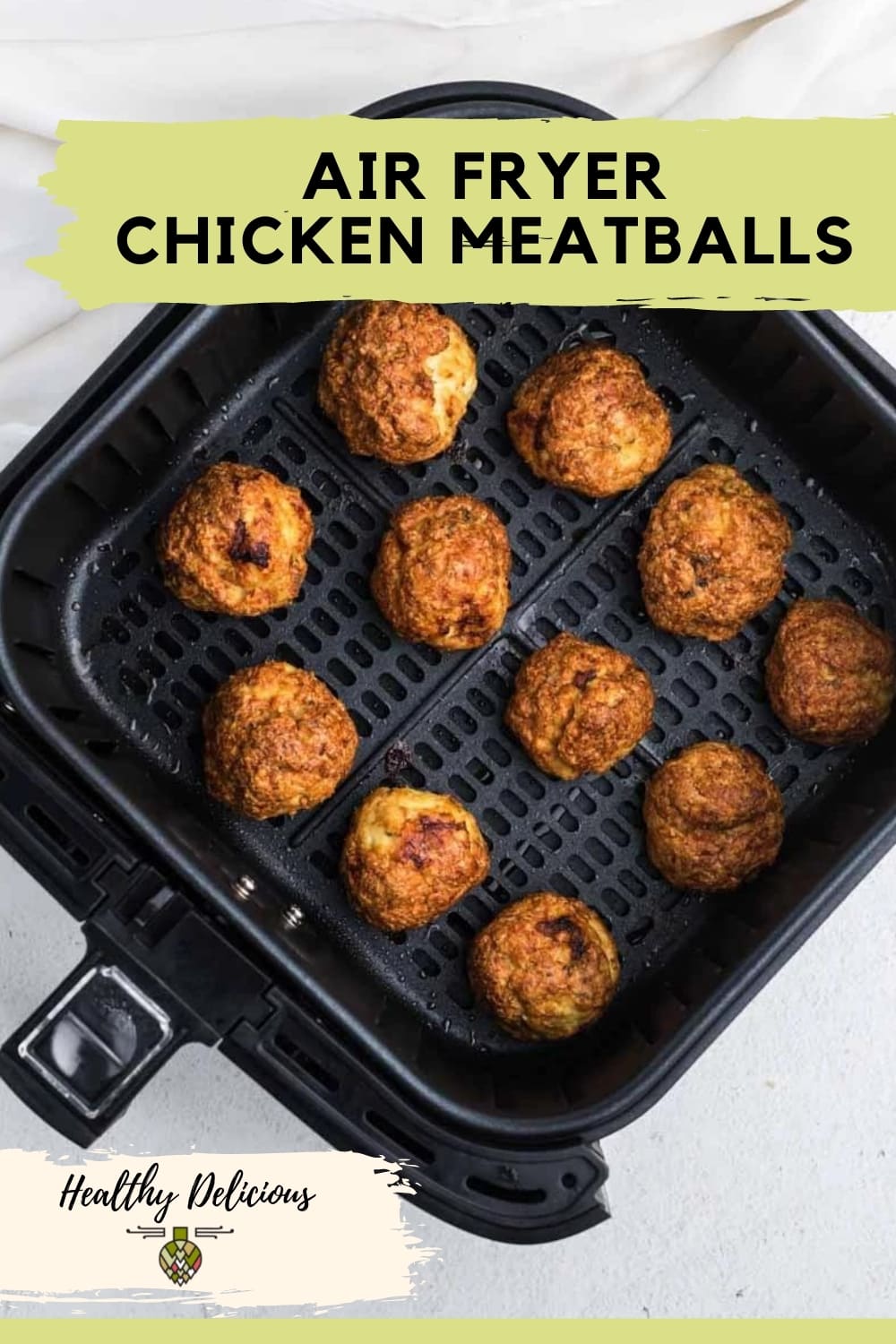 Air fryer chicken meatballs are an easy and versatile dinner that the whole family will love. They have a crisp, golden crust surrounding a tender center and are ready in under 30 minutes with minimal cleanup! Go ahead and make a double batch, because these delicious meatballs also freeze really well.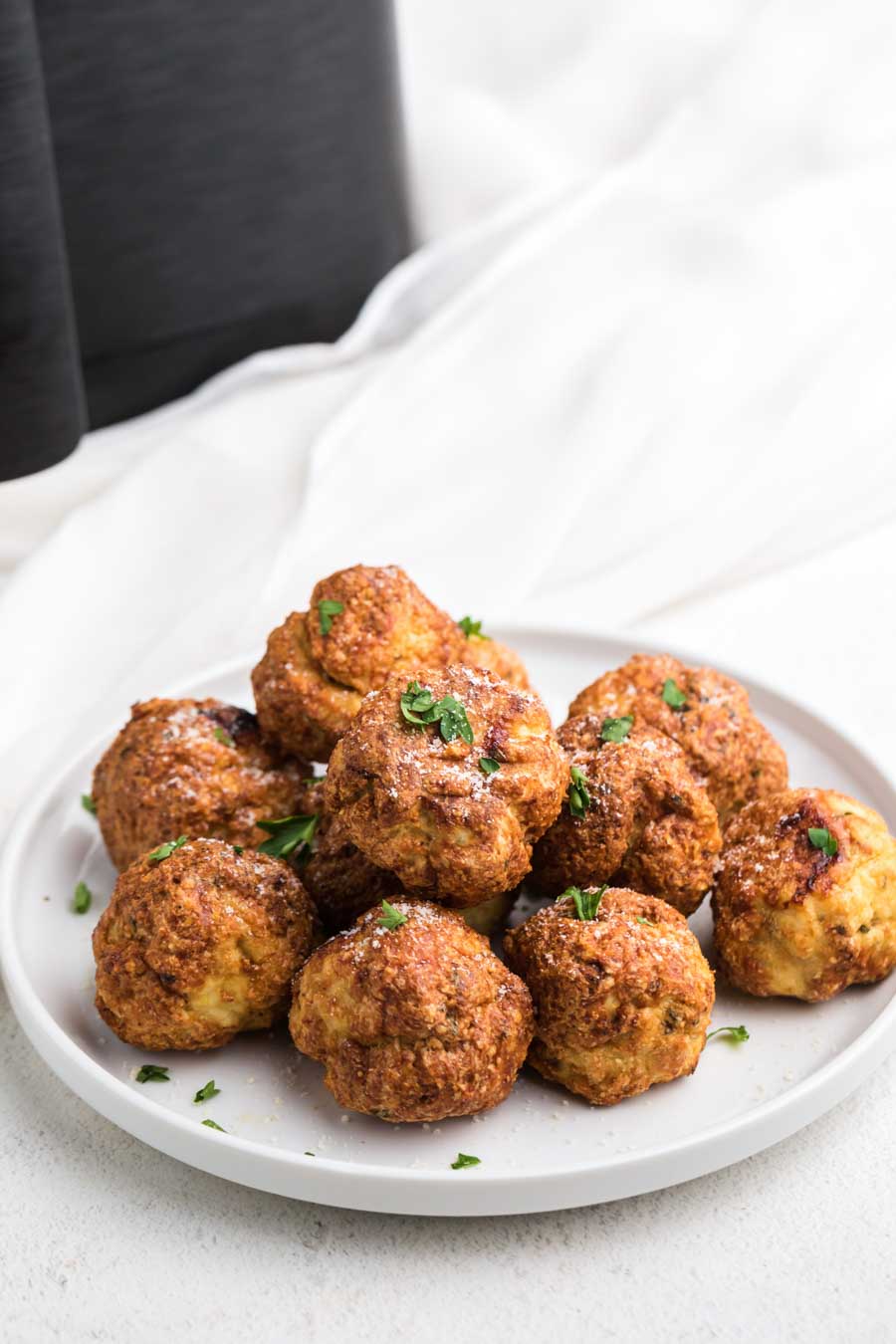 Meatballs are one of my absolute favorite foods.
As everyone already knows, they're great with sauce and pasta (or zucchini noodles) or on a sub.
But why stop there?
Meatballs are actually really versatile and a nice change of pace when you're tired of chicken breasts or steak.
I especially like making chicken meatballs because their neutral flavor means that you can:
You're only limited by your own imagination when it comes to how to mix things up and create a special and unique meal.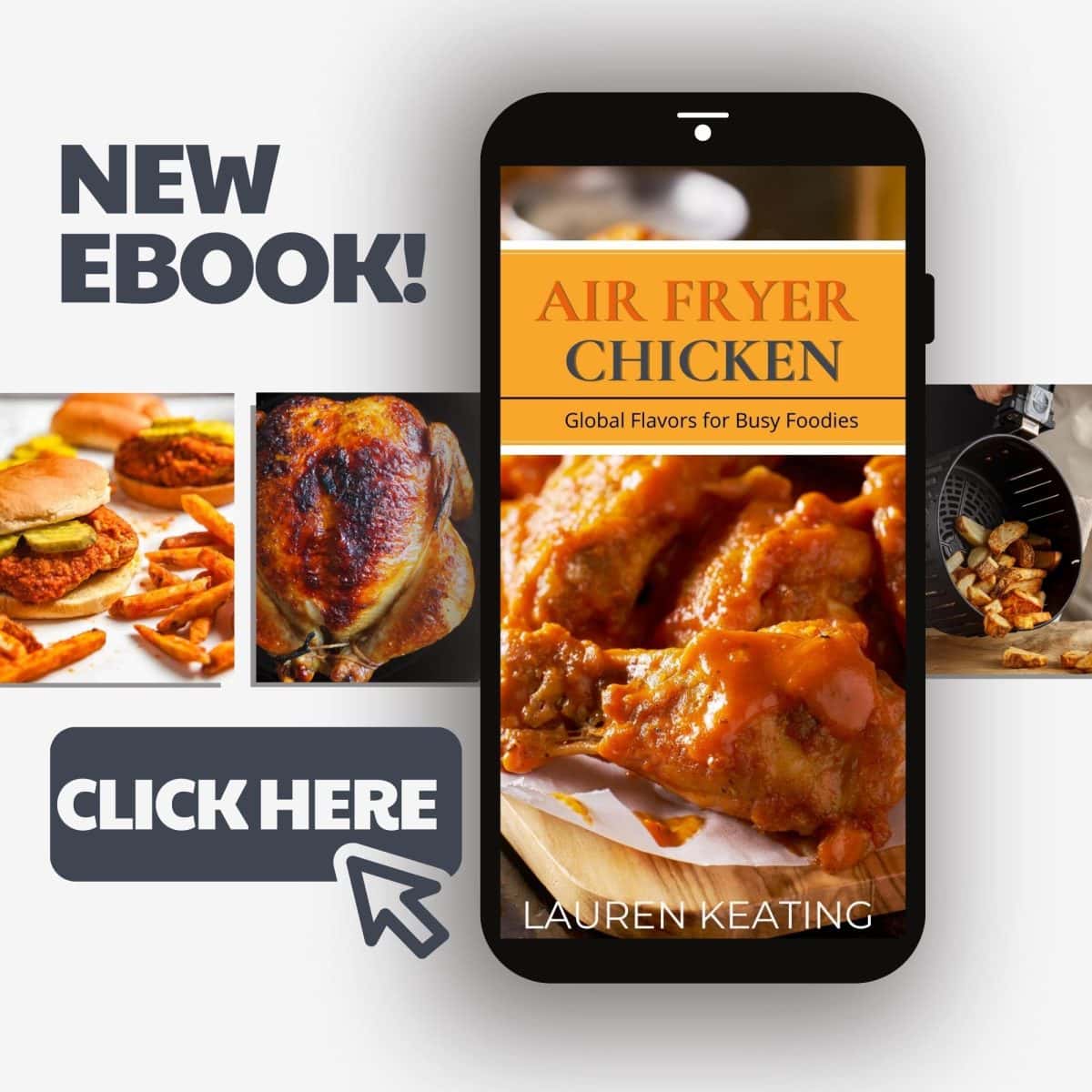 Why make air fryer meatballs?
For years, I made meatballs by frying them in a pan of oil and then finishing them in the oven or by making slow cooker meatballs. Recently though, I discovered how great they come out using my air fryer!
Why use an air fryer to make homemade chicken meatballs?
My favorite reason is that it gives the meatballs a fantastic crunchy brown crust while keeping the inside super juicy and tender.
If you've ever fried meatballs on the stovetop, you probably know the struggle of trying to keep them round. The side that comes in contact with the pan always flattens out. That isn't an issue when you cook them in the air fryer, so your meatballs actually look like balls and not weird cubes. They also don't fall apart the way they can in a slow cooker or in the oven.
Finally, the steady heat of the air fryer cooks the meatballs evenly, so there's less risk of them burning.
If you haven't tried air fryer chicken meatballs yet, I definitely encourage you to give it a try soon!
How to make the best chicken meatballs in an air fryer
For maximum versatility, I kept the flavor of these air-fried meatballs relatively neutral but don't worry, they're still packed with delicious flavor!
To make them, you'll need:
Ground Chicken. For maximum juiciness, I like to use 93% lean ground chicken. You can buy 99% lean ground chicken breast, but the lack of fat means it will be much drier and I find the texture can be a little gritty. Remember, fat is flavor! You can also make these air fryer meatballs with ground turkey.
Parmesan Cheese. Grated parmesan cheese is best, since it blends into the ground chicken seamlessly. You can usually buy tubs of freshly grated cheese in the refrigerated section of the grocery store. you can also make your own using a food processor. If it's all you have, shredded or shaved Parmesan will also work.
Breadcrumbs. Traditional, Italian-seasoned breadcrumbs are best for this recipe. Save the panko for another night!
Egg.
Garlic Powder.
Paprika.
Parsley.
Pro Tips
For the juciest meatballs, mix the egg directly into the breadcrumbs and let it sit for a few minutes before adding your other ingredients. This will allow the breadcrumbs to hydrate and soften.
Don't pack the meatballs too tightly. This can make them tough! Scoop the meatball mix up and gently roll it into a ball, using just enough pressure for them to keep their shape. Dampening your hands will prevent the meat from sticking to them.
For uniformly sized meatballs, use a cookie scoop or a meatballer! I received a meatballer in a swag bag from one of my clients years ago and thought it was the silliest thing at first, but I actually use it all the time. This also helps prevent you from compressing the meat too much. Just scoop the meat up up and gently roll it between your palms to shape.
Can these meatballs be frozen?
Yes! After cooking, freeze the meatballs in a single layer on a cookie sheet until frozen solid.
Then throw them in a freezer bag for grab-and-go meatballs whenever you want them! You can heat the frozen meatballs in marinara sauce until they're warmed through, throw them in your Instant Pot, or reheat them in the air fryer for about 10 minutes until they're heated through.
I always like to use a meat thermometer to check the internal temperature and ensure they're nice and hot throughout! When reheating food that's been frozen, you want the center to reach a temperature of 160ºF.
How long will they keep?
Cooked meatballs will stay fresh in an airtight container in the fridge for up to 3 days. They're great for meal prep!
You can also prepare the meatball mix up to 3 days in advance. Just add an extra 2-3 minutes to the cook time.
Can I make them with ground turkey?
Yes! It's a simple swap, and you don't need to make any other adjustments to the recipe.
Can I double this recipe?
Yes, but you'll have to cook in batches so you don't overcrowd your air fryer basket.
More Delicious Air Fryer Recipes to Try
More Meatball Recipes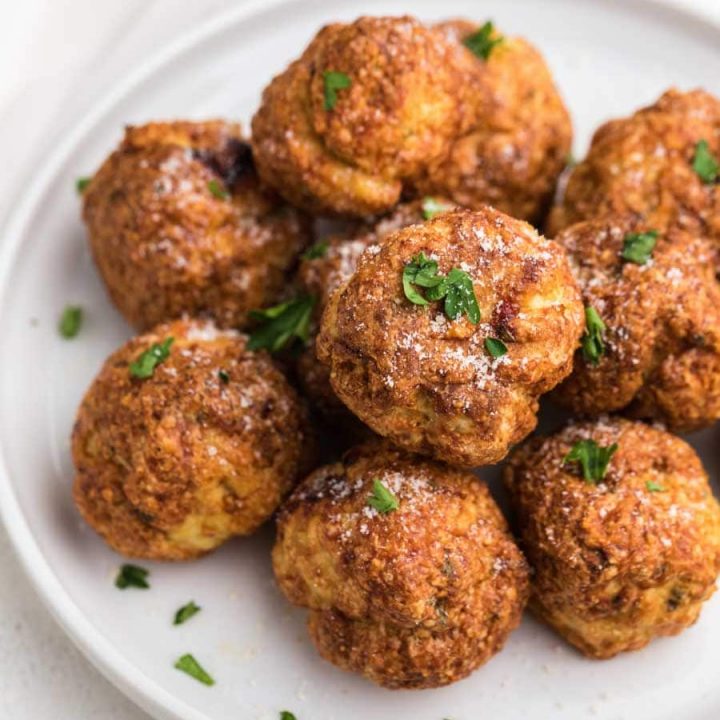 Air Fryer Chicken Meatballs
Made with ground chicken and a blend of herbs and spices, these tasty air fryer meatballs are crispy on the outside and tender on the inside. They have all the flavor of traditional fried meatballs without all the excess oil. Serve the cooked meatballs with your favorite dipping sauce or toss them into a pasta dish for a delicious meal that the whole family will love.
Print
Pin
Save
Saved!
Ingredients
1

large

egg

½

cup

Italian-style breadcrumbs

1

pound

93% lean ground chicken

½

cup

grated Parmesan cheese

1

tablespoon

dried parsley

1

teaspoon

freshly ground black pepper

1

teaspoon

garlic powder

1

teaspoon

paprika

½

teaspoon

kosher salt
Instructions
Preheat your air fryer to 390°F. Coat the basket of your air fryer lightly with olive oil.

In a large mixing bowl, combine the egg and breadcrumbs. Let sit for 2-3 minutes to soften the breadcrumbs.

Add the ground chicken, Parmesan cheese, parsley, salt, pepper, garlic powder, and paprika. Mix gently until just combined, being careful not to overwork the meat.

Use a meatballer or tablespoon to form the mixture into 1 ½" balls. Roll the balls gently between dampened hands to shape.

Mist the meatballs lightly with olive oil spray, then arrange them in the air fryer basket.

Cook for 12-14 minutes, turning the meatballs halfway through the cooking process. The meatballs are done when the outside is browned and crisp and the inside reaches a temperature of 165°F. Remember, different air fryers cook differently, so check your meatballs starting around the 10 minute mark.
Nutrition Facts
Air Fryer Chicken Meatballs
Amount Per Serving (1 serving)
Calories 345
Calories from Fat 162
% Daily Value*
Fat 18g28%
Cholesterol 179mg60%
Sodium 430mg19%
Carbohydrates 13g4%
Protein 34g68%
* Percent Daily Values are based on a 2000 calorie diet.