My cookbook collection was taking over the dining room. What started as a few carefully selected books calling the top of the radiator home had become a mess of books stacked every which way and cluttering up the space. Even our marble bookends couldn't keep the heavy stack upright, and when they came crashing down for the millionth time, we realized that we needed some real shelves in the space. You totally see where this is going, right? Yup… we talked about going to Ikea and buying some shelves to turn into a fake built-in.
Which inevitably lead me to crave Swedish meatballs (which is funny, considering I don't particularly care for the ones that Ikea serves.) Anyway, we never made it to Ikea but a few weeks later the idea of Swedish meatballs was still nagging at me. Traditional Swedish meatballs are very heavy though — full of pork and beef, fried in ungodly amounts of butter, and coated in cream — and well, stores are already selling bathing suits….
I found a recipe from Elise that looked easy enough to lighten up and I made a few substitutions: extra-lean turkey instead of red meat, baking instead of frying, way less butter. Served over egg noodles and next to some sauteed chard, these Swedish meatballs made a delicious meal that definitely satisfied my craving. (If you're wondering, the cookbooks have been relocated to a better shelf in the living room where they stay put without any bookends.)
Kitchen Tip: We don't eat a lot of bread, so I don't buy it very often. When we do buy it, it tends to get stale before we can eat it all. I've taken to throwing the past few end pieces into a bag in the freezer to use as fresh breadcrumbs, which yield softer meatballs than "regular" bread crumbs. Just pull out a frozen pice of bread or two, smash it with a mallet to make crumbs, and let it defrost for a few minutes.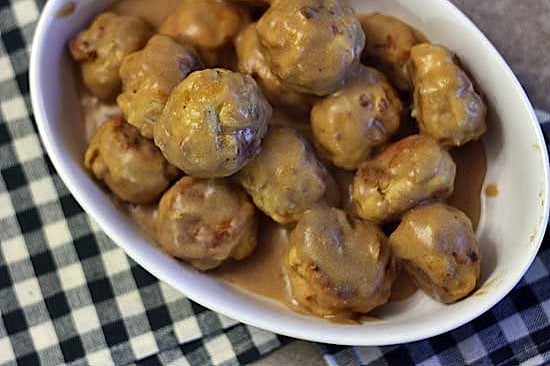 Lightened-Up Swedish Meatballs
Prep Time 10 minutes, Total Time 40 minutes.
Serves 4
1/2 cup Fresh Bread Crumbs (from about 2 pieces of bread)
1/2 cup Skim Milk, divided
1 Onion, minced
1 Egg, lightly beaten
1 lb. Ground Turkey Breast
1 tsp. Salt
1 tsp. Nutmeg
1 tsp. Allspice
2 Tbs. Butter
2 Tbs. Flour
2 cups Beef Stock
1/2 cup reduced-fat Sour Cream
1 Tbs. Raspberry Jam
Optional: No-Yolk Egg Noodles for serving
Preheat your oven to 400F.

Combine the bread crumbs and skim milk in a large mixing bowl. Let sit for 5 minutes, or until the bread has soaked up the milk. Add the onion, egg, turkey, salt, nutmeg, and allspice. Use your hards to very gently mix the ingredients — be careful not to overwork the meat or it will become gummy and tough. Divide the mixture into four portions. Divide each of those portions into four more portions, and gently roll each into a ball. Arrange the meatballs on a baking sheet, being sure that the balls don't touch each other. Bake for 15 minutes. Roll the balls over so that a different side is touching the sheet and bake for another 15 minutes.

While the meatballs are baking, start your sauce: Melt the butter in a large pot over low heat. Whisk in the flour; keep whisking for about 3 minutes, or until the roux becomes a golden brown color. Slowly add the beef stock, whisking constantly to prevent lumps from forming. Cook over low heat for 10 minutes, or until the gravy reduces by about one-third and becomes velvety. Add the meatballs. Remove from heat and stir in the sour cream and raspberry jam.

Serve over egg noodles

By