Sweet and spicy stuffed peppadew peppers stuffed with goat cheese and toasty breadcrumbs. This easy recipe is perfect as part of a tapas spread or as a snack!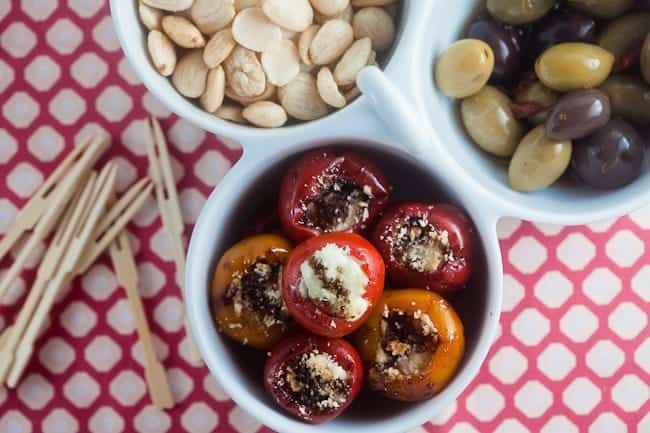 Last Friday, Shawn and I were driving around looking for a place to eat dinner when we ended up at the Macaroni Grill. We hadn't eaten there in years, but we couldn't think of anything else that we wanted so we figured we would give it a shot. I have to admit, I was pretty impressed! First off, they're having a half off wine special for the rest of the summer… my glass of chianti rang in at $2.75. Score! We ordered a few items off the tapas menu to eat as appetizers and immediately fell in love with the goat cheese stuffed peppadew peppers.
It took me about 2 seconds to decide that I wanted to make the peppers for Sunday Supper. This week we're "Spicing it Up!" so they're the perfect contribution.
The peppers themselves are sweet, with a subtle heat the kicks in at the end (less spicy than a jalapeno). They're stuffed with creamy, tangy goat cheese and topped with toasty breadcrumbs, then drizzled with a balsamic reduction. The sweet-spicy-tangy-creamy combination is amazing, and these bite-sized snacks are perfect as part of a tapas spread or as a light snack.
According to Shawn, they're his "new favorite thing!" I can't say I disagree.
(Looking for more ways to use peppadews? You'll love this winter vegetable mac and cheese!)