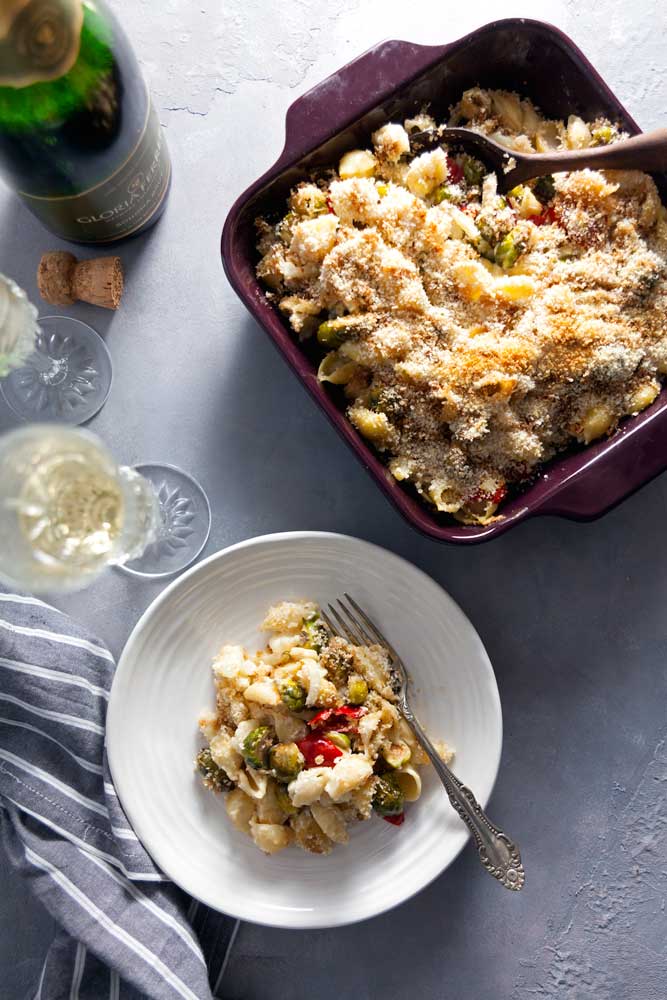 It snowed today.
Not a lot, but enough to remind everyone that winter is right around the corner. All I want to do on days like that is to cozy up with a bowl of comfort food. Luckily, I had a big tray of this winter vegetable macaroni and cheese in the fridge. The leftovers were perfect for lunch!
I pulled out all the stops to lighten up this macaroni and cheese without sacrificing flavor – it's about as guilt-free as it comes! I started by swapping half the pasta for cauliflower florets. You'll hardly even notice they're there, but they help reduce the amount of carbs and add nutrition to this recipe. I also made the sauce with significantly less cream than traditional recipes. The sauce is still as rich and creamy as you'd hope for, but chicken stock also adds extra flavor.
This macaroni and cheese was inspired by one of our all-time favorite appetizers: goat cheese stuffed peppadew peppers. The combination of creamy goat cheese, tangy peppers, crunchy bread crumbs, and sweet balsamic is seriously yummy. Based on the number of people who have told me they love the original recipe, it seems that a lot of people agree!
I also added roasted Brussels sprouts to this mac –this time of year I'm notorious for sneaking them into everything. You can roast them ahead of time or stick them in the oven while the pasta boils.
I really like serving sparkling wine with rich meals like this one. I always keep a few bottles in my cabinet, and I find myself reaching for them more and more often. The bubbles help cleanse your palate, plus it makes even the must boring weeknight feel a little more special.
Gloria Ferrer Caves & Vineyards is new to me, but it's been around since 1986. José Ferrer opened it as the first sparkling wine house in Sonoma Carneros (the southernmost region in Sonoma County) and named it after his wife. Today, their vineyard has over 335 acres of Pinot Noir and Chardonnay grapes and they've earned over 500 gold medals and 50 90+ scores.
We really enjoyed their Sonoma Brut with this winter vegetable macaroni and cheese. It's dominated by pinot noir grapes (my favorite!) and its creamy apple flavor pairs especially well with winter flavors. It would also be amazing with roast chicken thighs or sushi.

I was selected for this opportunity as a member of CLEVER and the content and opinions expressed here are all my own.