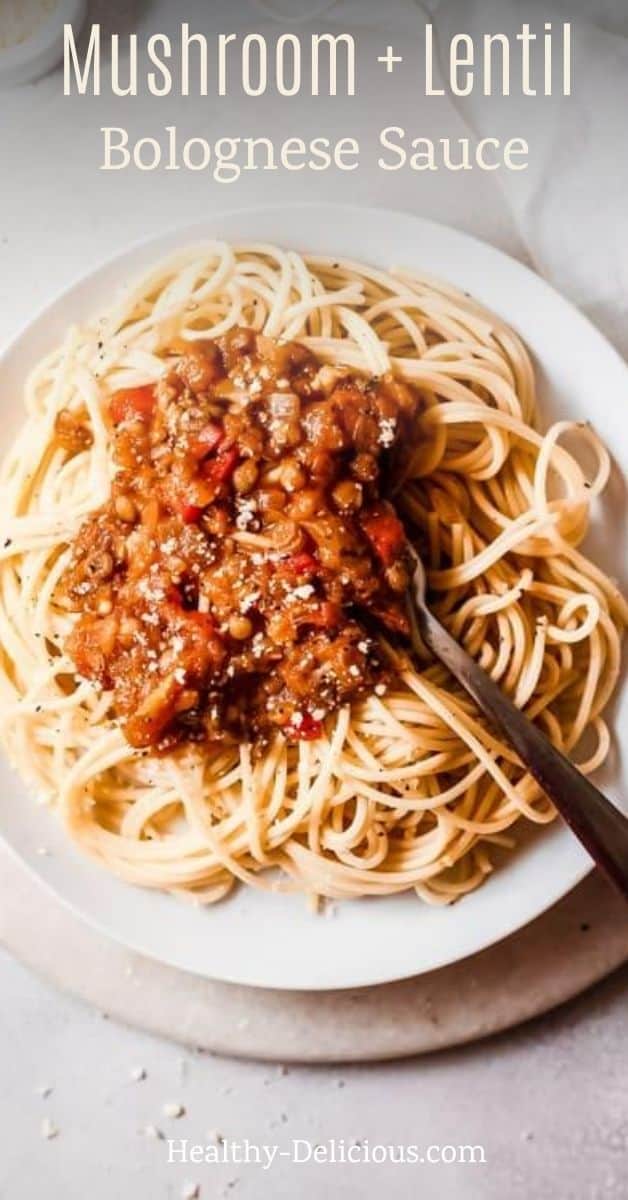 Lentil bolognese sauce has tons of flavor! Enjoy it your favorite pasta, like spaghetti. Or go healthy and serve it over zucchini noodles or spaghetti squash! Includes stovetop, crockpot, and instant pot options.
We went to Italy last fall. It was probably the best week of my life. The weather was perfect, I all but ignored social media, we walked at least 8 miles a day, and the food was AMAZING.
Of course, not everything about it was perfect.
Jet lag was no joke. Thank God for espresso.
Also, the traffic. Oof. If you think renting a car in Italy is a good idea, it's not.
Take the train.
Or hire a driver.
We drove circles around Florence for at least 3 hours trying to figure out how to get to our hotel. Apparently they close half of the streets to traffic at night. Which is GREAT for sidewalk cafes, but not ideal when you're trying to get to a parking garage.

Thankfully we finally figured it out, got ourselves checked in, and found a restaurant with open tables that was serving up some of the most beautiful steaks and pastas I've ever seen.
After a plate of bolognese (and a few glasses of wine) the traffic was all but forgotten.
Now, a dish of rich, meaty pasta bolognese instantly transports me back to that night. Sometimes it's a traditional sauce made with beef and pork, but other times this vegetarian version of mushroom and lentil bolognese does this trick.
It had the same hearty, complex notes as that traditional recipes do, but it's full of healthy fiber and lower on fat.
As written this recipe is vegetarian, but you can replace the Parmesan cheese with nutritional yeast for an entirely plant-based option.
What goes into bolognese sauce?
Traditional bolognese is a thick, meat sauce made from onion, celery and carrot simmered with minced or ground beef and pork and a tiny bit of tomato.
Outside of Italy, bolognese tends to be heavier on tomatoes. Honestly, I prefer the more tomatoey version. Since I already scrapped tradition with this vegetarian bolognese recipe, I added more tomatoes than normal.
Despite being heavier on tomatoes, it still has that bolognese vibe from sweet carrots and cream. This isn't just a regular meat sauce.
For this recipe, I swapped lentils and mushrooms in for the traditional ground meats. You can make it with all lentils, but mushrooms add more umami flavor and lighten up the texture of the sauce.
Can you use canned lentils?
I love cooking with dry lentils, since they're so affordable.
If you're looking for a shortcut – or if dried lentils are hard to find – canned lentils definitely work.
You'll want to use two 15 ounce cans (about 2 1/2 cups total) in place of every cup of dried lentils.
Be sure to rinse them well and skip ahead to step 2 of the recipe — you don't need to simmer them in stock.
Does this recipe freeze well?
This lentil bolognese recipe freezes really well, so it's perfect for meal prep!
I like to freeze it in individual portions so I can pull out whatever amount I need. Freezing it in smaller portions also helps it defrost faster!
Frozen sauce is best if eaten within about 3 months.
Can I make this in a slow cooker?
Absolutely!
To make this vegetarian bolognese in a slow cooker, omit the oil and decrease the vegetable stock to 1 cup.
Cook on low for 8-10 hours, or until the lentils are tender.
How should I use the rest of this bag of lentils?
A one pound bag of dried lentils goes a long way!
If you need another lentil recipe or two to help use it up, I suggest Mujadarra, a really great Lebanese recipe with the most delicious garlicky sauce.
You could also make lentil sloppy joes or try lentil patties on top of a hearty salad. Soup, like this Middle Eastern lentil soup, is always a classic, too.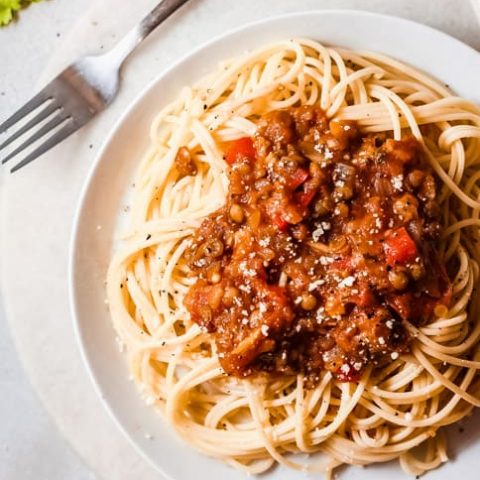 Ingredients
1

cup

dry brown lentils

2

cups

vegetable stock

2

Tablespoons

olive oil

1

onion

finely diced

1

celery stalk

finely chopped

2

carrots

grated

1

cup

sliced mushrooms

1

cup

dry white wine

1

cup

whole milk or unsweetened almond milk

⅓

cup

tomato paste

1

bay leaf

½

cup

grated Parmesan cheese
Instructions
Add the lentils and stock to a saucepan. Bring to a boil, then reduce the heat and cook, covered, for 20-30 minutes, or until the lentils are tender. Drain.*

Heat the oil in a large pot over medium heat.

Add the onion, celery, and carrot and cook for 6-8 minutes, or until beginning to soften. Stir in the mushrooms and cook for 2-3 minutes, until starting to brown.

Pour in the wine, stirring well to release any browned bits from the bottom of the pot.

Stir in the tomato paste and cook for 2-3 minutes, until it begins to darken.

Add the cooked lentils, milk, and bay leaf.

Simmer for 20-30 minutes, or until the sauce is thick and the vegetables are very soft.

Remove the bay leaf and stir in the Parmesan cheese.
Notes
*To cook lentils in an Instant Pot, combine the lentils and stock and cook under high pressure for 10 minutes. Naturally release the steam.
** To make in a slow cooker, reduce the stock to 1 cup and omit the oil. Combine all ingredients except the milk and cook on low for 8-10 hours, or until the vegetables are very soft. Stir in the milk and cheese 30 minutes prior to serving; keep the lid open and the heat on the help the liquid reduce during the last 30 minutes of cooking.
Nutrition Facts
Mushroom and Lentil Bolognese
Amount Per Serving (1 g)
Calories 318
Calories from Fat 126
% Daily Value*
Fat 14g22%
Cholesterol 17mg6%
Sodium 626mg27%
Carbohydrates 28g9%
Protein 13g26%
* Percent Daily Values are based on a 2000 calorie diet.