I'm sitting at an airport Starbucks right now, waiting for my flight to DC for Eat, Write Retreat. The people sitting behind me keep glancing over like "What is that crazy girl doing with a million pictures of food?" (Hi people reading over my shoulder!) Anyway, it's going to be a great weekend, and I hope to come home with new skills and fresh inspiration that will help make this blog better. I'm really excited!
I'm also really excited about last night's dinner – I just couldn't wait any longer to share it. I really enjoyed the Southwest lentil patties that I created for the lentil challenge that I participated in last year, and I knew that I wanted to do a fresh take on them this year. This time, I put a Moroccan spin on the patties, with lots of lemon zest, cardamom, and za'atar. They had a wonderfully bright flavor and a great falafel-like texture with a crispy exterior and a soft, velvety center. Served over a salad inspired by some gorgeous kale that I picked up at the Schenectady Green Market, this was a light, yet super filling dinner that we both enjoyed immensely.
For any of you from the Capital Region who love the Troy Market but have never been to the one in Schenectady, I urge you to check it out! It's on Sundays, which a little inconvenient for me (I like to plan y weekly menu and get my shopping out of the way on Saturday) but I really love it. The atmosphere is more intimate than the Troy market and the produce seems rawer and a little rough around the edges — but in a good way! There are always unique items to be found, like mustard greens, this amazing Russian red kale, and white beets. Whereas I tend to leave the Troy market with tons of prepared foods, I leave the Schenectady market with arms full of fresh produce and tons of inspiration.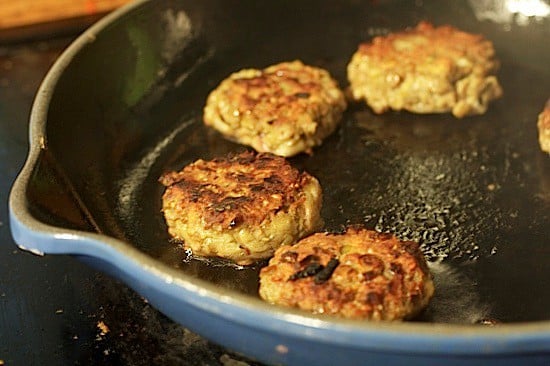 I really wish that I had taken a photo of this kale before I chopped it up — it was stunningly beautiful. It seemed like a shame to cook it, and I remembered the massaged kale salad that I had when I visited
Northern Spy Food Company
. Chopping up the kale and literally giving it a nice long massage with some salt draws out all of the bitter liquid and allows you to eat it raw. Be sure to start out with lots of kale though — it loses a ton of volume as you massage it. I started with about 3 cups of loosely packed and ended up with about a half cup once it was ready to eat. It was enough for the two of us but definitely don't plan to have ay left over.
Lemony Lentil Patties with Massaged Kale Salad
Prep time 30 minutes , Total time 45 minutes
Serves 2
1/2 cup Lentils, cooked
2 Tbs Olive Oil
1/4 cup chopped Onion
2 cloves Garlic, minced
Zest from one Lemon
1 Tbs Cardamom
1 tsp. Za'atar
2 Tbs Lentil Flour (or garbanzo bean or all-purpose flour)
1 Egg
1 bunch Red Kale
2 Tbs Salt
2 Tbs toasted Pine Nuts
4 dried Figs, quartered
Splash of White Balsamic vinegar
Place the cooked lentils in a small bowl and mash gently with the back of a spoon — it should be mostly smooth, but with some bigger pieces of lentils for texture. Heat the olive oil in a medium sauté pan. Add the onion and garlic and cook until just soft — about 3 minutes. Remove from the pan, leaving any remaining oil behind. Add the onion, garlic, lemon zest, spices, flour, and egg to the lentils. Mix to combine. Form into 8 balls, then flatten them slightly between your hands. Fry in remaining oil until golden brown and crispy — one and half to two minutes on each side.
Slice the kale into thin ribbons (if using a sturdier kale, like dinosaur kale, discard the center vein before slicing). Add the kale and the salt to a large bowl. Use your hands to massage the salt into the kale for 2 minutes. Gently squeeze the kale to remove as much liquid as you can – I ended up with about a half cup. Use your fingers to fluff the kale back up. Toss with the chopped figs, pine nuts, and vinegar.
Serve the kale salad topped with lentil patties.
Serving suggestion: Stuff the salad and lentil patties into warmed pita halves.
Over the next two weeks, I will be participating in the US Dry Pea and Lentil Challenge by posting several gluten-free recipes featuring dry peas and lentils (similar to the Recipe Rivalry challenge I participated in last year!). As a challenge participant, I received a stipend for groceries, samples of US dry peas and lentils, and some cooking supplies from the US Dry Pea and Lentil Council. At the end of the challenge, there will be an opportunity for you to help me win a prize — and to win a prize of your own. I was not compensated in any other way for this post. As always, all opinions are my own and all recipes are original.