This week, #SundaySupper has a breakfast for dinner theme – one of my favorites so far – but since I posted a waffle recipe a few weeks ago, I wanted to make something more on the savory side. These tarts, with their tangle of roasted red peppers and onions and sunny-looking egg, caught my eye as I was flipping through my copy of Jerusalem: The Cookbook and I knew they'd be perfect!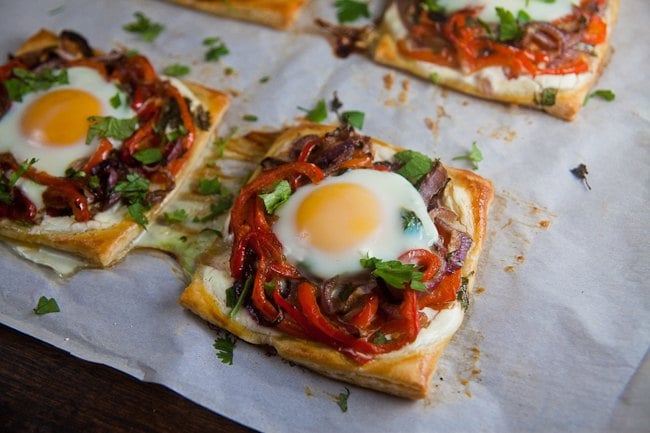 I cooked my eggs for 13 minutes – a little longer than the original recipe called for – and they came out just how I like them, with thickened jelly-like yolks that aren't too runny. The tarts were unlike anything I'd ever eaten, yet they still seemed homey and vaguely familiar.
Paired with a simple salad of baby lettuce tossed with olive oil and my favorite blackberry-ginger balsamic vinegar, they made a great light meal that we both really enjoyed.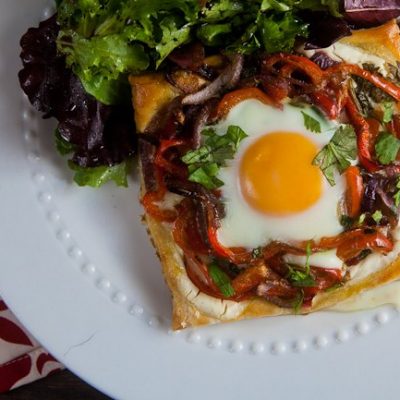 Roasted Red Pepper and Egg Tart
These simple tarts have a surprisingly bold flavor. Pair them with baby lettuce tossed with oil and balsamic vinegar for a light meal.
Ingredients
2 red bell peppers, cut into thin strips
1 red onion, cut into thin strips
3 tablespoons olive oil
1 teaspoon fresh thyme
1 teaspoon cumin
1 teaspoon coriander
1/4 cup loosely packed parsley, chopped
1/4 cup loosely packed cilantro, chopped
1 sheet (1/2 package) puff pastry, thawed
1 egg, beaten
6 tablespoons low fat sour cream
6 eggs
sea salt and cracked pepper
Instructions
Heat oven to 400*F. Pile the peppers and onion on a baking sheet. Pour oil over top and sprinkle with thyme, cumin, and coriander. Use your hands to mix everything together. Spread out into an even layer and roast 30 minutes.
Line a second baking sheet with parchment. Unroll the pastry onto the sheet and cut into six squares. Use a fork to poke indentations all over the pastry, leaving a 1/4 inch border around the edges. Refrigerate until ready to bake.
Increase the oven temperature to 425*F. Brush pastry with the beaten egg. Spread the center of each pastry square with 1 tablespoon of sour cream. Mix half of the parsley and cilantro into the roast vegetables then arrange onto the center of each pastry square, leaving a shallow crater in the center. Bake 10 minutes. Crack an egg into a small dish; carefully pour it onto one of the pastries, letting it settle into the crater that you left. Repeat with remaining eggs. Return to the oven and bake 10-15 minutes, or until the eggs are cooked to your liking.
Top with remaining herbs and season with salt and pepper. Serve immediately.
Nutrition Information
Amount Per Serving
Calories

386
Total Fat

28.7g
Fiber

1.9g
Protein

10.4g
Don't miss any of the other great "Breakfast for Dinner" recipes from the Sunday Supper group!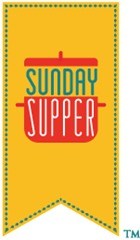 Tres Leches Pancakes from La Cocina de Leslie
French Toast Casserole with Sautéed Apples from The Foodie Army Wife
Gluten Free Breakfast Pizza from Blueberries And Blessings
Basic Vegan Waffles from Killer Bunnies, Inc
Kale, Bacon, Brown Rice Crustless Quiche from Shockingly Delicious
Bacon Egg and Potato Breakfast Tacos from Cookin' Mimi
Steak and Egg Tostadas from The Girl In The Little Red Kitchen
Breakfast Bowls from Jane's Adventures in Dinner
Bacon and Egg Waffles from The Urban Mrs
Homemade Lox from Growing Up Gabel
Seattle Sandwiches (Lox, Shmear, & A Fried Egg) from Juanita's Cocina
Bacon & Brie Potato Bread Strata with Roasted Pears from Eat, Move, Shine
Saucy Ham and Cheese Breakfast Sliders from Daily Dish Recipes
Greek Frittata from Casa de Crews
Elderberry Flower Pancakes from Hezzi-D's Books and Cooks
Prosciutto, Gorgonzola and Rosemary Strata from That Skinny Chick Can Bake
Italian Turkey Meatballs (With a Secret) from What Smells So Good?
Bacon, Spinach and Tomato Breakfast Pizza from Runner's Tales
Red Pepper and Egg Galette from Healthy. Delicious.
Waffles – One Plate, Two Ways: Sweet & Savory from Foxes Love Lemons
Steak & Egg Bagel Sandwich from girlichef
Florentine Benedict from Supper for a Steal
Oatmeal Ice Cream from Treats & Trinkets
Banana Waffles with Peanut Butter Syrup from A Kitchen Hoor's Adventures
Baked Berry French Toast from Table For Seven
But wait, there's more!
Open Faced BTC Sandwich from Peanut Butter and Peppers
Crustless Spinach Quiche from The Hand That Rocks The Ladle
Bacon 'n Eggs Bread Pudding from gotta get baked
Denver Breakfast Ring from Curious Cuisiniere
Copycat Japanese McDonald's from Ninja Baking
One Pan Full English Fry-up from Food Lust People Love
Crumpets with Whipped Orange Honey from Kudos Kitchen by Renee
Leek, Mushroom and Gruyère Quiche from Hip Foodie Mom
Joe's Special, the Original San Francisco Treat from Webicurean
Dark Chocolate, Orange & Pistachio Greek Yogurt Cups from Cupcakes & Kale Chips
Gluten Free Tomato Basil Crepes form No One Likes Crumbley Cookies
Sour Cherry Crisp from Pies and Plots
Cream Dried Beef and Waffles from Cindy's Recipes and Writings
Sausage breakfast casserole from My cute bride
Almond Rice Crepes Stuffed With Sweet Potatoes & Peas from Sue's Nutrition Buzz
Zucchini Pancakes with Sautéed Tomatoes and Feta from Ruffles & Truffles
Apple, Bacon, and Dubliner Cheese Stuffed French Toast from Neighborfood
Dulce de Leche Stuffed French Toast from Basic N Delicious
Normally it would be very socially unacceptable to have wine with your breakfast, but seeing as this is closer to sunset than sunrise, we say go for it!!!
Hangtown Fry and Wine Pairings with Breakfast for Dinner from ENOFYLZ Wine Blog