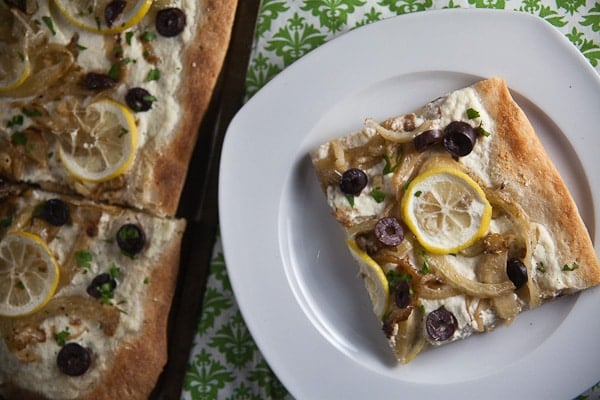 If you're looking for interesting ways to top a pizza, look no further. I can't even tell you how excited I am about this pizza – it was an experiment gone very, very right!
The creamy ricotta, sweet fennel, briny olives, and tart lemons are perfect together. The flavors are crisp and bright, yet the pizza is substantial enough to be a satisfying winter meal. One bight and it skyrocketed to favorite status; another bite and it became an instant classic.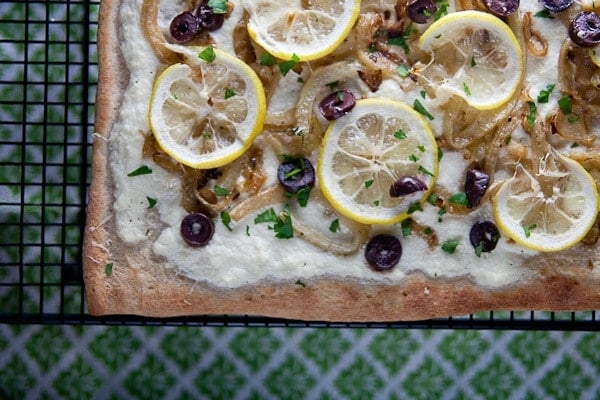 I'm working with Pillsbury this month to create new recipes using their refrigerated pizza dough. Some will be pizza and others will use the dough in different ways, but I definitely want the recipes I develop to be unique. (More "deep dish pizza with brussels sprouts and bacon" and less "salami and chile pepper pizza" if ya know what I mean.)
I'm not even entirely sure how the final concept for this pizza came about. I was sitting at my desk thinking about winter and citrus and how maybe lemon oil would be nice on pizza… the next thing I knew I was in the kitchen topping pizza dough with caramelized fennel and slices of lemon. At the last second, I decided that I needed another bold flavor to tie everything together. I thought anchovies might be nice but, considering I hate them and don't exactly keep them in the house, kalamata olives made a nice stand-in.
All in all? Pretty perfect if you ask me! Go ahead and give it a try – let me know what you think!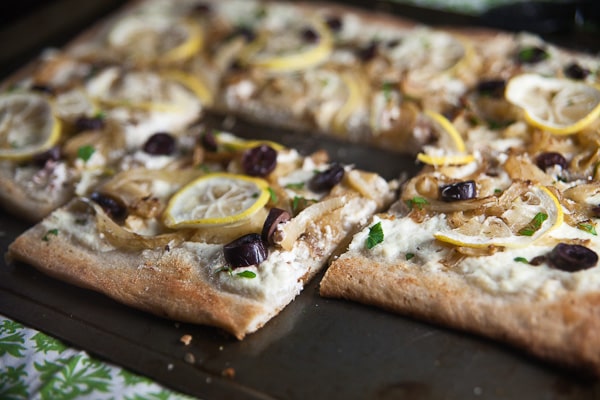 Lemon, Fennel + Olive Pizza
Be sure to cut the lemons as thinly as you possibly can. Paper thin. (You can see in the photo above how thin we're talking.) I actually started using a mandoline, but couldn't get the slices thin enough. I ended up using a sharp knife, which worked perfectly.  Thin slices will ensure that the rinds get nice and soft as the lemons roast and you won't get a huge mouth full of tart, bitter flavor. Next time, I think I'll also cut the lemons into half moons instead of circles just to make the pizza a little easier to eat. You also want to be sure to use part skim ricotta here. Full fat is too greasy and  will leave puddle of oil and a soggy crust.
Print
Pin
Save
Saved!
Ingredients
1

can

13.8 ounces Pillsbury® Refrigerated Classic Pizza Crust

2

tablespoons

Olive Oil

1

medium bulb Fennel

cored and very thinly sliced

¾

cups

Part Skim Ricotta

1

small organic Lemon

very thinly sliced

2

tablespoons

sliced Kalamata Olives

1

teaspoon

chopped Fresh Parsley

optional
Instructions
Heat oven to 400F. Grease baking sheet. Unroll dough; places on greased sheet. Bake 10 minutes, or until crust begins to brown.

Meanwhile, in 10-inch skillet, heat oil over medium heat. Cook fennel in oil 10 minutes, stirring frequently, until soft and golden brown.

Spread ricotta over partially baked pizza crust. Top with caramelized fennel, lemon slices, and olives. Bake an additional 15 minutes. Sprinkle with parsley, if using, prior to serving.
<p>I was compensated by General Mills/Pillsbury for my time creating this recipe. All opinions are my own. </p>