I've been waiting for months to make this pizza.
There's a restaurant around the corner from our house that serves a pizza topped with brussels sprouts, pancetta, and brie. I excitedly gave it a try over the summer but was pretty disappointed. It just wasn't right – the flavors were too flowery, the crust was too delicate, and the brussels sprouts were too small. Plus, who eats brussels sprouts in August anyway?
I promised myself that as soon as the weather was a little more appropriate, I'd make my own version of the pizza at home. It was hard to wait, but I didn't want to start eating all of my favorite all foods too early because I was afraid that I'd get burned out on them before the cool weather even started to set in. Finally, I decided that it was sufficiently Fall enough. This version is everything that I had hoped the restaurant's would be: the dough is thick, chewy and charred; the meat is smokey; and the brussels sprouts are slightly caramelized and abundant.
I had originally planned to leave the pizza sauceless, but at the last second I grabbed a jar of apple butter. It was the right move. The subtle sweetness and warm spices of the apple butter were the perfect compliment to the more bitter sprouts. A pinch of crushed red pepper tied it all together.
I also tried a new technique that I had read about where the pizza starts to cook on the stovetop. It cuts down on the cooking time of a deep dish pizza, but also results in a super crispy bottom crust that I loved. A cast iron pan will give you the best char, but any oven safe pan will do. I don't know if I'll ever go back to a standard pizza stone or baking sheet again.
Enjoy with your favorite pumpkin or Octoberfest beer. Welcome, fall!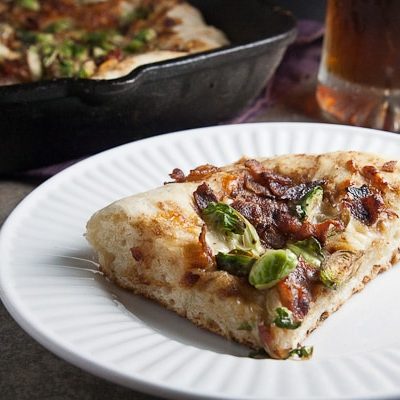 Ingredients
4

slices

Bacon

1

16 ounce refrigerated Pizza Dough, at room temperature

2

Tablespoons

Apple Butter

½

cup

shredded Fontina

½

cup

shredded Part-Skim Mozzarella

1

cup

quartered Brussels Sprouts

about 10

1

teaspoon

Balsamic Vinegar

Crushed Red Pepper Flakes
Instructions
Heat oven to 500ºF

In a 10-inch cast-iron skillet set over medium heat, cook bacon until crisp. Remove bacon from pan and crumble it. Set aside.

Remove pan from heat and our out all but 1 teaspoon of bacon grease. Press dough into the skillet, spreading it to the edge. Spray with cooking oil, then spread with a thin layer of apple butter, leaving a 1-inch border. Top with cheeses. Toss brussels sprouts with vinegar; scatter over the cheeses. Top with bacon and season with red pepper flakes.

Cook over medium heat until the bottom of the crust if crisp, about 5 minutes. Transfer to the oven and bake until the edges of the brussels sprouts begin to char and the dough is cooked through, about 10 minutes.

Remove from oven and cut into 6 pieces.